A Message From Sales
The ConsoliDator+ Demo is for You. Yes, YOU!
The PDD9000 ConsoliDator+ demonstrator is the best way to see all its great features for yourself. I have had a lot of first-hand experience with this demo, and I can confidently say this is the best demo we have ever put together. For users considering a ConsoliDator+ in their application, it has every possible input and output available, so almost any capability can be tested. There's no better way to gain confidence that the ConsoliDator+ is for you than with this demo unit. As a sales tool to demonstrate the product, I am confident our distributors will find it generates great conversations about new application solutions they can provide. So whether you are using it yourself to evaluate an application or showing it to someone you think needs to see this great new product, this is the best way to get to know the ConsoliDator+.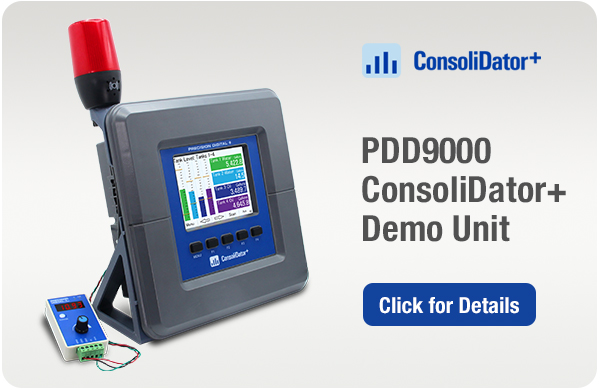 Because I am so confident you will have an excellent experience with this demonstrator, and the ConsoliDator+ in general, I want to help you get one to hold for yourself. Contact me and let's work out how we can make that happen. From special pricing to demos on loan, I'm sure we can find a way to get you a demonstrator if you have the desire to see it.
If you are looking at the ConsoliDator+ and you want to learn more, let's talk. There's simply no better way to answer all your questions and get you a great first-hand experience with the ConsoliDator+ than to get you a demo to hold for yourself.
Learn more about the ConsoliDator+
News & Information
The ConsoliDator+ is designed to handle a vast number of tasks for controlling, monitoring, and securing your water and wastewater applications. It has the capacity to connect to numerous 4-20 mA devices such as level transmitters, flowmeters, pressure transducers, current transformers, light / horns, and many more. Continue reading to see diagrams and examples of how a variety of devices are used with the Consolidator+ to control and monitor a lift station application and a multiple pump control / alternation application.

---
Precision Digital just released the New Water and Wastewater Instrumentation Solutions Guide. The Solutions Guide is full of examples that show how your colleagues in the water and wastewater industry have used Precision Digital Displays and Controllers to optimize their operations.


They have used our products to:


Upgrade their filter press panels with digital displays that can be read from three times the distance as the original meters
Monitor such parameters as digester temperature, digester level, and open channel flow
Control and alternate pumps in lift station wet wells
Totalize influent and effluent with resettable and non-resettable totals
Add display and alarm capabilities to gas detection systems
Wirelessly transmit 4-20 mA signals from the field to the control room
You can request printed copies of the Water and Wastewater Instrumentations Solutions Guide or download a digital copy.
---
The New PD9000-ENC ConsoliDator+ enclosures provides a convenient way to mount the PD9000 ConsoliDator+ Controller to walls and other vertical structures. The enclosures are available in various sizes and are made of plastic or painted steel. The larger enclosures are capable of housing other pieces of equipment such as the PDA-LH Light / Horn and the PDA1024-01 24 V power supply.

The PDA2909, PDA2919, and PDA2929 are made of painted steel and rated NEMA 4 and include a hinged door with screwed latches. The PDA1909 and PDA1939 are made of plastic and rated NEMA 4X and include a hinged door with hasps.

All the ConsoliDator+ enclosures come pre-cut with one cutout to mount the PD9000 into. For most enclosures, the ConsoliDator+ is mounted in the door of the enclosure thus allowing for direct programming and operation of the device.

For the PDA3939, the ConsoliDator+ is mounted in a hinged subpanel door secured with thumb screws and is fully enclosed by a clear hinged front door with a hasp. No additional mounting hardware other than screws to mount to the wall is needed.

A pipe mounting kit, model PDA6909, is available to mount the enclosures to a 2-inch pipe.

The enclosures and ConsoliDator+ are ordered and packaged separately. See price and delivery on all PD9000-ENC enclosure models.
---
If your old panel meters are outdated, hard-to-read, or don't have enough capabilities for your application it might be time to replace them with the PD765 Trident X2 process and temperature digital panel meter.

The Trident X2 is a great replacement for older, hard-to-see digital panel meters on filter control consoles. It features a 1.2" (30.5 mm) display that is typically more than twice the size of older meters with displays of 0.56" (14.2 mm). Even operators lacking 20/20 vision can easily read the Trident X2's display from across the room, in direct sunlight, or when its covered in a layer of dust!

Not only does the Trident X2 have a large, easy-to-read display, but it is equipped with 2 relays and a 4-20 mA output giving you more options and even more control over your facility. The Trident is UL Listed and features a NEMA 4X front panel. See more details on the Trident X2.
---
Precision Digital recently broadcasted the webinar – Learn About the Great New Features on the ConsoliDator+ Mulitvariable Controller. This webinar provided an overview of the ConsoliDator+ PD9000 and its recently added new features. It also reviewed live video examples of real application screens that show the new color features, live calibration, alarm functions, and more.


If you didn't get the chance to attend this webinar or want to review all the great new features, you can watch the recorded webinar or download the presentation slides at predig.com/webinars.

If you would like to schedule an exclusive webinar just for your company at a convenient time, please contact us and we'll be happy to set one up for you.
---
The PDD9000 ConsoliDator+ demonstrator is the best way to see all its great features for yourself. This versatile multi-channel controller comes with a signal generator, so you can simulate almost any application and see it in action. Included are 4-20 mA and pulse input options, 4-20 mA output and relay options, isolated power supplies, Modbus over Ethernet capabilities and more, so whatever application you may have in mind can be fully evaluated. The PDD9000 demo is also equipped with a light/horn on the top of the unit to show indication of alarming conditions. Simply connect the demo unit to a PC with the included USB cable and utilize the free ConsoliDator+ configuration software. The PDD9000 demo has built-in feet to stabilize the unit on a tabletop so it's easy to work with. It also has a protective carrying case making it convenient and easy for transporting around.

Whether you are using it yourself to evaluate an application, or showing it to someone you think needs to see this great new product, this is the best way to get to know the ConsoliDator+. See predig.com/demos for pricing, or contact

[email protected]

for information on getting a demo on loan.
Featured Product
Featured Videos
The Trident X2 digital panel meter's 1.2" LED display makes it the ideal choice when upgrading your panels. Watch this video and see real examples of the Trident X2 improving existing panels with its huge display!.
In The Next Issue...
Year in Review
Water & Wastewater Application Highlights
Introducing the PD460 Valve Positioner