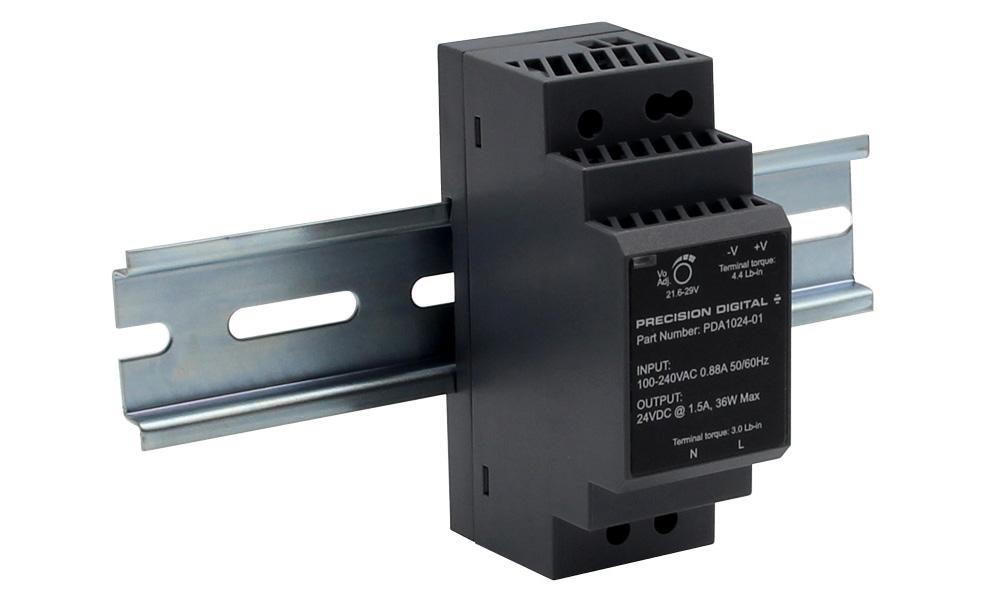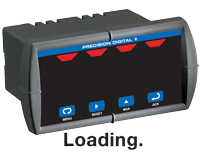 Overview
The PDA1024-01 is a DIN rail mounted 1.5 A, 24 VDC power supply that can be used for a variety of functions; the most common of which is powering 4-20 mA transmitters.
Key Features
1.5 Amp @ 24 VDC Power Supply
DIN Rail Mountable
UL Recognized Component
General
Input Voltage:
85-264 VAC; 120-370 VDC
Output Voltage:
21.6-29 VDC; ±10% 1.5 A rated current. See output rating table below.
Input Frequency:
47-63 Hz
AC Current:
115 VAC: 0.88 A; 230 VAC: 0.48 A
Inrush Current:
115 VAC: 25 A; 230 VAC: 45 A cold start
Connections:
Screw terminals
Setup, Rise Time:
115 VAC: 500 ms, 50 ms; 230 VAC: 500 ms, 50 ms at full load
Hold Time:
115 VAC: 21 ms; 230 VAC: 30 ms at full load
Overload Protection:
105-160% rated output power. Constant current limiting, recovers automatically after fault condition is removed
Over Voltage Protection:
Shut down o/p voltage, re-power on to recover
Operating Temperature:
-30 to 60°C (-22 to 140°F)
Working Humidity:
20% to 90% RH non-condensing
Storage Temperature, Humidity:
-40° to 85°C (-40 - 185°F), 10% to 95% RH
Temperature Coefficient:
±0.03%/°C (0 to 50°C)
Vibration:
10-500 Hz, 2G 10 min./1 cycle, period for 60 min. each along X, Y, Z axes
Safety Standards:
UL 508 Listed and UL Recognized Component
UL File: E183223
Withstand Voltage:
I/P-O/P:4 KVAC
Isolation Resistance:
I/P-O/P:100M Ohms / 500 VDC
EMC:
EN55032 (CISPR22) Class B, EN61000-3-2,-3, EN61000-4-2, 3, 4, 5, 6, 8, 11, ENV50204, EN55024, EN61000-6-1, EN61204-3 Light industry, Criteria A
MTBF:
968.1K hrs min. MIL-HDBK-217F (25°C)
Dimensions:
1.40" x 3.50" x 2.10" (35 mm x 90 mm x 54.5 mm) (W x H x D)
Warranty:
1 year parts & labor
Output Ratings
| | | | | | | | | | |
| --- | --- | --- | --- | --- | --- | --- | --- | --- | --- |
| DC Voltage | Rated Current | Current Range | Rated Power | R&N | Volt. Adj. | Tol. | Line Reg. | Load Reg. | Eff. |
| 24 V | 1.5 A | 0-1.5 A | 36 W | 150 mV | 21.6-29 V | ±1.0% | ±1.0% | ±1.0% | 89% |