Enclosure Selection Utility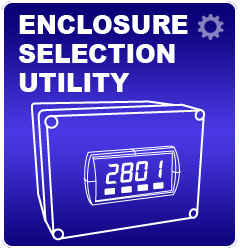 Enclosure Selection Utility
This utility will help you select the proper enclosure for the number and type of meters you will be housing by simply entering the quantity and type of meter.

If we do not have an enclosure available for the combination you have requested, you will receive a message to that effect. You will be presented with a list of plastic, steel, and stainless steel enclosures that are available for the combination entered.

Please call our sales department if you have any questions.
Step 1:
How many meters do you need to house?
Finished assembly of these enclosures is done at the time of the order. As such, acknowledged orders are non-cancelable and the product is non-returnable.