Overview
The ConsoliDator+ is a multi-channel controller that is both easy to use and satisfies a wide variety of process display, alarm and control applications. It accepts 4-20 mA inputs, flow meter pulse inputs, digital inputs, and Modbus RTU inputs and displays them both in numeric and bargraph format on a large, 5.7" color display. It can be equipped with multiple relays with user-definable actions, 4-20 mA outputs, digital outputs, Modbus RTU, and Ethernet Modbus TCP/IP protocol communication capabilities. Additionally, the controller is equipped with up to 32 timers that can be used to control many processes or events.
The ConsoliDator+ takes full advantage of its color display by allowing the user to customize screen colors for bargraphs, alarm conditions, and input channels.
All this functionality is easily programmed using free software or via the front panel pushbuttons. Choose the model that best suits your application, from monitoring only to fully loaded controllers with an extensive combination of inputs, outputs and communication protocols. The standard product offering is listed in the ordering guide and other models are available for special order.
Features
NEMA 4X Panel Mount Multi-Channel Controller
Convenient Display, Control, & Alarm of Multiple 4-20 mA & Pulse Inputs
Numeric & Bargraph Color Display (320 x 240 px) 5.7" (145 mm)
Sunlight Readable Display, White Backlight
Isolated 24 VDC Transmitter Supplies 200 mA / Analog Input; 1,600 mA Max
99 Channels, 32 Totalizers, 32 Timers, & 199 Modbus Slave Inputs
64 High & Low Alarms, Combine Multiple Alarms Into Logic AND & OR Alarms
Simulation & Manual Control Modes for Testing Setup
Modular Design for Input & Output Flexibility
Up to (28) 4-20 mA Isolated Inputs or Pulse Inputs
Up to (25) 10 Amp Form C Relays (With Eight Analog or Pulse Inputs)
Up to (25) Isolated 4-20 mA Outputs (With Eight Analog or Pulse Inputs)
Operating Temperature Range: -40 to 60°C (-40 to 140°F)
Pulse, Analog, & Modbus Input Flow Rate / Total / Grand Total Capability
50-Point Linearization, Square Root, and Exponent for Open Channel Flow
Round Horizontal Tank Volume Calculation; Just Enter Diameter & Length
Multi-Pump Alternation Control or Simple On / Off Control
Programmable Displays, Function Keys & Digital Inputs
Math Functions: Sum, Diff, Average, Multiply, Divide, % Efficiency, & More
Direct Modbus PV Inputs - Slave Mode
Customize Modbus Outputs to Read Multiple Registers in One Block
RS-485 Serial Communication with Modbus RTU
Field Selectable Input Power: 85-264 VAC or 24 VDC
(20) Screens with up to Eight PVs Each
Automatic or Manual Scanning
ConsoliDator+ Configuration Software
NEMA 4 & 4X Field Mount Enclosure Accessories
Light / Horn & Control Station Accessory for Remote Operation
3-Year Warranty
Screens
The ConsoliDator+ can be programmed to display the data on up to 20 different screens in a variety of formats and colors, with and without bargraphs. The following screens show a typical main screen and channel details screen:
Main Screen
Channel Details Screen

Inputs & Outputs
The back panel is labeled with the I/O boards that were installed at the factory. The removable connectors are labeled with the connection signal for each terminal. The following diagram shows what the back of the model PD9000-GP-4PI-8AI-10AO-10RY looks like. This model accepts (4) pulse and (8) analog inputs and has (10) 4-20 mA outputs and (10) relays. (5) digital inputs, (4) digital outputs, RS-485 serial capability and USB connections are standard on all ConsoliDator+ models. Ethernet is an option.
If all Input / Output slots are used exclusively for one function, the ConsoliDator+ can accept up to (28) isolated 4-20 mA inputs, (28) pulse inputs, (25) isolated 4-20 mA outputs, and (25) relays. If used as a Modbus slave only: (35) 4-20 mA outputs, (30) relays.
All units can be powered from AC or DC; both power connections can be used at the same time. The DC power supply can serve as backup power if the voltage is 24 V or less, otherwise the controller will run on DC power.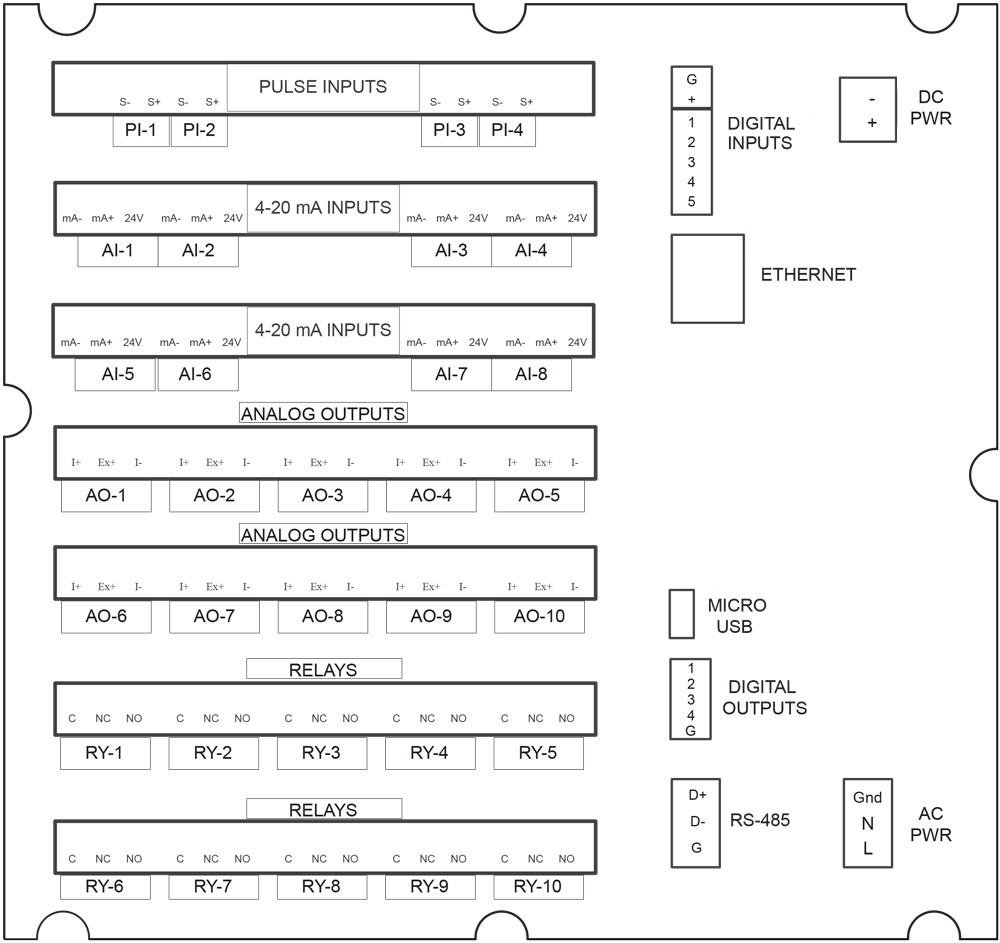 Each 4-20 mA input has its own isolated 24 VDC power supply to power the transmitter.
Each 4-20 mA output has its own isolated 24 VDC power supply to power the output loop.
Each relay is Form C and rated at 10 A.
Input / output connections are made to removable screw connectors.
Every ConsoliDator+ has five digital inputs (additional digital inputs can be obtained by using the Pulse Inputs).
Every ConsoliDator+ has four digital outputs.
Every ConsoliDator+ has RS-485 with Modbus.
All ConsoliDator+ models can be powered from either AC or DC Power.
Ethernet with Modbus TCP is an option.
Micro USB is used for programming the ConsoliDator+.
Setting Channel Parameters
What makes the ConsoliDator+ easy to program is its intuitive setup screens. As shown in the first image below, the setup screen allows you to see all the relevant information you need when creating or editing a channel - all on one screen! When creating a new channel, the channel number is auto-generated for you. All you have to do is populate the appropriate fields such as the channel tag name, function, input, and units. Scaling the inputs and outputs, selecting number of decimals, and turning the bargraph on/off and inputing its values are also programmed from this screen. Multiple colors can also be selected for the text, background and bargraphs to customize the look of the display. During programming, the soft keys will change based on the screen in place. For instance, pressing the edit key will bring up the letters/numbers key pad and appropriate navigation keys will appear (Shown in the bottom image). See the PD9000 manual for details on setup and programming.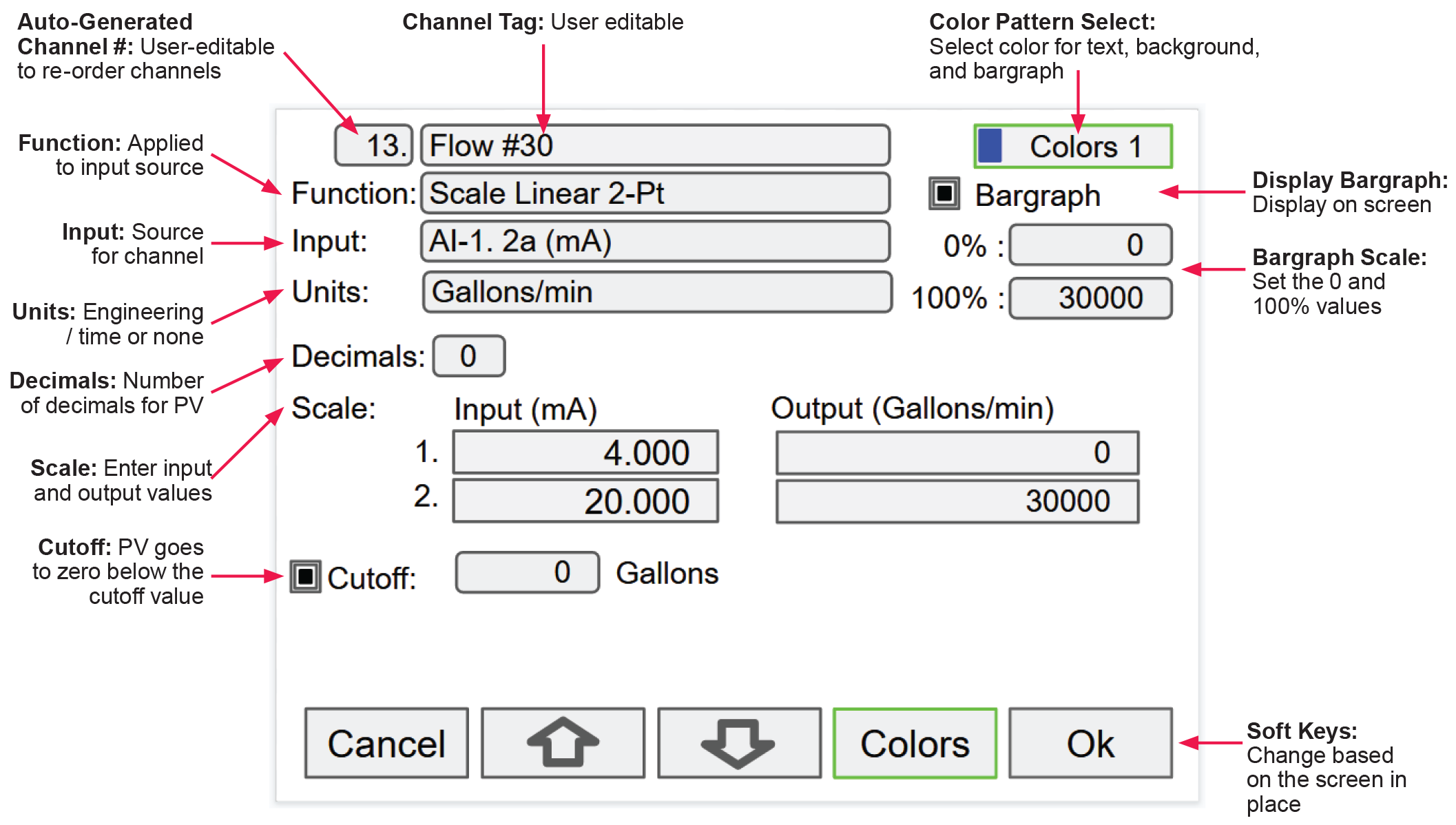 To view the details of any channel, press Menu and then press View – Channel. Select the channel of interest. Navigate through the different items using the navigation keys. A green bar indicates the selected item, press the R-key to step into and see more details about the inputs and outputs related to the channel in view.
In the following examples, the screens show all the parameters associated with Channel 1 including analog input, slot number and its current value, setpoints and status of alarms, and analog output and its mA value. The bargraphs in each these screens examples represent the current value in gallon units.
Alarm set points are indicated by horizontal lines.
Low & High Alarm Indication
If applicable, alarms may be acknowledged, and totals may be reset from the channel view screens. The alarm set points are indicated by a line at the corresponding value on the bargraph. Color selection for alarm conditions can be done in the Setup – Alarm menu or in the System – Display menu.
Active Low Alarm: Indicated by horizontal and vertical lines. The top of the vertical line is the reset point of the low alarm. The low alarm is indicated on the right side of the bargraph.
Active High Alarm: Indicated by horizontal and vertical lines. The bottom of the vertical line is the reset point of the high alarm. The high alarm is indicated on the left side of the bargraph.
Connections
Power connections are made to one of the power terminal connectors. All units are capable of being powered either by AC or by DC for the ranges specified.
90-264 VAC Power
Use three-terminal power connector as shown in the Figure below.
Unit is protected internally with 1.25 A auto-resettable fuse. 2 A max, slow blow, 250 V min UL Recognized external fuse recommended.
24 VDC Power ± 10%
Use two-terminal power connector as shown in the Figure below.
Unit is protected internally with 3.7 A auto-resettable fuse. 4 A max, slow blow, 50 V min UL Recognized external fuse recommended.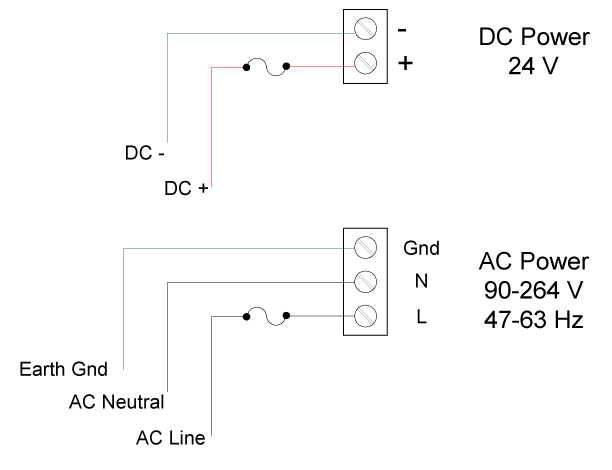 Power Connections
Note: The controller may be powered by AC voltage with the 24 VDC power connection used as backup power.
Isolated Input Signal Connections
Isolated input signal connections are made to removable screw terminal connectors, which are labeled individually on the back panel of the controller. The back panel shows the type of input card installed in each slot (The top slot is #1 and the bottom is #7). Individual inputs are referenced as PI-1 to PI-4 for pulse inputs and AI-1 to AI-4, AI-5 to AI-8, etc for analog inputs.
4-20 mA Analog Input Connections
Analog 4-20 Input connections are made to screw terminal connectors (two inputs per connector). The following figures show examples for typical applications. Each of the 4-20 mA inputs may be connected in any of the modes shown below.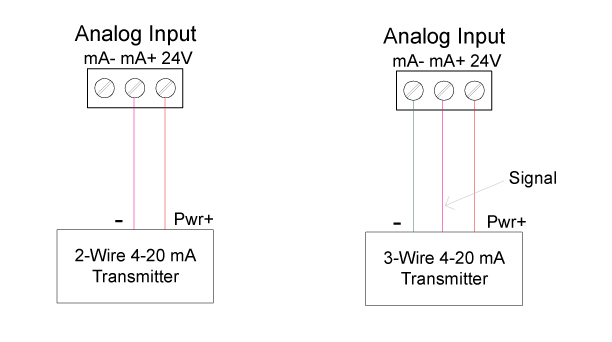 Transmitters Powered by ConsoliDator+'s Isolated 24 VDC Power Supply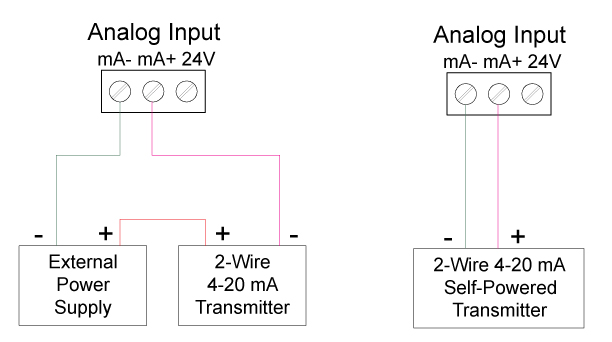 Transmitter Powered by External Supply or Self-Powered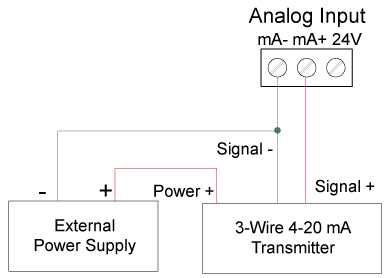 Three-Wire Transmitters Powered Externally
Flow Meter Pulse Input Connections
Flow Meter Pulse Inputs are wired to four-terminal connectors (two inputs per connector). A square waveform is used in the illustration, but the input is capable of reading many other types of signals within the voltage and frequency ranges specified.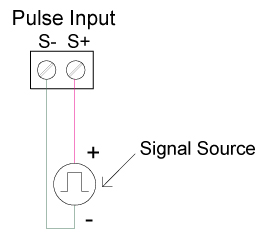 Flow Meter Pulse Input Connections
Digital Input Connections
Inputs are wired between terminals 1-5 of the digital inputconnector and the G terminal of the 2-position connector above the digital inputs. Normally open switch contacts may be used as shown in the figure below. The diagram also shows a Digital Input using an NPN open collector transistor output from a live signal. Logic LO or switch closure appearing across the terminals is interpreted as ON. When using an open collector transistor, a logic HI at the base (marked "B" in the figure below) will be interpreted as ON. The 2-position connector has a +5 V terminal that may be used to provide excitation to some sensors requiring more than the pull-up provided on each digital input terminal.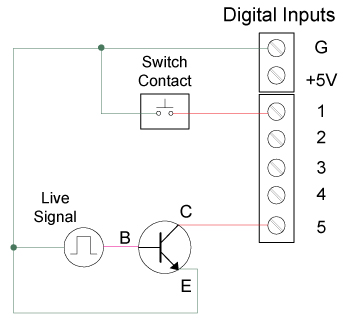 Digital Input from Switch Closure and Live Signal
Analog Output Connections
The following figures show examples for isolated 4-20 mA transmitter output connections. Terminal connectors are labeled individually. The analog outputs are isolated from each other and from the inputs. They are powered internally to provide an active 4-20 mA output loop. The outputs may be powered externally by connecting the positive voltage to the Ex+ terminal.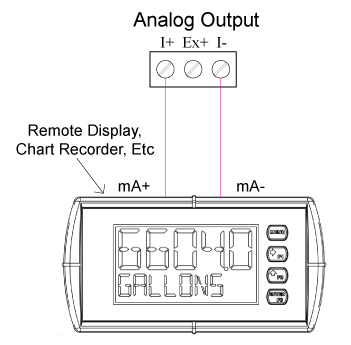 Active 4-20 mA Output Powered by ConsoliDator+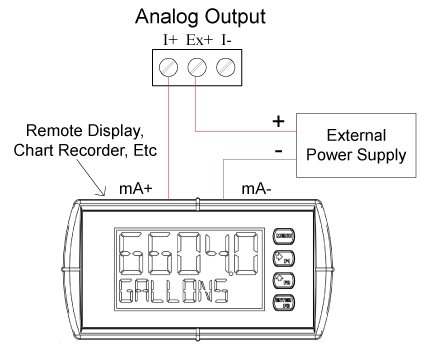 Passive 4-20 mA Output Powered by External Supply
Note: Analog inputs and outputs are isolated from each other.
Digital Output Connections
The digital outputs may be used to drive digital inputs, alarm annunciators, or other devices such as solid state relays that can be driven with low voltage signals.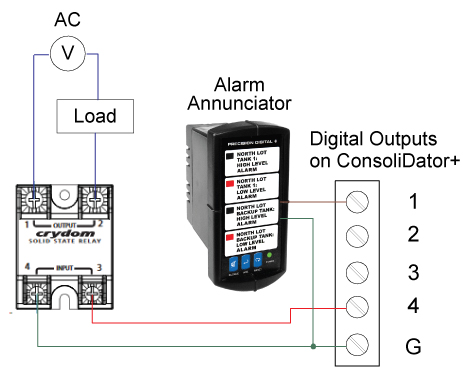 Digital Outputs Driving 5V Solid State Relay and Alarm Annunciator
Relay Connections
Relay connections are made to three-terminal connectors labeled individually. There are five relays per card.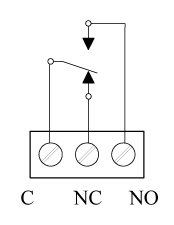 Relay Connections
Switching Inductive Loads
The ConsoliDator+ has internal circuitry to protect the relays from inductive loads, however, the use of suppressors (snubbers) is strongly recommended when switching inductive loads to prevent disrupting the microprocessor's operation. The suppressors also prolong the life of the relay contacts. Suppression can be obtained with resistorcapacitor (RC) networks assembled by the user or purchased as complete assemblies. Refer to the following circuits for RC network assembly and installation.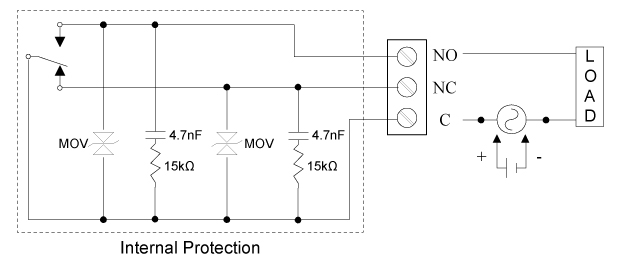 AC and DC Internal Inductive Load Protection
For additional external protection choose R and C as follows:
R: 0.5 to 1 Ω for each volt across the contactsC: 0.5 to 1 μF for each amp through closed contacts
Notes:
Use capacitors rated for 250 VAC.
RC networks may affect load release time of solenoid loads. Check to confirm proper operation.
Install the RC network at the instrument's relay screw terminals. An RC network may also be installed across the load. Experiment for best results.
Use diode with a reverse breakdown voltage two to three times the circuit voltage and forward current at least as large as the load current.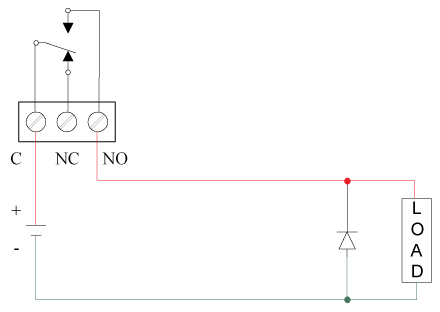 Low Voltage DC Loads Protection
RC Networks Available from Precision Digital
RC networks are available from Precision Digital and should be applied to each relay contact switching an inductive load. Part number: PDX6901.
Serial Communication Connections
The RS-485 port for serial communication (using Modbus protocol) has three terminals labeled D+, D-, and G. It is strongly recommended to use three-wire shielded cable and to always connect the ground terminal to the other equipment's ground to avoid differential voltage between the systems. Distances up to 4000 feet can be reached with RS-485. Up to 32 Modbus devices may be connected to a single RS-485 bus.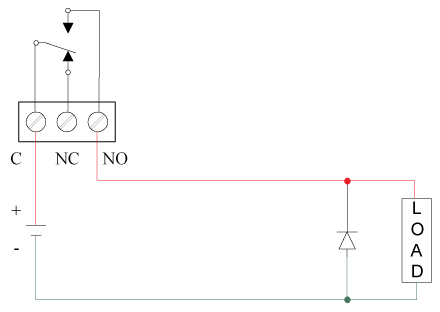 Serial Connections
Ethernet Option
The Ethernet port is available on the RJ45 connector. This allows the ConsoliDator+ to connect to a local area network. The Ethernet port option is configured using the Lantronix DeviceInstaller software, available for download from the Lantronix's Website at www.lantronix.com/products/xport/. See the PD9000 ConsoliDator+ manual for ethernet port setup details.
External Keypad Connections
Normally open pushbuttons may be wired to the digital inputs connector for use when the front panel of the controller is not accessible. The external keys may be assigned to replicate the Menu and F1-F4 function keys.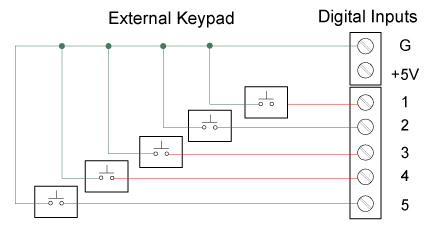 External Keypad Connections
Dimensions
Units: Inches (mm)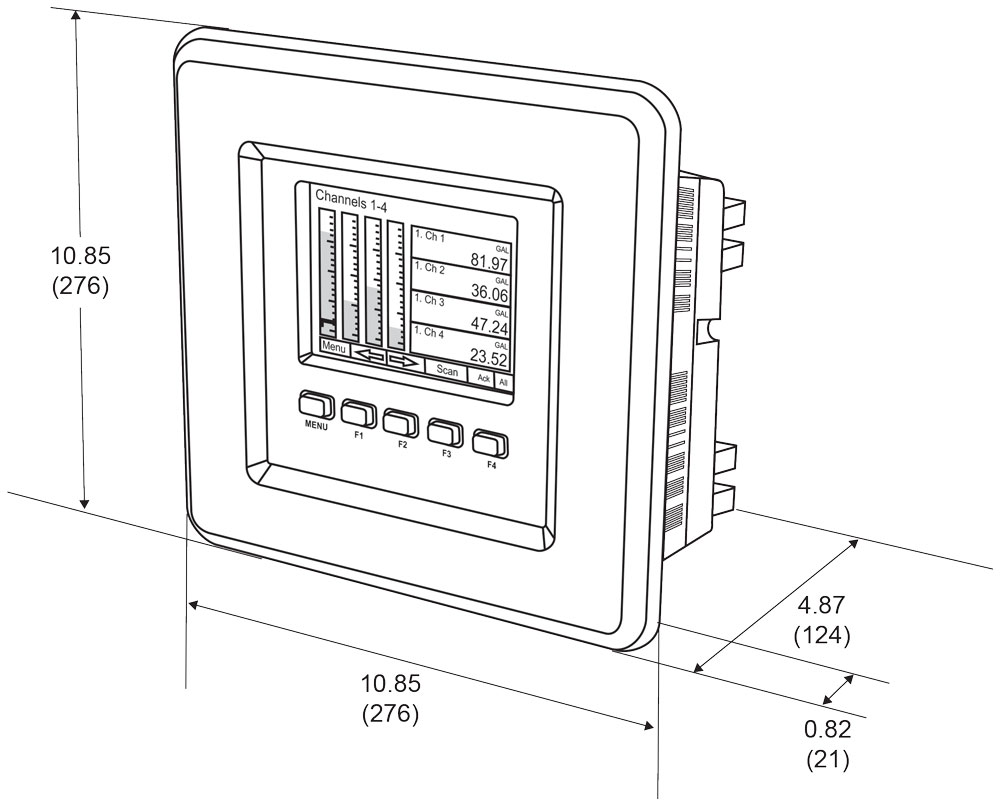 Panel Mount ConsoliDator+ Overall Dimensions
Panel Mounting
Prepare panel cutout per the dimensions provided
Locate the panel mounting bracket and screws
Inspect the controller to assure the gasket is securely in place
Insert controller in the panel cutout, the latches on the top and bottom should hold it in place
Insert the panel mounting bracket from the back of the panel, observe the orientation of the piece marked TOP
Install the 12 screws provided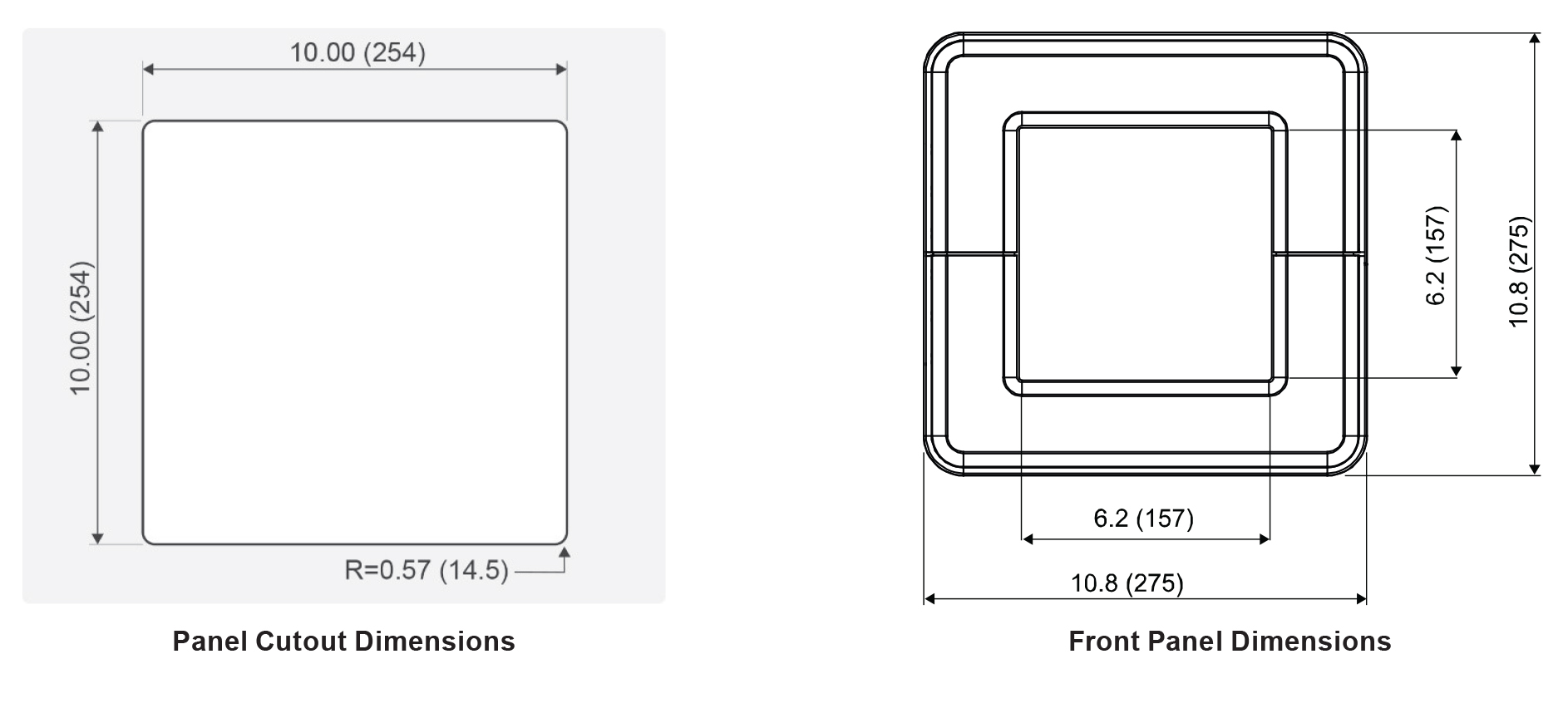 Notes:
Panel cutout: 10.0" x 10.0" ±0.05" (254 mm x 254 mm ±1.3 mm)See Panel Cutout Dimensions.
Panel thickness: 0.07" – 0.35" (1.8 mm – 8.9 mm)
Clearance: Allow 6" (152 mm) behind panel
Accessories
PD9000-ENC ConsoliDator+ NEMA 4X Plastic and NEMA 4 Steel Enclosures

The PD9000-ENC enclosures provide a convenient way to mount the PD9000 ConsoliDator+ to walls, pipes, and other vertical structures. The enclosures are available in painted steel and plastic and come pre-cut with one cutout to mount the PD9000.
The enclosures are available in various sizes, with the larger enclosures capable of housing other pieces of equipment, such as PDA1024-01 power supply. A pipe mounting kit is available to mount the enclosure to a 2-inch pipe and a sun hood accessory is available for outdoor installations.
In addition, the enclosures can be ordered with holes predrilled for mounting devices such as the PDA-LH Light / Horn, PDA-BUTTON Button, and the PDA0007 Ventilation Kit to the enclosure.
The enclosure and ConsoliDator+ are ordered and packaged separately.
Sub-Panels
Precision Digital offers plastic and steel sub-panels for the ConsoliDator+ enclosures that provide a convenient way to mount additional items to the base of the enclosure. They can be drilled to accept screws for easy mounting of relays, contactors, securing wiring clips, or installing other internal devices.

Sub-Panels for Plastic Enclosure
PDA0007 Enclosure Ventilation Kit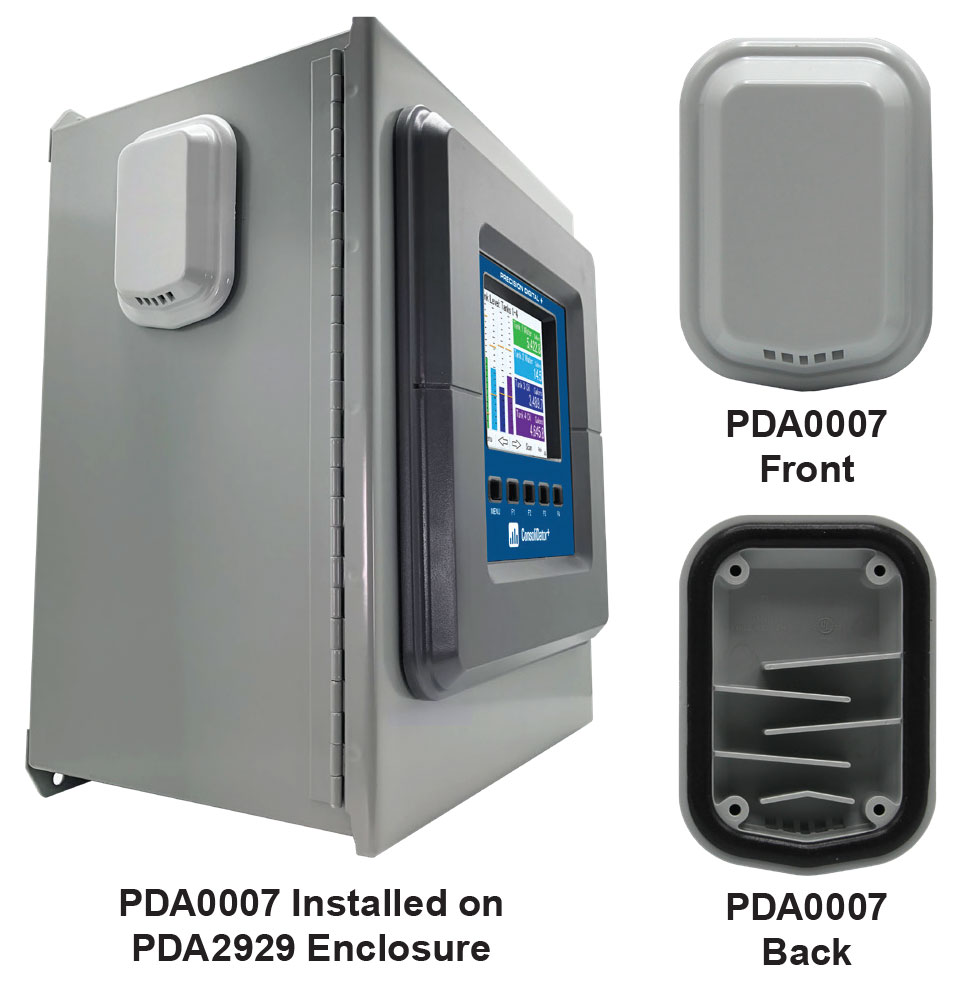 The
PDA0007 ventilation kit
consists of two vents and is designed to equalize internal / external pressure and temperature to prevent condensation from building up in the enclosure. Internal baffles within the vents create an airflow pattern that allows air to pass between the inside of the enclosure and the outside environment. The vents are compatible for use with steel or plastic enclosures and are rated UL & CSA Type 4X and IP66. The ventilation kit can also be ordered as a MODVENT-P for plastic enclosures and a MOD-VENT-M for steel enclosures. When this is done, the accompanying enclosure will be provided with pre-drilled holes for the vents (Installation is done by the user and the enclosure is sold separately). See ordering information.
Prevents condensation inside the enclosure
UL & CSA Type 4X IP66
Use with steel or plastic enclosures
For wall thickness of 16 gauge to 1/4"
Corrosion resistant polycarbonate
Comes with two vents
PDA9000SH ConsoliDator+ Sun Hood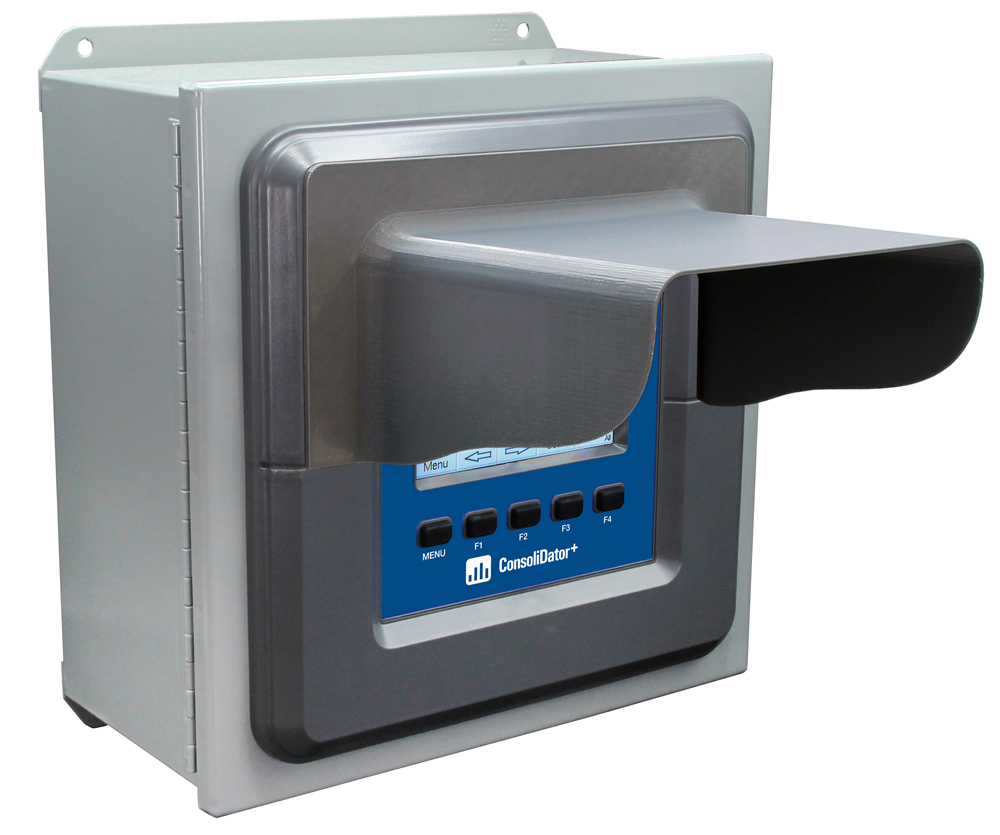 PDA9000SH Installed on PD9000 ConsoliDator+ mounted in PDA2909(ConsoliDator+ and enclosure sold separately)


The PDA9000SH ConsoliDator+ Sun Hood provides shade for the ConsoliDator+ when it is mounted in direct sunlight. It is adhered to the ConsoliDator+ enclosure with industrial grade double sided tape (provided).
Provides shade in direct sunlight
Easy to install
Industrial grade double-sided tape provided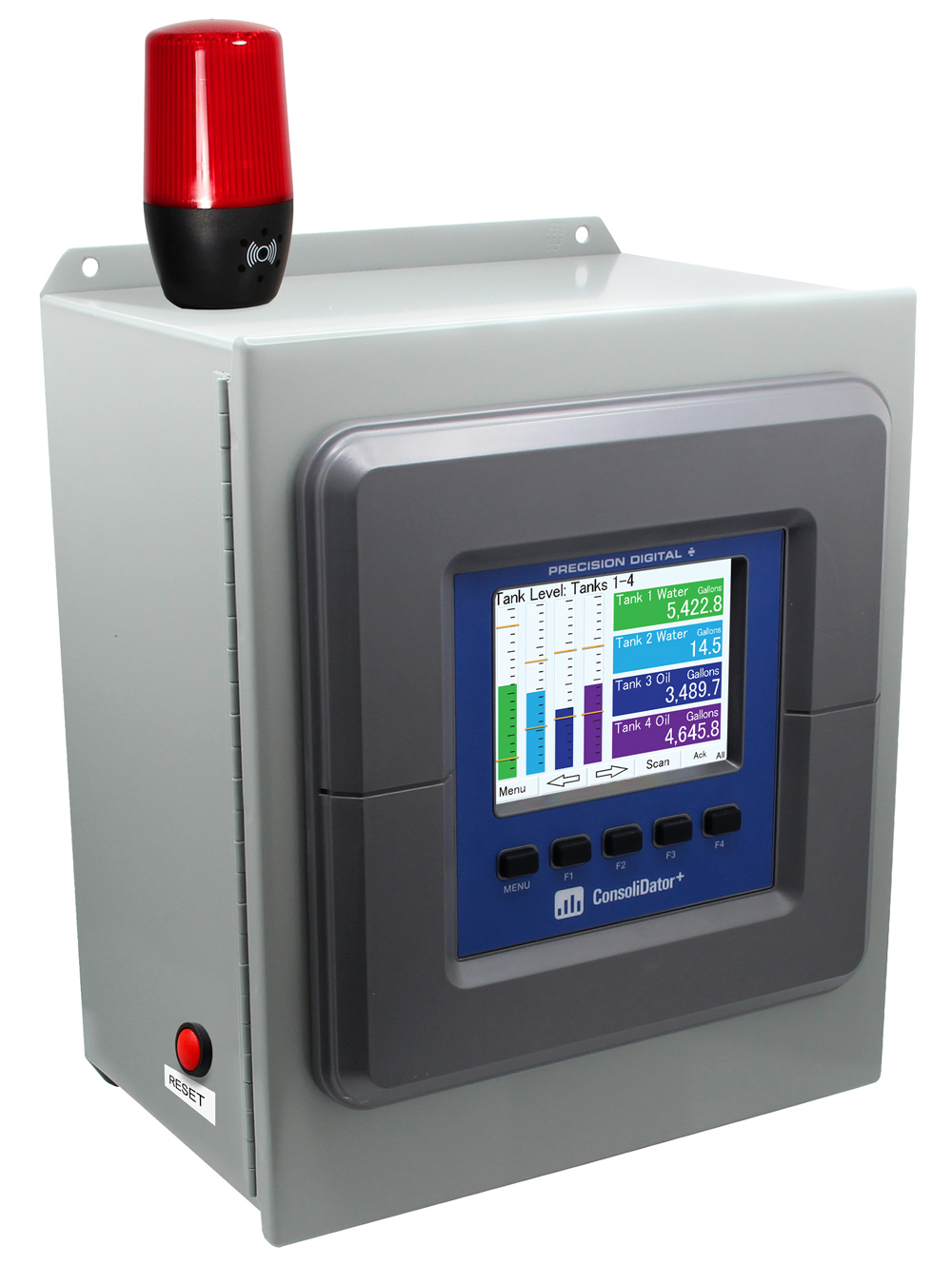 PDA-LH Installed on a PDA2919 NEMA 4 enclosure that contains the PD9000 ConsoliDator+(ConsoliDator+ and enclosure sold separately)
Precision Digital offers a line of Light / Horn accessories that are available as single color (red, green, yellow, blue or white), three layered colors (red, yellow, green), or five colors in one (red, green, yellow, blue or white.) The horn is rated at 85 dB and the light can be programmed to flash or stay steady on. The light(s) and horn can be controlled independently of each other via separate relays on the ConsoliDator+. The following are a few of the many ways the Light / Horn accessories can be used with the ConsoliDator+:
One single color Light / Horn with one relay driving the light and one relay driving the horn. The alarm could be based on a single input or when any of the multiple inputs goes into alarm.
Several different color Light / Horns all driven by separate relays indicating different alarm conditions.
One multi-light Light / Horn with each light and the horn driven by separate relays.
PDA1024-01 24 VDC Power Supply for DIN Rail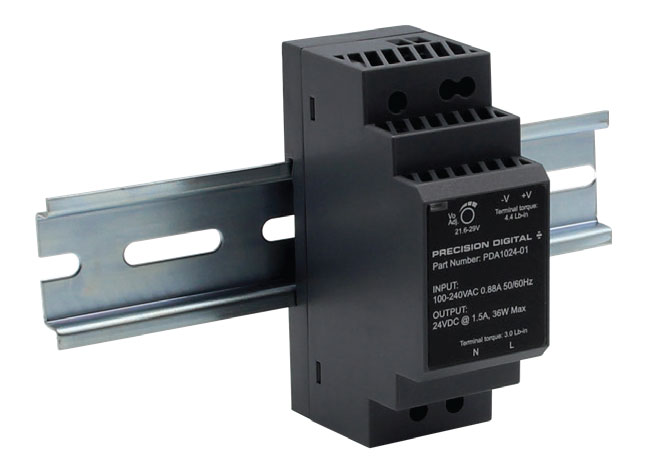 The
PDA1024-01
is a DIN rail mounted 1.5 A, 24 VDC power supply that can be used for a variety of functions; the most common of which is powering 4-20 mA transmitters.
SPECIFICATIONS

Output Voltage:
21.6 ~ 29 VDC; ±10% 1.5A rated current.
Dimensions:
1.40" x 3.50" x 2.10"
(35 mm x 90 mm x 54.5 mm) (W x H x D)