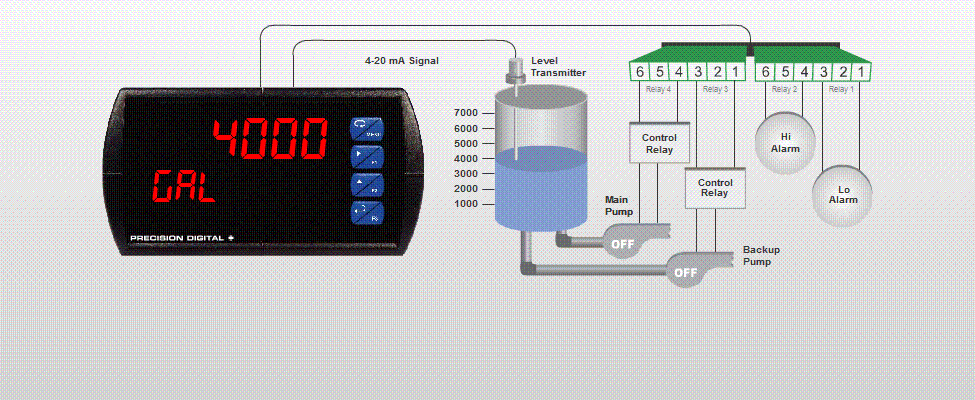 All About Pump Control
Precision Digital features easy to use, and feature-packed devices that can satisfy a wide variety of pump control applications. They are available in 1/8 DIN panel mount, explosion-proof and NEMA 4X wall mount configurations.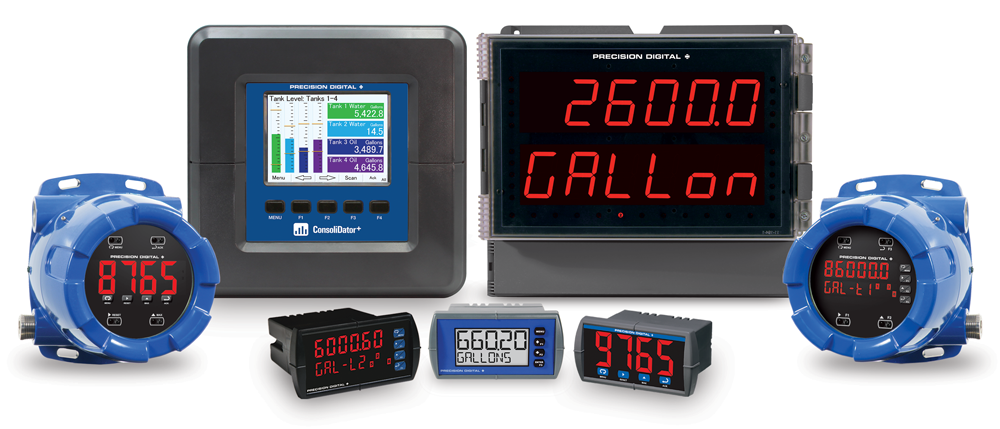 The PD6000 Pump Controller and PD8-6000 Explosion-Proof Pump Controller are loaded with features like an informative dual-line 6-digit display, a 24 VDC power supply to power any level transmitter, and user-friendly programming without the need for a PLC. It can alternate up to 8 pumps to control the level of sumps, tanks, or wells. Learn more
The PD765 Pump Controller and PD8-765 Explosion-Proof Pump Controller have features including a huge 1.2 inch (30.5 mm) display that can be seen from afar, user-friendly programming, and a 24 VDC power supply to power the transmitter. It can alternate up to 2 pumps to control the level of sumps, tanks, or wells. Learn more
The ConsoliDator+ Multivariable Controller can be used for a wide variety of pump control applications. Whether the system has two, three, or even five pumps, the ConsoliDator+ will provide the alternation scheme needed to ensure the pumps last as long as possible. Pumps can be alternated based on level readings and/or pump run time for maximum pump efficiency. The ConsoliDator+ can also help with preventative pump maintenance by alerting an operator when a pump has exceeded a user-defined threshold of total pump runtime. The ConsoliDator+ can also perform the pump alternation sequence with a single float switch input in case of primary sensor failure. Learn more
Forget about complicated wiring, installations, level switches, and unintelligible devices. Precision Digital Pump Controllers are an efficient and informative solution. Watch the video on how to alternate pumps with the PD6000 Pump Controller.
---
Applications
How to alternate pumps with the PD6000 Pump Controller
The PD6000 Pump Controller can alternate up to 8 similar pumps for applications where pumps are used to control the level of tanks, sumps, or wells. Alternating pumps helps extend the life of the pumps by evenly distributing the load among the pumps in service. In the application below, two relays are set up to alternate when an on/off pump cycle is completed. Two other relays are used for alarms.
For more information about pump alternation with the PD6000, click here to read our white paper titled "Level Monitoring & Pump Control with the ProVu PD6000."

---
Multiple Pump Control with the ConsoliDator+ Multivariable Controller
The ConsoliDator+ PD9000 multivariable controller can accept up to (28) 4-20 mA Isolated Inputs and (25) 10 Amp Form C relays which enables it to perform an abundance of tasks related to pump control. The following example illustrates how one ConsoliDator+ can utilize its many 4-20 mA inputs and relays to achieve monitoring, alarming, and level control of multiple sumps.
One ConsoliDator+ monitors and controls 6 sumps.
All 4-20 mA inputs from the level transmitters are isolated and powered by the ConsoliDator+.
Twenty-four 10 A Form C relays control and alternate 2 pumps in each sump while providing high / low level alarms for each sump.
One relay sends a signal to a central monitoring station when any sump goes into high alarm.
---
Videos
Pump Controllers Key Features Overview
Check out this short introduction to the PD6000, 765, and PD8 pump controllers with integrated level displays. These pump controllers include features that allow for clear and convenient level monitoring as well as control. They are rugged enough to handle almost any application environment, including hazardous areas requiring explosion-proof approvals.
Sump Level Control with PD6000 Multi-Pump Alternation
See how the PD6000 Pump Controller alternates pumps in a lift station while monitoring the level. Using the dual-scale feature, the PD6000 will be displaying gallons on the upper display and height in feet on the lower display. Two relays trigger high and low alarms, and two others trigger the pumps that drain storm water.
---
NEMA 4X Enclosures

For wall mounting configurations, choose from a wide selection of NEMA 4X enclosures that can house from one to multiple pump controllers. They are available in plastic or stainless steel.
PDA2300 Series NEMA 4X Economical Plastic Enclosures Learn more
PDA2600 Series NEMA 4X Stainless Steel Enclosures Learn more
PDA2800 Series NEMA 4X Low-Cost Plastic Enclosures Learn more
PDA3400 Series Internally Mounted NEMA 4X Plastic Enclosures Learn more
PD9000-ENC ConsoliDator+ Enclosures Learn more
Pump Controllers