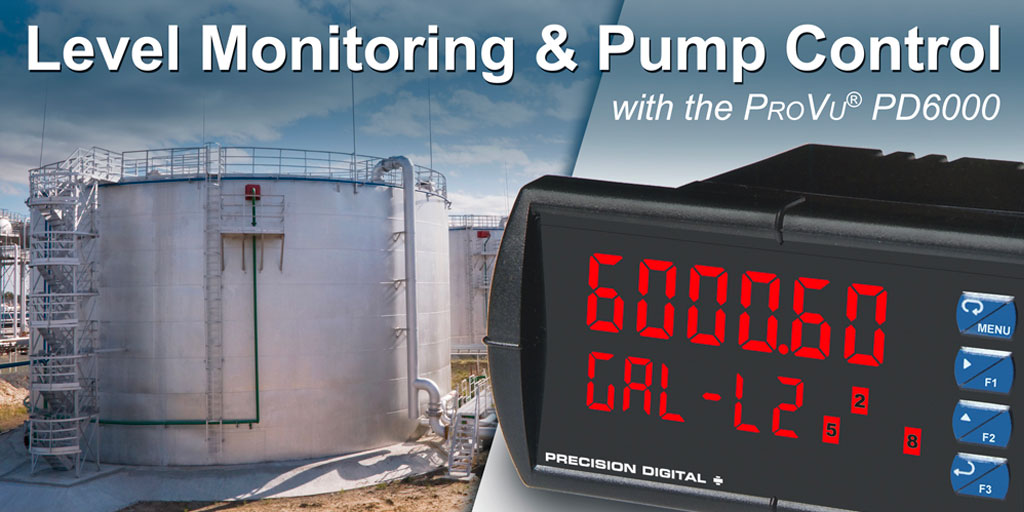 Level measurement and pump control go hand-in-hand, whether it is making sure that your tanks stay full or that they don't overflow. Traditionally, however, these two processes required separate devices, a pump controller and a level indicator. Precision Digital's ProVu PD6000 level display and pump controller combines these important tasks into one device. Not only that, but the PD6000 also offers advanced multi-pump alternation control functionality which can help maximize the life-span of your pumps.
The PD6000 is a bright, easy-to-read digital panel meter that accepts either a current (0-20mA, 4-20 mA) or voltage (±10 V, 0-5 V, 1-5 V) analog input from any analog output level transmitter. It features multi-pump alternation control for up to eight pumps, advanced 32-point linearization for oddly shaped tanks, and automatic round-horizontal-tank volume calculation.
As a level indicator, the PD6000 offers an easy-to-read, dual-line display with optional Sunbright® LEDs which can be read in direct sunlight. The secondary display can be used to display level measurement units or calculated tank volume. The PD6000 is available with up to four onboard mechanical relays and a 4-20 mA analog output for signal retransmission or output of some other variable. An available external expansion module brings the total available relays to eight.
As a pump controller, the PD6000 can use its available eight relays to alternate the usage of up to eight pumps at programmed high or low set points. When the level reaches the first set point, the PD6000 will activate the first pump. When the level then reaches the associated reset point, the active pump will be deactivated. The next time this set point is reached, the PD6000 will activate a different pump in the group. This spreads the amount of system wear evenly among the pumps, rather than constantly utilizing a main pump and leaving the backup pump to remain unutilized and deteriorated over time, potentially failing when it is needed most.
Combining level indication and pump control is easy with the ProVu PD6000.
For more information on the PD6000, visit www.predig.com/pd6000.
For more information on multi-pump control or to view our other pump controllers, visit pumpcontrol.com.
ProVu

PD6000 Features


0-20 mA, 4-20 mA, 0-5 V, 1-5 V, and ±10 V Inputs
NEMA 4X, IP65 Front
Universal 85-265 VAC or 12/24 VDC Input Power
Large Dual-Line 6-Digit Display, 0.60" & 0.46"
Dual-Scale for Level Applications – Single Input
Sunlight Readable Display Models
Isolated 24 VDC @ 200 mA Transmitter Power Supply
Signal Input Conditioning for Flow & Round Horizontal Tanks
Programmable Displays & Function Keys
32-Point, Square Root, or Exponential Linearization
Multi-Pump Alternation Control
2 or 4 Relays + Isolated 4-20 mA Output Options
External 4-Relay & Digital I/O Expansion Modules
USB, RS-232, & RS-485 Serial Communication Options
Tare Function
Modbus RTU Communication Protocol Standard
On-Board Digital Input
Configure, Monitor, and Datalog
The

ProVu

PD6000 Showing Pump Alternation in a Tank Level Application

The

ProVu

PD6000 used for Round Horizontal Tanks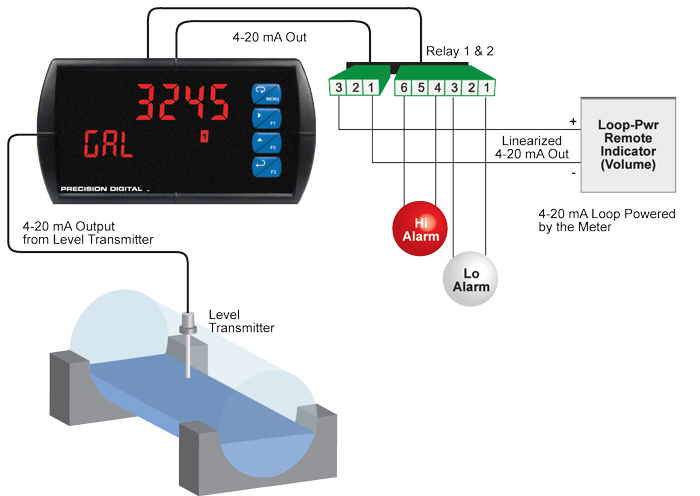 Watch this Video of the ProVu PD6000 Simulating Pump Alternation Control
In this video you will see a demonstration of the PD6000 ProVu process meter in a level application, particularly, pump-alternation control in a sump. The PD6000 boasts several features that cater to level applications, such as pump alternation control with its 6-digit dual line display and dual scale function which allows you to use both lines to display different measurement units.