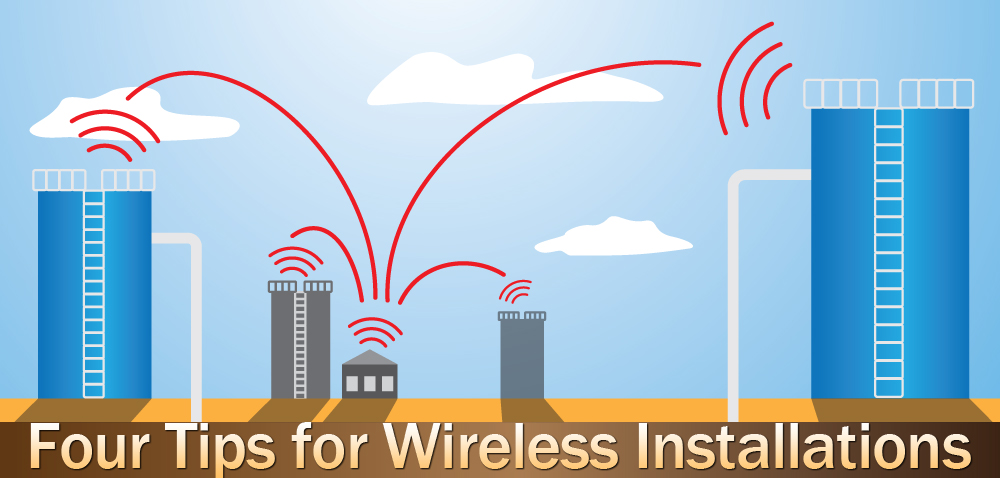 Precision Digital's PDW industrial wireless solutions eliminate the need to run costly signal wires between your devices by transmitting analog, discrete, and Modbus® signals from where you have them to where you need them. PDW systems range in complexity from simple point-to-point for wire replacement (PDW30), to large-scale point-to-multipoint for connecting up to 32 individual field locations to a central base station (PDW90). Typically, these devices are used to send signals from transmitters located at the process to a display or controller located in a central control room. Figure 1 shows a typical installation.
Figure 1: Typical PDW Industrial Wireless Installation
PDW wireless devices have been designed with ease-of-use in mind, with intuitive programming through either the front buttons or PDW Manager programming software. However, wireless communications, no matter the device, can be negatively affected by certain factors, such as physical obstacles and improper equipment placement. This could lead to extended troubleshooting during or after equipment installation. As is the case with any equipment installation, a little leg work at the beginning can go a long way. Always take the time to verify that the wireless units can communicate with each other from the desired mounting locations prior to installation. Also, keep the following installation tips in mind when planning the install.

Be sure to check that there are no obstacles blocking the wireless signal path. These obstacles could include obvious things, such as buildings and walls, and also some less obvious things, such as trucks that regularly drive along the wireless signal path, trees growing back their leaves in the spring, and even pipes and equipment near the installation location. Ensure that wireless antennae are not installed abutting pipes or other metal objects, as shown in figure 2, as this can seriously hinder wireless signal strength. To avoid obstacles, make sure to install wireless devices, or at least the devices' antennae, as high as practicable above the height of any potential obstacles.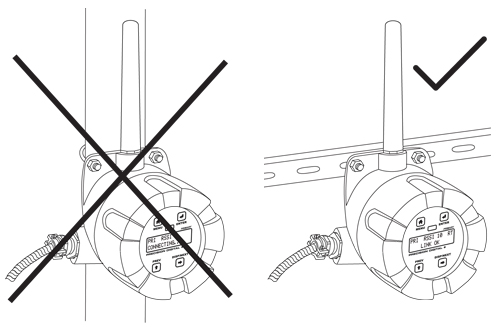 Figure 2: Proper Antenna Installation

PDW wireless device antennae, as is the case with most wireless antennae, broadcast on a horizontal plane. As such, make sure that the units are positioned as parallel as possible with respect to each other. If installing in a confined area, running a remote antenna from the unit may help to ensure that the antennae are horizontally positioned.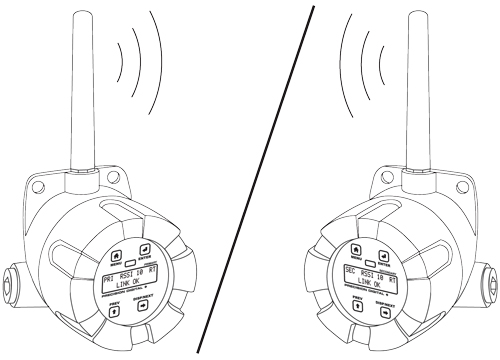 Figure 3: Horizontal Orientation

Wireless communications can be impeded by other wireless signals and electrical noise. PDW wireless products use Frequency Hopping Spread Spectrum (FHSS), which switches between many frequency channels, to reduce signal interference. However, signal noise may still present a problem, especially in particularly noisy areas. In order to limit signal noise from other wireless signals, ensure sufficient vertical separation. If you are experiencing communications issues and think that signal noise is to blame, try relocating the wireless device away from strong electrical noise or other wireless devices.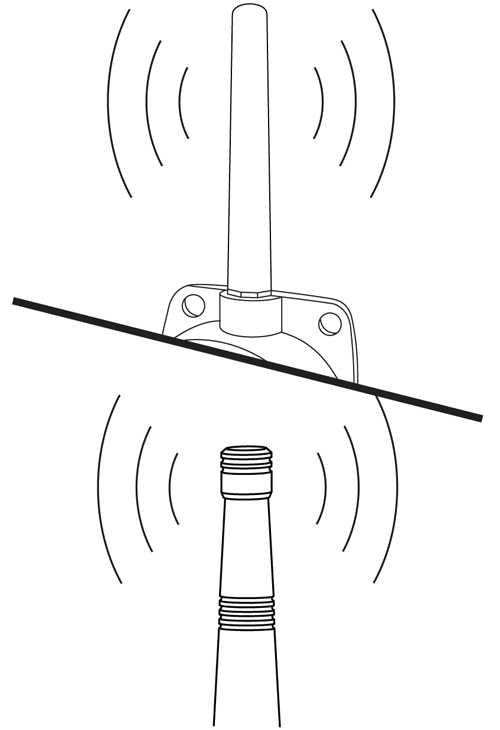 Figure 4: Vertical Separation

Intermittent environmental factors, such as rain, snow, and humidity, can affect wireless reception. In order to account for such factors, ensure that the signal reception is adequate during ideal environmental conditions in order to account for non-optimal conditions. PDW wireless products display a Received Signal Strength Indicator (RSSI) on a scale from 1 to 10, as shown in figure 5. When installing PDW products, make certain that the RSSI on the device is at least 5 in clear conditions in order to account for less ideal weather conditions.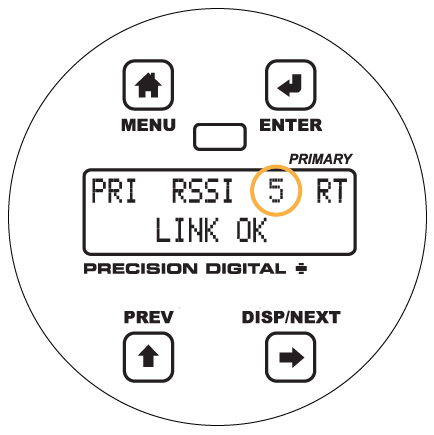 Figure 5: Received Signal Strength Indicator
---
Precision Digital's industrial wireless systems provide a simple way to get signals from transmitter to display and control devices without the need to run signal wires. They are simple to program and install, but, as is the case with all wireless systems, present additional considerations over wired signals. For installations where wireless connectivity might present a problem, Precision Digital also offers a wireless survey kit that can answer signal strength questions during the installation planning stages. Keeping these four installation tips in mind while planning a wireless installation, and using the wireless survey kit to plan out installation locations, can help ensure that it is done right the first time.