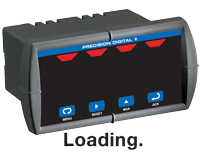 Related Products
---
The Precision Digital PDW30 gives you a simple, straightforward way to get an analog, discrete, or Modbus® signal from where you have it to where you need it. It's a point-to-point wireless bridge packaged in a rugged, weather-tight housing that is designed to meet the demands of industrial installations.
The PDW30 is simple to order, simple to configure, and easy to trust with your application. Guaranteed ranges assure it will work with your application or you can send it back - no questions asked. A wireless survey tool is available for those installations that require a site survey for longer distances, making it easy to verify the setup will work the first time.
The primary unit accepts an analog, discrete, or Modbus® input and wirelessly broadcasts it to the secondary unit. The secondary unit then recreates that signal at its location. Just put the units in the field wherever you have a process signal and 24 VDC power.
Fixed or remote antenna modules as well as a wide range of accessories are available, including mounting kits, antenna-related accessories, and repeaters. The antenna may be directly attached or remotely located. High gain directional antennas are also offered.
---
Features
Signal Wire Replacement in a Rugged, Industrial Housing
Inputs and Outputs on Both Field Units
Simple to Order, Configure, & Install
1 Mile Line-of-Sight Outdoor, 500 Ft Indoor Range
Inputs: Analog (4-20 mA, 0-10 V, 0-5 V, 1-5 V), Digital, and RS-485 Modbus Communications
Outputs: Analog (4-20 mA), Digital, and RS-485 Modbus® Communications
Remote or Attached Antenna
Repeaters and Directional Antennas Available
Flanges for Wall or Pipe Mounting
Software Available for Even Easier Setup
NEMA 4X, IP68 Enclosure
PDA3900 Yagi High Gain Antenna Accessory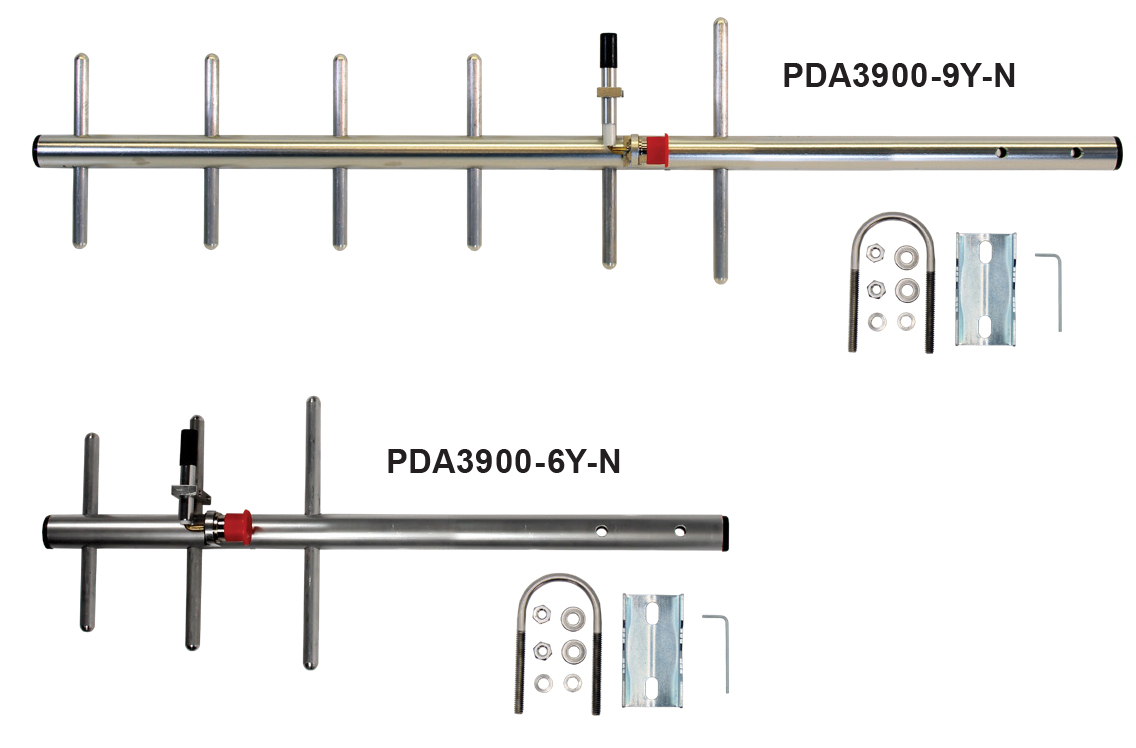 The PDA3900 yagi antennas are made to work with point-to-point applications. These high gain antennas are ideal to use with Precision Digital's PDW wireless series because they give you the flexibility of installing the antenna exactly where you need to bridge your point-to-point wireless process signals while keeping the PDW unit in a convenient location for monitoring. Each Yagi is factory tuned on a network analyzer for best power match and lowest VSWR, offering the best possible performance. The PDA3900 also comes complete with a mounting kit with stainless steel hardware.
Specifications
Frequency: 900 MHz
Gain: 6 or 9 dBd (based on model)
Termination: N-Female connector
Mounting Kit: Included for 1 ¼" pipe
Dimensions: PDA3900-6Y-N: 17.125" (435 mm) x 6.875" (175 mm), PDA3900-9Y-N: 28" (711 mm) x 6.875" (175 mm)
Weight: PDA3900-6Y-N: 11.2 oz (318 g), PDA3900-9Y-N: 16.8 oz (476 g)
Connecting the Yagi Antenna to the PDW30 Unit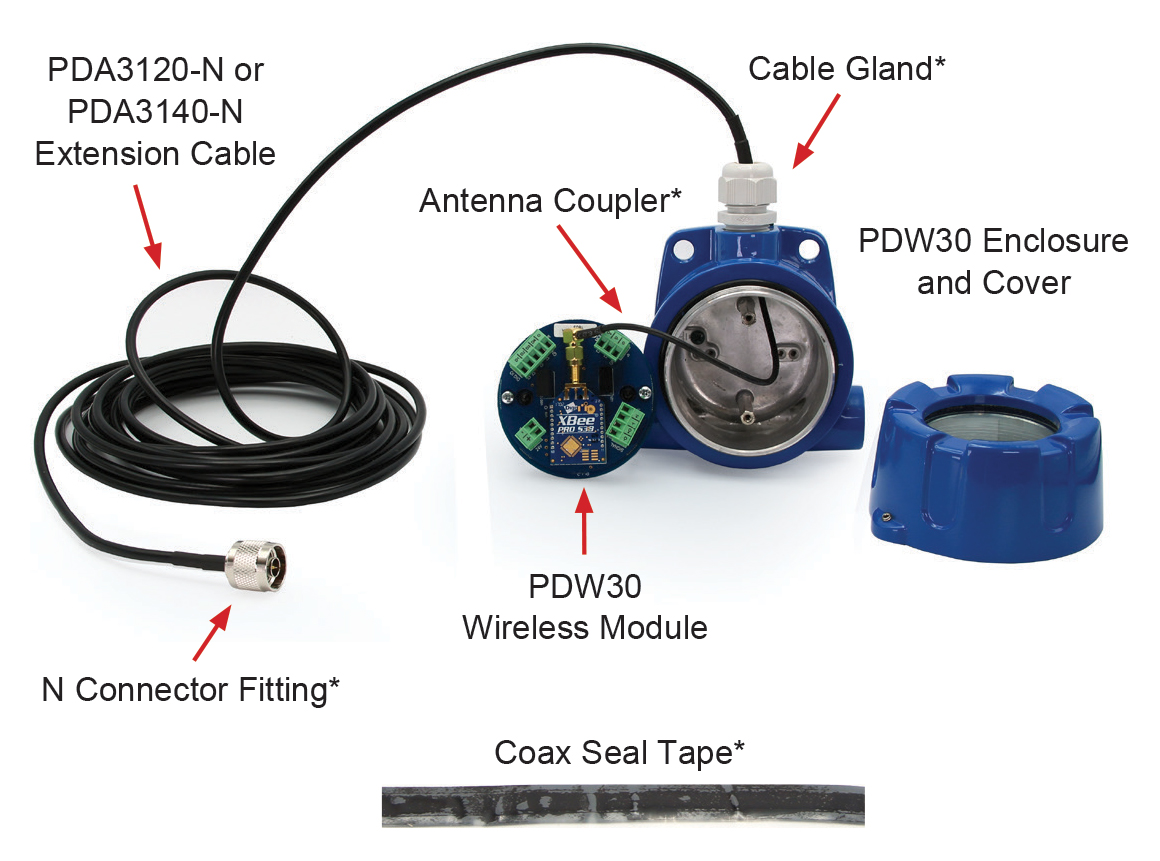 *Included with the PDA3120-N or PDA3140-N Extension Cable
Caution: Do not use accessive force when attaching coupler to PDW30 wireless module.
Mounting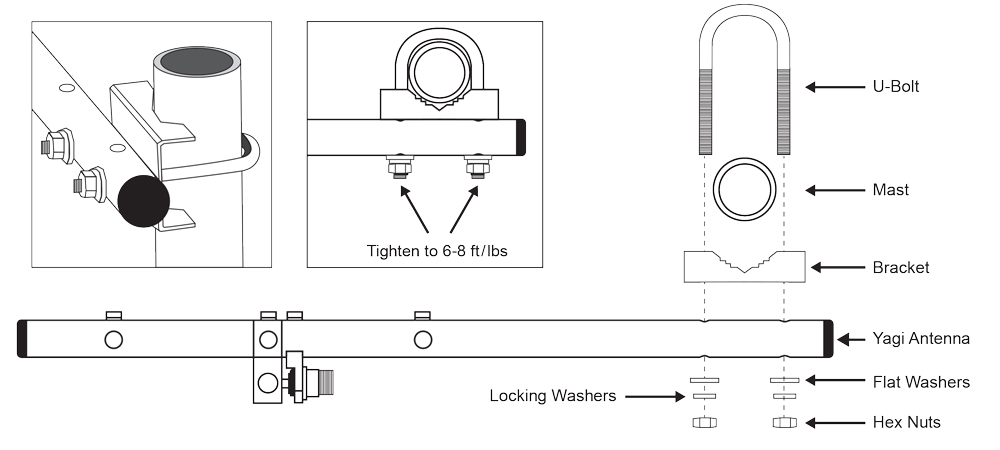 Dimensions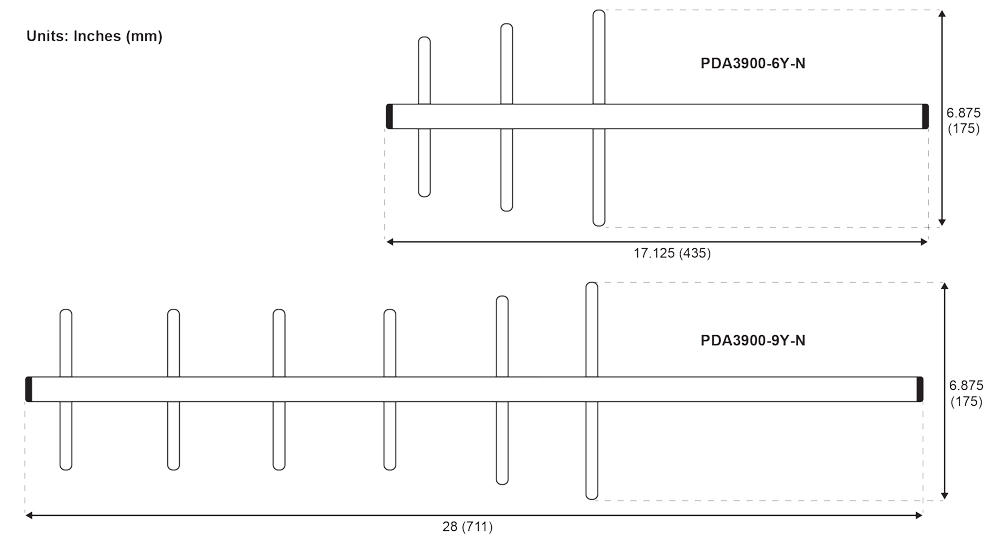 General
| | |
| --- | --- |
| Display | 32-character dual-line alphanumeric dot matrix LCD display with backlight (4.68mm x 2.21mm characters) |
| Display Orientation | Display may be mounted at 180° from default orientation |
| Network ID | Field selectable: 0 - 99 |
| Programming Methods | Four programming buttons (behind glass) or PC with PDW Manager software. |
| Recalibration | All inputs and outputs are calibrated at the factory. Recalibration is recommended at least every 12 months. |
| Process/ Digital I/O Display | Press the display button once to display the present analog input and output. Press the display button again to display digital I/O states. |
| Password | A programmable password restricts modification of programmed settings. |
| Power | 12-28 VDC, 5 W max |
| Non-Volatile Memory | All programmed settings are stored in non-volatile memory for a minimum of ten years if power is lost. |
| Isolation | 500 V |
| Environmental | Operating temperature range: -40 to 65°C (display inoperable < -20 °C); Storage temperature range: -40 to 85°C; Relative humidity: 0 to 90% non-condensing |
| Connections | Removable screw terminal blocks accept 16 to 30 AWG wire. |
| Enclosure | Cast aluminum with glass window, 0.30% max copper content, corrosion resistant powder coating, color: blue. NEMA 4X/IP68. Two ½" NPT threaded conduit openings. One ½" NPT stainless steel conduit plug with 10 mm hex key fitting installed. |
| Mounting | May be mounted directly to conduit. Two mounting holes for 1.5" pipe or wall mounting. See Mounting Dimensions on page 29 for mounting space requirements. |
| Signal Connector Tightening Torque | 2.5 lb-in (0.28 Nm) |
| Shipping Dimensions | 17" x 14" x 9" (43.2 cm x 35.6 cm x 22.9 cm) (L x W X H) |
| Shipping Weight | 5 lbs. (2.27 kg) |
| Warranty | 3 years parts & labor |
Wireless Radio
| | |
| --- | --- |
| Frequency | 900 MHz |
| Range | 500 ft (152.4 m) indoor, 1 mi (1.61 km) outdoor (line-of-sight) |
| Encryption | AES 128-bit encryption available using PDW Manager software |
| Interference Reduction | Frequency Hopping Spread Spectrum (FHSS) |
| Power Output | 24 dBm (250 mW) |
| Sensitivity | -101 dBm |
Analog Input
Inputs

Field selectable: 4-20 mA, 0-10 V, 0-5 V, 1-5 V

Accuracy

±0.03% of calibrated span ±1 count

Temperature Drift

0.005% of calibrated span/°C max from 0 to 65°C ambient,
0.01% of calibrated span/°C max from -40 to 0°C ambient

Input Impedance

Voltage ranges: greater than 110 k&ohm;; Current ranges: < 220 &ohm;

Signal Loss

Inputs will remain off (open circuit) until wireless units are reconnected.

HART Transparency

Analog input will not interfere with existing HART communications on the wired 4-20 mA signal
Isolated 4-20 mA Transmitter Output
Output Source

Analog input from connected wireless unit

Calibration

Factory calibrated: 4.000 to 20.000 = 4-20 mA output

Accuracy

± 0.1% of span ± 0.004 mA

Temperature Drift

0.4 µA/°C max from 0 to 65°C ambient, 0.8 µA/°C max from -40 to 0°C ambient


Signal Loss

mA output will become 3.2 mA after approx. 25 seconds

Output Loop Resistance

Power supply

Minimum

Maximum

24 VDC

10-ohms

900-ohms
Digital Input / Output Terminal
Channels

Four (4) digital connections, independently field selectable as either inputs or outputs

Digital Input Logic High

3 to 5Vdc, TTL logic level

Digital Input Logic Low

0 to 1.1 VDC

Digital Output Logic High

3 to 5 VDC

Digital Output Logic Low

0 to 0.4 VDC

Source Current

10 mA maximum output current

Sink Current

1.5 mA minimum input current

Signal Loss

Digital output goes to logic high

Note: A closed dry contact can be used for the digial inputs.
RS-485 Modbus® RTU Serial Communications
| | |
| --- | --- |
| Compatibility | EIA-485 |
| Connectors | Removable screw terminal connector |
| Max Distance | 3,937' (1,200 m) max |
| Baud Rate | 1200 – 57,600 bps |
| Data | 8 bit (1 start bit, 1 or 2 stop bits) |
| Parity | Even, Odd, or None with 2 stop bits |
| Modbus Timeout | 0.5, 1, 2, 3, 4, 5 seconds; user selectable |
PDW Manager Software
| | |
| --- | --- |
| System Requirements | Microsoft® Windows® XP/Vista/7/8/10 |
| Communications | USB 2.0 (Standard USB A to Micro USB B) |
| Configuration | Configure devices one at a time |
Connections
The diagram below below shows the locations of screw terminal blocks on the rear of the wireless field unit assembly.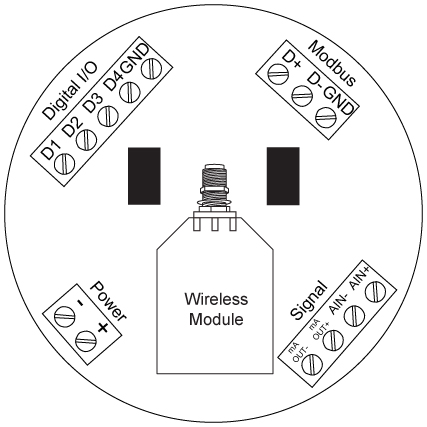 Power
Power connections are made to a two-terminal connector labeled POWER. The PDW30 is reverse polarity protected; it will not be damaged if wired backwards. Make sure that the power supply can provide between 12 and 28 VDC to the wireless device.

Power PDW30 and 2-Wire Transmitter from Same Power Supply
The PDW30 wireless units may be powered from the same power supply that powers the 2-wire (loop-powered) transmitter, assuming that the supply provides enough voltage for both units. To power both devices from the same supply, wire the devices to the supply as shown below.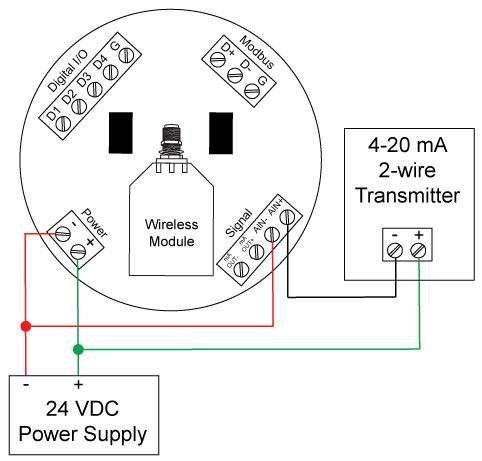 Signal Connector
The analog input may be either 4-20 mA, 0-10 V, 0-5 V, or 1-5 V. The appropriate input type must be programmed for each unit.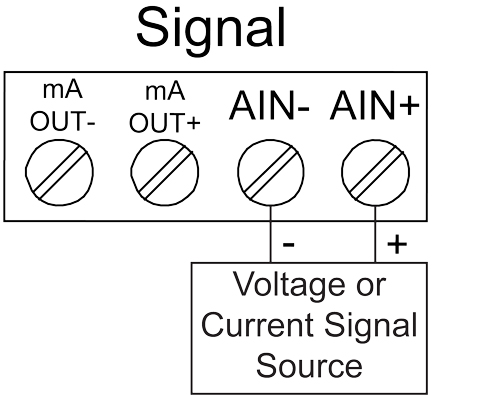 4-20 mA Output Connector
The 4-20 mA output corresponds with the analog input signal on the paired wireless device. The analog output signal is always 4-20 mA, regardless of the input type on the other wireless module.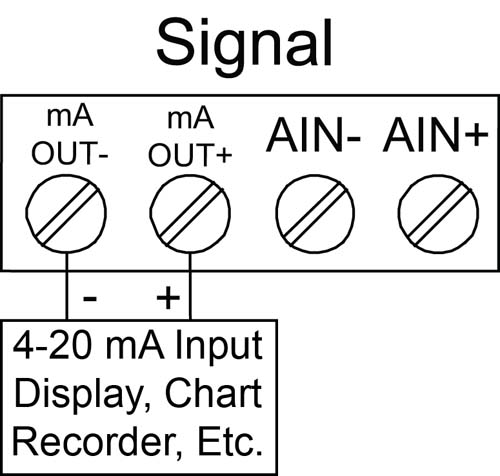 Digital I/O Connector
All digital connections are referenced to ground. The primary unit digital I/O settings determine the settings of the secondary unit. (e.g. if DI of the primary is an input, DI of the secondary is an output)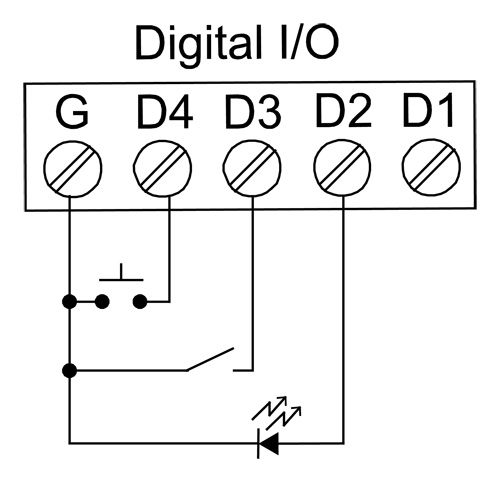 Note: Each connection may be set independently in the device settings as either an input or an output. In the diagram to the right, D4 & D3 are digital inputs and D2 is a digital output.
PDW Manager Programming Software
Programming with PDW Manager
PDW Manager allows you to program the PDW30 wireless units from a PC with a USB connection. Units connect to a PC via the micro USB connection on their face, underneath the enclosure cover. Use of PDW Manager is required for programming advanced settings such as wireless encryption and analog signal calibration.
PDW Manager can be found on the included CD or downloaded from www.predig.com/PDWManager. Once the software is running, power the unit using a 12/28 VDC power supply and connect the device to the PC using the provided USB cable.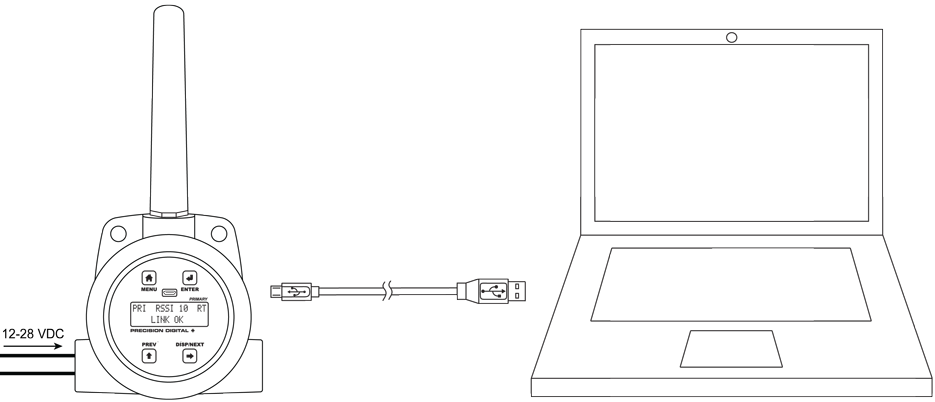 The PC will automatically install the appropriate device drivers. Once this has completed, the device will appear in the Device list at the top of the PDW Manager window. Click Connect.

The menu options displayed will vary depending on what type of unit is connected. The PDW30 primary unit will have more options than the secondary unit. The image below shows the available options on the configuration tab while the primary unit is connected.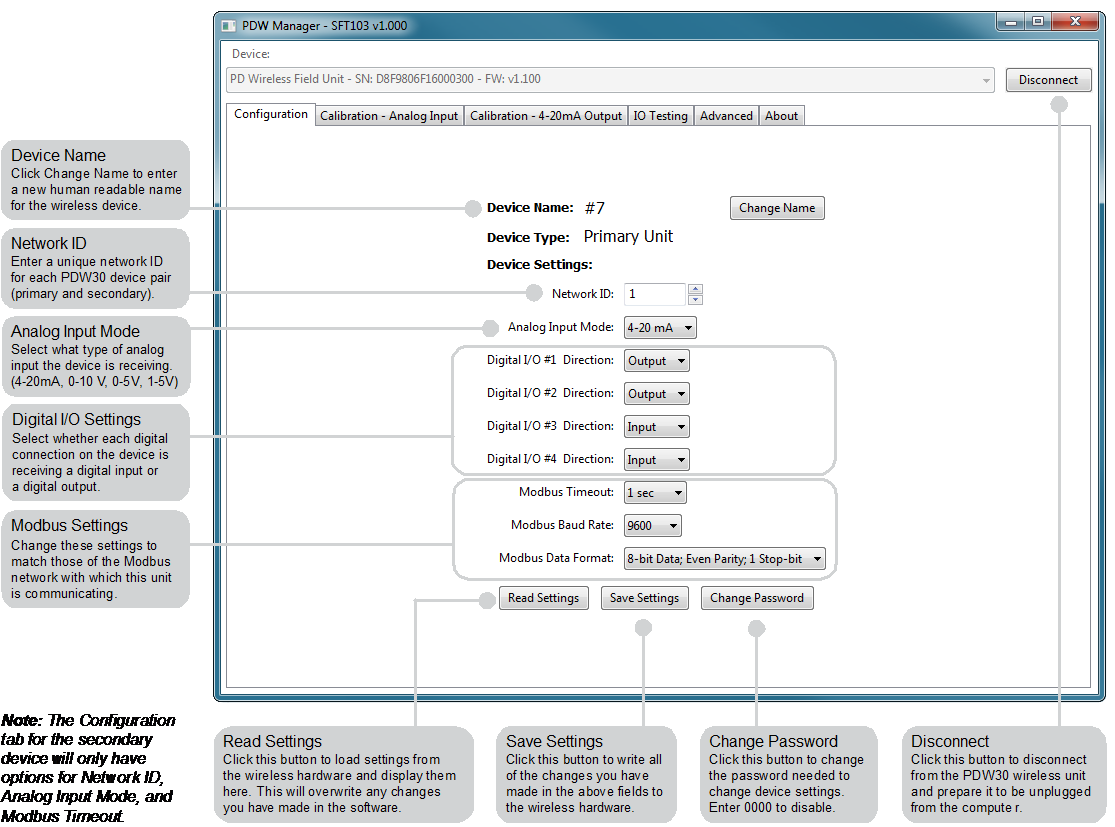 The devices' analog inputs and outputs can be calibrated using the Calibration tabs. The IO Testing tab allows you to perform diagnostics and testing on the units.
Calibration – Analog Input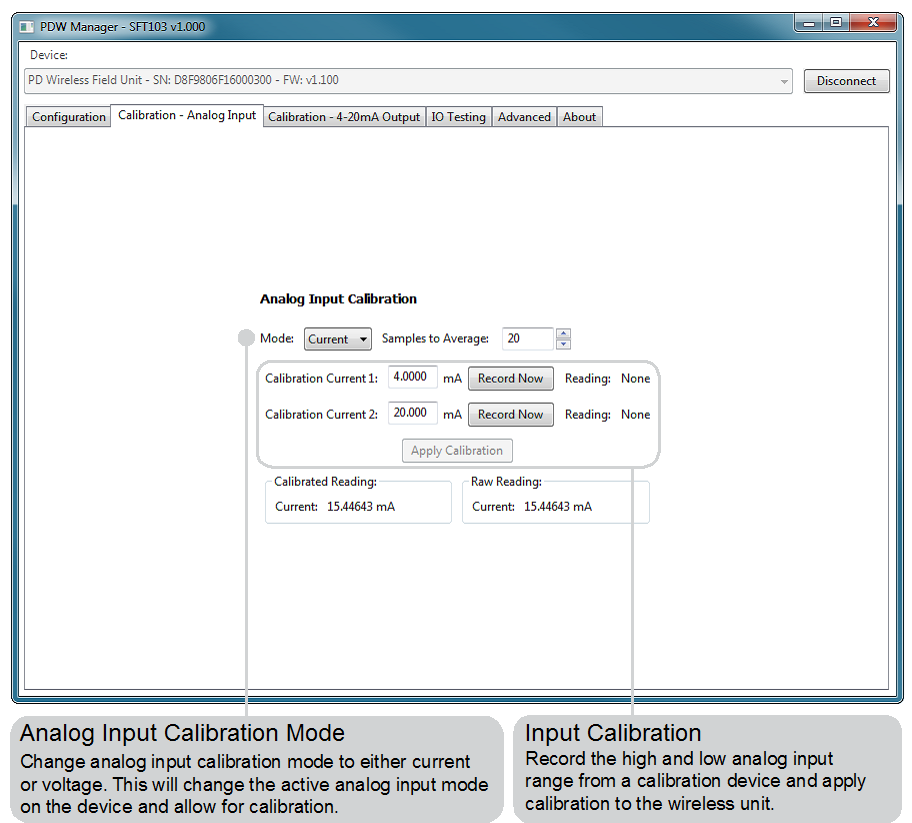 Calibration – 4-20mA Output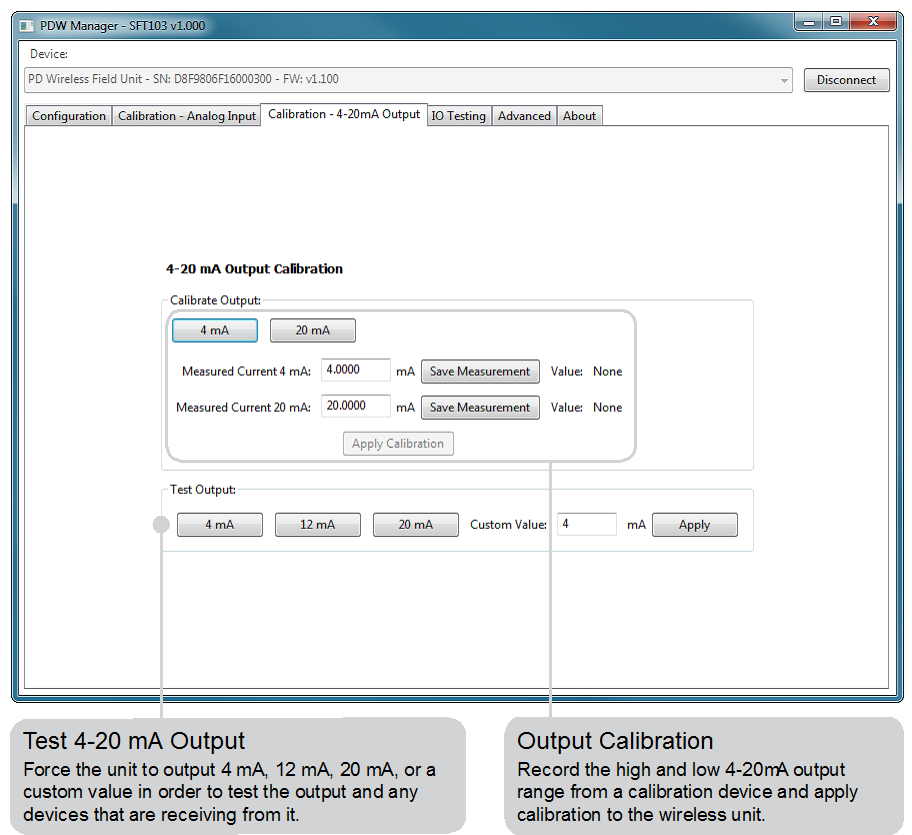 IO Testing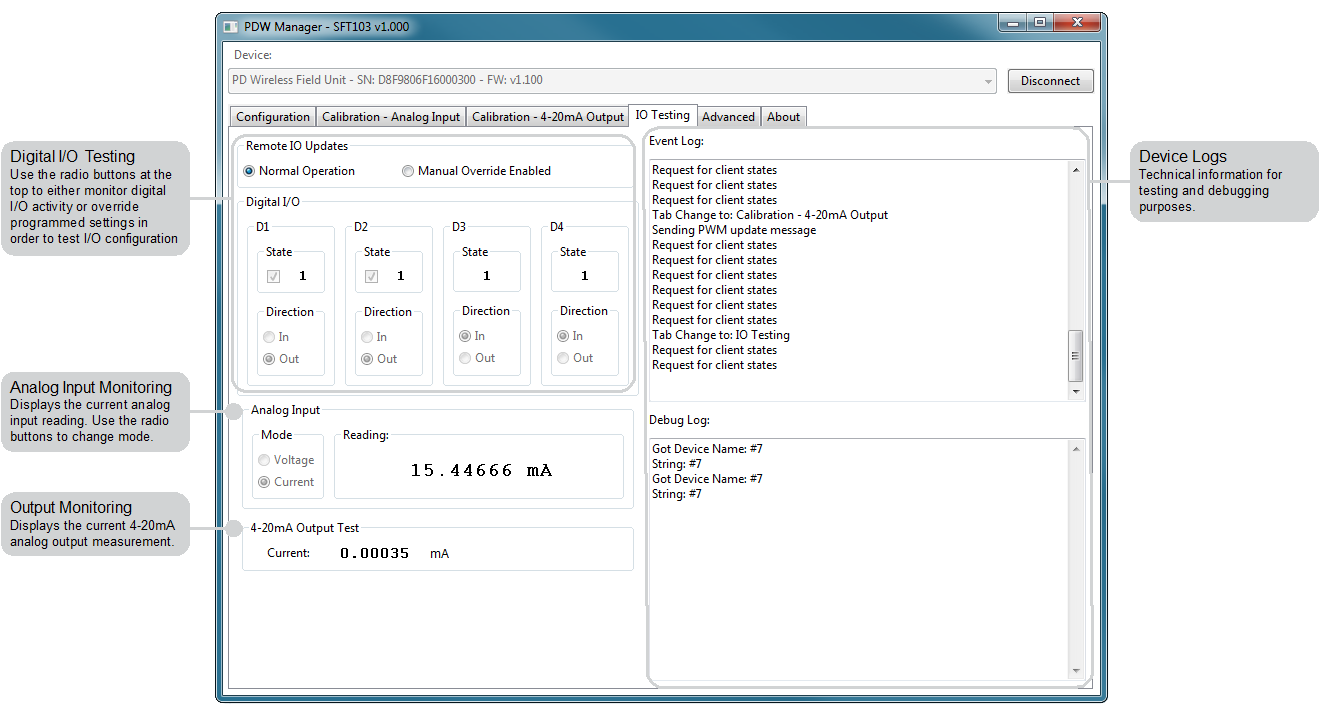 Device communication can be secured by enabling 128-bit AES encryption. A channel mask may also be set for interference immunity. The encryption key and channel mask may be entered on the Advanced tab.
Once you have entered the encryption information, click Save Settings. The wireless devices must share identical encryption keys in order to communicate, so be sure to enter the same information for the second unit.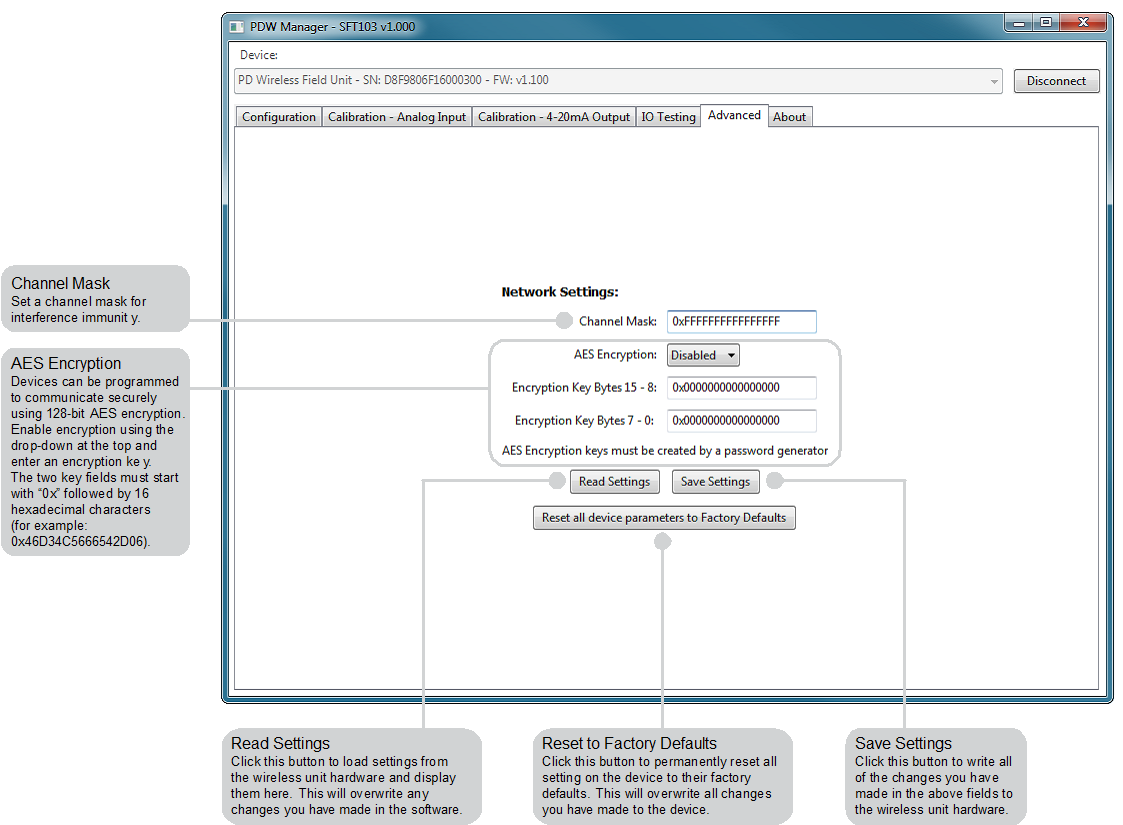 Mounting Dimensions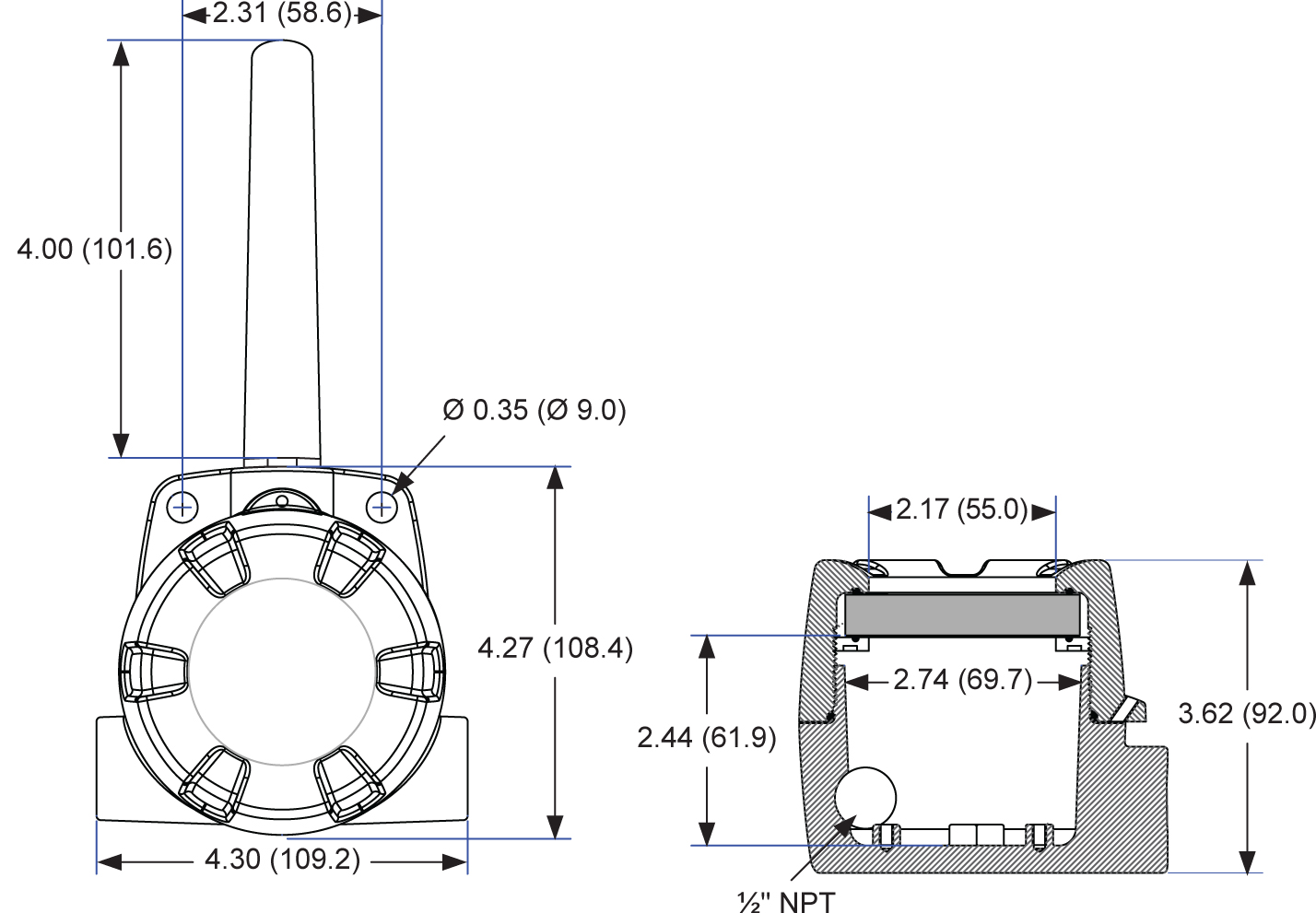 Application
This simple example demonstrates how the PDW30 may be used to wirelessly bridge an analog signal. Because the PDW30 can input and output a 4-20 mA signal, it is ideal for integration into existing 4-20 mA systems.