Issue #22 • March 2018
A Message From Sales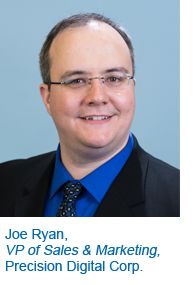 In Q1 of 2018, I had the opportunity to speak to many of our best customers as we planned for the upcoming year. In these conversations, I'm pleased to say that I heard just as much about the quality and capabilities of our products as I did about our people, support, and attitude. Obviously, I think the Precision Digital display and control product offering is second to none. Beyond this however, we pride ourselves on our effective customer support, our dedicated technical support, and our responsive sales team. When you buy from Precision Digital, you not only get a great product, but you get our entire company that stands behind it, and clearly that has made an impact. Rather than discuss a product, the rest of this article will give a few insights and metrics into how seriously we take our goal to be the best and easiest company you work with.
News & Information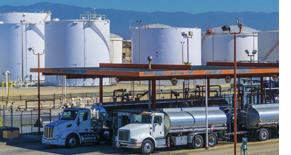 Areas that have the potential for an explosion to occur are classified as hazardous areas and are regulated by multiple organizations and standards worldwide. These organizations are in place in order to ensure that areas that have the potential for an explosion to occur are maximizing the safety of personnel and limiting the possibility of property damage. This article will identify the agencies that regulate these safety standards, define the classifications of hazardous areas, and give examples of hazardous area devices including how to decipher the product labeling.
---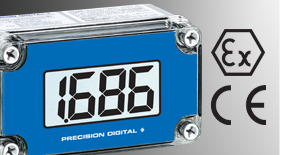 Precision Digital is proud to announce the launch of a new ATEX and IECEx approved, intrinsically safe, loop-powered digital meter, the PD685. Housed in an IP67 field-mountable enclosure with an optional 22mm (0.87") conduit hole, the PD685 is easy to install and setup. It can also be seen from considerable distance with it's 28mm (1.1") high digits. It's enclosure and wide -40°C to +75°C operating temperature make it ideal for outdoor applications in a variety of environmental conditions. The PD685's international hazardous area intrinsic safety approvals and low voltage drop make it a simple and effective display option for hazardous area control loops.
---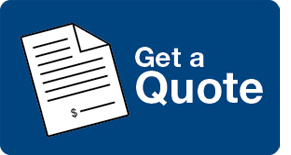 Getting a quote from Precision Digital is now easier than ever! We have integrated a new online tool to make it more convenient and faster for customers to receive quotes on our products. Getting a quote is a simple four step process. Simply enter the products you are looking for, your shipping information, and your billing information. Then click on the "Finish" tab to complete your quote! That's all there is to it. After you have completed this process, you will see an estimated lead time and four options of what to do next. The options include checkout online, view your quote, print your quote, or email your quote.
Get a quote now at predig.com.
Featured Product

Featured Video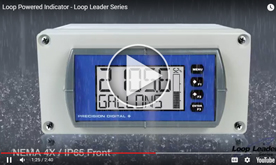 Loop powered indicators have until now lacked advanced control features. The Loop Leader Series radically improves and expands the functionality expected from a loop powered indicator without sacrificing cost-efficiency, ease-of-use, or voltage drop. These loop powered indicators offer advanced features that allow them to handle a wider range of process control applications. Watch the video here.
In The Next Issue...
Side-By-Side Guide to Hazardous Area Products
New Loop Leader Programming Software
New 2018 Catalog