EDITORS: The following images are available for download: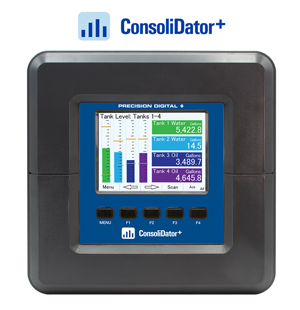 October 15, 2019 - Hopkinton, MA - Precision Digital Corporation, global leader in digital panel meters and control instrumentation, announced today the launch of the new PD9000 ConsoliDator+ Multivariable Controller.
The ConsoliDator+ is a multi-channel controller that is both easy to use and satisfies a wide variety of process display, alarm and control applications. It accepts 4-20 mA inputs, flow meter pulse inputs, digital inputs, and Modbus RTU inputs and displays them both in numeric and bargraph format on a large, 5.7" color display. It can be equipped with multiple relays with user-definable actions, 4-20 mA outputs, digital outputs, Modbus RTU, and Ethernet Modbus TCP/IP protocol communication capabilities. Additionally, the controller is equipped with up to 32 timers that can be used to control many processes or events.
The ConsoliDator+ takes full advantage of its color display by allowing the user to customize screen colors for bargraphs, alarm conditions, and input channels.
All this functionality is easily programmed using free ConsoliDator+ Configuration Software or via the front panel pushbuttons.
Choose the model that best suits your application, from monitoring only to fully loaded controllers with an extensive combination of inputs, outputs and communication protocols. The standard product offering is listed in the ordering guide and other models are available for special order.
Availability & Pricing: PD9000 ConsoliDator+ Multivariable Controllers are available now.
PD9000 Multivariable Controllers: www.predig.com/pd9000
About Precision Digital Corporation
Established in 1974, Precision Digital manufactures a comprehensive line of digital display and control instrumentation for demanding industrial applications. The core of the company's products is the ProVu® family of digital panel meters, featuring large, dual-line 6-digit displays, advanced signal input conditioning, programmable function keys, MODBUS® RTU serial communications, and control of up to eight relays. Other products include loop-powered indicators, rate/totalizers, scanners and annunciators, and temperature indicators and controllers. Certified to UL, CSA, FM, ATEX, IECEx, CE, and NEMA standards, the company's process meters and controllers reliably perform in challenging environments. For hazardous areas, the ProtEX® series of explosion-proof meters feature explosion-proof housings. Precision Digital is an ISO 9001:2008 certified company. For more information, see www.predig.com
© 2019 Precision Digital Corporation.