Features
Fully-Approved Intrinsically Safe Pulse Input Flow Rate/Totalizers
NPN Open Collector, PNP, TTL, Switch Contact, Sine Wave (Magnetic Pickup Coil), or Active Square Wave Inputs
Top Display: Five 12-Segment Alphanumeric Characters, 0.7" (17.8 mm)
Bottom Display: Eight 14-Segment Alphanumeric Characters, 0.4" (10.2 mm)
Display Mountable at 0°, 90°, 180°, & 270° (No Tools Required)
CapTouch Through-Glass Button Programming with Normal and Delayed Modes
Red Backlight for Alarm Conditions, Enable and Disable Backlight from Menu
8-Digit Total & Grand Total Display, Up to 13 Digits Using Both Lines
Display Rate & Total Simultaneously
Bi-Directional Flow Detection Via Digital Input
Non-Resettable Grand Total
Display Previous Total and Previous Grand Total with Time-of-Day Reset Feature
Reset Total / Grand Total with CapTouch Button, Digital Input, or Time-of-Day Feature
Automatic or Manual Batch Control
K-Factor Calibration or Scaling with Up to 32-Point Linearization
Gate Function for Rate Display of Slow Pulse Rates
(2) Open Collector Outputs Standard; Assignable to Pulse, Alarm, Timer, or Stopwatch
(2) Optional Solid-State Relays; Assignable to Alarm, Sample, Timer, Batch Control, or Stopwatch
Optional Isolated 4-20 mA Analog Output
Free PC-Based MeterView XL USB Programming Software
9-30 VDC, Battery, or 4-20 mA Output Power Options
Battery-Powered Momentary Backlight & Display Sleep and Off Modes to Extend Battery Life
Modbus RTU RS-485 Communications Standard on DC & Battery Powered Models
On-Board Data Logging of up to 2,032 Records and Modbus Accessible Data
Password Protection for Settings, Total & Grand Total
ATEX and IECEx Certified as Intrinsically Safe
Operating Temp Range: -40 to 75°C (-40 to 167°F)
Installation Temp Range: -55 to 75°C (-67 to 167°F)
Conformal Coated PCBs for Dust & Humidity Protection
Flange for Wall or Pipe Mounting; Loop for Stainless Steel Tag; Holes for Tamper-Proof Seal
Explosion-Proof Aluminum & Stainless Steel Enclosures with 1", 3/4", or M20 Connections
3-Year Warranty
Overview
Intrinsically Safe Loop-Powered Flow Rate/Totalizers with Advanced Display and Control Features
The PD6938 ProtEX+ pulse input flow rate/totalizers can be installed in a variety of areas (hazardous, dirty, wet, corrosive, hot, or cold) to provide convenient and informative display of flow rate and total from any pulse output flowmeter. These instruments will accept a variety of pulse inputs, including slow pulse rates. They can be powered from a battery, 9-30 VDC, or the 4-20 mA output loop, have on-board datalogging capabilities, come with approvals for intrinsic safety, and can be ordered with optional 4-20 mA output and two relays.
The PD6938 can operate down to -40°C and is certified by the agencies to be installed in areas that get as cold as -55°C. The display will cease functioning below -40°C but no damage will be done to the instrument.
One of the most convenient features of these instruments is their dual-line display, which is typically used to display the flow rate on the top display and flow total, flow grand total, or a tag on the bottom display. The top display has five characters and the bottom display has eight characters for clear indication of tags, units, or alarm messages. Further enhancing the display on these instruments is a 20-segment bargraph and backlighting that can turn red during an alarm condition.
The PD6938 ProtEX+ is available in aluminum and stainless steel enclosures that are designed for easy use and installation. The process connection is available in M20, 3/4" NPT and 1" NPT and there are two other conduit holes for field wiring. Field wiring is made to removable screw terminals and the display module can be oriented in 4 different positions to accommodate different mounting configurations and requires no tools to install. The display has been designed to optimize viewing angle.
Free, PC-based, MeterView XL software that connects to the meter via a micro-USB cable is available for programming and setup of the instruments. Four CapTouch through-glass buttons are available to operate the instrument without removing the cover.
All models come equipped with two open collector outputs and a digital input. There are also models available with Modbus RTU RS-485 communications, two solid-state relays, and isolated 4-20 mA analog output options. The open collector outputs are useful for alarm indication or pulse output. The digital input can be used to reset the total, to start/stop a timer/stopwatch, to start/stop a batch, and more. The relays can be programmed for alarm indication, on/off control, or simple batch control.
Other PD6938 Models Available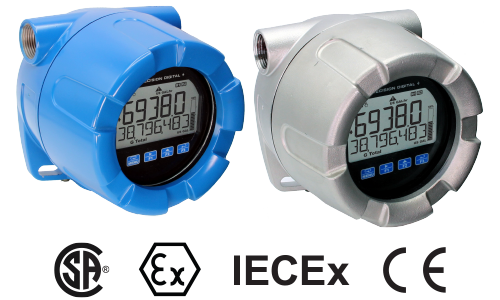 PD6938-HA
Exp-Proof and I.S. models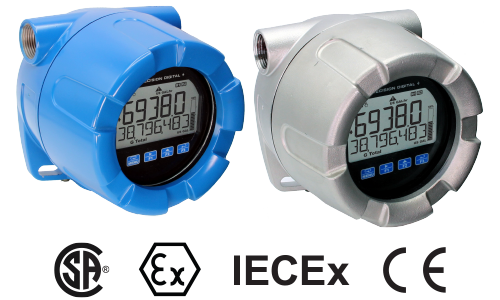 PD6938-EX
Explosion-proof only models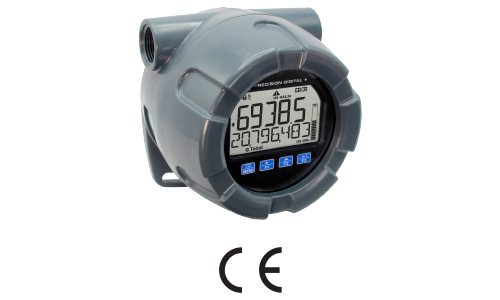 PD6938-GP
General purpose models
Front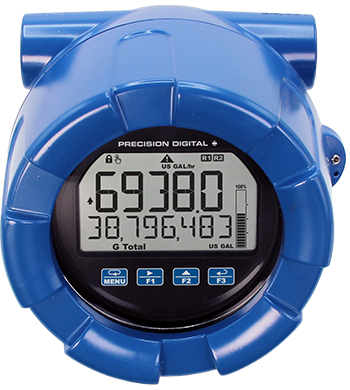 PD6938-IS-AL
Flow Rate/Totalizer
Aluminum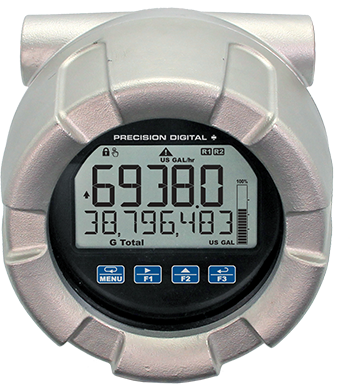 PD6938-IS-SS
Flow Rate/Totalizer
Stainless Steel
Connections
Connections for DC Powered -D5M Option
Standard
(2) Open Collector Outputs Standard (150 mA max); Assignable to Pulse, Alarm, Timer, or Stopwatch
Digital Input for Remote Operation of a Single Task (Reset Total, etc.)
Options
(2) Loop-Powered Solid-State Relays; Assignable to Alarm, Batch Control, Timer, or Stopwatch
Isolated 4-20 mA Analog Output
Modbus RTU RS-485 Communications
Power Options
The PD6938-IS intrinsically safe models offer power options including battery, DC with battery backup, DC only, output loop, or output loop with battery backups.
Battery Backup
Select models are available with a battery backup power option. For these models, the primary power source is supplied by either DC power or the output loop, depending on the model. The battery is used during battery backup operation. If there is a power failure of the primary power source, the battery will instantly take over powering the meter. There will be no display interruption nor any information loss.
Battery Status Indication
Battery indicators on the display alert users of the power status of the PD6938.
Indicator
State
Description
Flashing
Meter checking battery status
Steady
Meter using battery power
Flashing
Low battery (replace battery)
Designed for Long Battery Life
LCD Sleep Mode
LCD sleep mode turns the LCD off after a user programmable amount of time, while all inputs and outputs continue working. Press any button for 2 seconds to wake up the display.
CapTouch Delayed Mode
In Delayed mode, the buttons enter into a low sensitivity state (sleep) after 20 seconds of inactivity. Press any button for 2 seconds to wake up the buttons.
Momentary Backlight
The backlight is enabled by default. If the meter is battery powered, then the backlight is automatically set up to momentarily turn on for 10 seconds when any button is pressed.
Turn Meter Off
To extend battery life even more, the meter can be turned off completely when it is not in use. Press and hold the Menu button for 5 seconds to turn the meter on or off and follow the on-screen instructions.