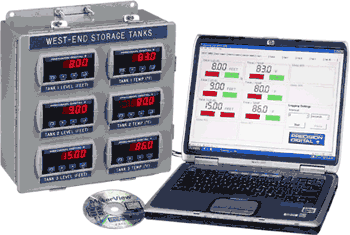 Features
Program or Read Meter Settings
Save Meter Profiles for Cloning
Configure Meter Input
Configure Relay and Alarm Settings
Edit Advanced and Security Settings
Log Up To 100 Meters
Data Saved in HTML Data Files
Free Download

Overview
MeterView software allows remote programming, monitoring, and data acquisition of the Trident series. The remote programming allows for all available meter settings to be programmed from a personal computer through an easy user-friendly interface. MeterView can monitor up to 100 Trident meters, making it a great tool to bring information into the control room. Data acquisition features allows the user to data log from up to 100 meters at user-selected intervals and generate charts using common tools like Microsoft® Excel. The Trident requires a Trident serial adapter for use with a PC and MeterView. More information on Trident serial adapters, including the PDA8006 Trident to USB adapter, can be found here.

Programming
One of the great things about the Trident meter is that serial adapters are external to the Trident meter. That means you buy just one adapter and use it with the free MeterView software to program as many Tridents as you want.

Configure Input
Input type
Decimal point
Temp units
Sensor type

Set Relays/Alarms
Select mode
Set/reset points
Fail-safe operation
On & off delays

Meter Scaling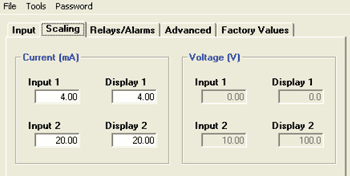 Scale input
No cryptic codes
Simple to use

Advanced Settings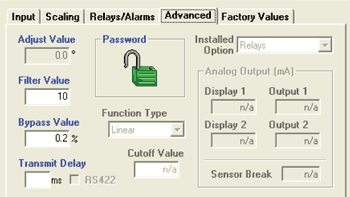 Password
Filter & bypass
Transmit delay
Function type
Cutoff value

Calibration Reporting
Printed by MeterView 3.00 - Build 2060 Printed on 3/18/2003 3:45:28 PM
PD765 Configuration - Meter #00
Input Configuration
Input selected: 4 to 20 mA
Decimal point: ddd.d
Temperature unit: Degrees F
Temperature sensor: Type J

Current Scaling (4-20 mA)
Input 1: 4.00
Display 1: 0.0
Input 2: 20.00
Display 2: 200.0

Voltage Scaling (0-10 V)
Input 1: 0.00
Display 1: 0.0
Input 2: 10.00
Display 2: 50.0
Relay/Alarm 1 Settings
Action: Automatic Reset
Fail-safe: Off
Set point: 40.0
On Delay: 0
Reset point: 10.0
Off Delay: 0
Relay/Alarm 2 Settings
Action: Automatic Reset
Fail-safe: Off
Set point: 40.0
On Delay: 0
Reset point: 10.0
Off Delay: 0
Display Response Variables
Adjustment: 0.0
Filter: 10
Bypass: 0.2
Transmit delay: 0
Miscellaneous
Password: _ _ _ _
Meter address: 00
Serial number: 200111201423430
Factory Calibration Constants
Current gain: 0.0340963
Current offset: -0.1501465
Voltage gain: 0.0175513
Voltage offset: -1.0410160
Test gain: 0.0169000
Test offset: -0.0507000
TC Type J gain: 1.0454590
TC Type J offset: 6947.075
TC Type J CJ ref.: 34415.38
TC Type K gain: 1.0459060
TC Type K offset: 6910.510
TC Type K CJ ref.: 34463.38
TC Type T gain: 1.0452330
TC Type T offset: 6920.954
TC Type T CJ ref.: 34447.75
TC Type E gain: 1.0452550
TC Type E offset: 6951.981
TC Type E CJ ref.: 34443.00
RTD 100 Ohm PT (385) gain: 1.0422950
RTD 100 Ohm PT (385) offset: 6221.340
RTD 100 Ohm PT (392) gain: 1.0422950
RTD 100 Ohm PT (392) offset: 6221.340

Data Aquisition
Digital Panel Meters make a great front end to a PC-based data acquisition system. They are easy to set up, can be used for a wide range of inputs, will power the transmitter, and best of all provide a local display of the process. Precision Digital has the perfect package with its Trident Digital Panel Meters, a wide selection of serial adapters and converters and MeterView software. Data is displayed on the PC and written to a file that could then be imported into a spreadsheet or other application.


Sample File Generated by MeterView®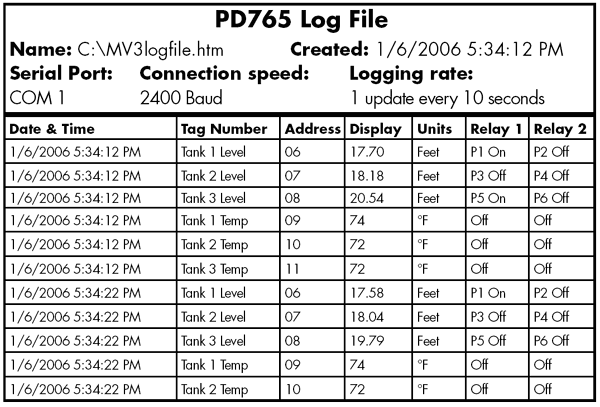 Monitor One Meter (PDA7503-1)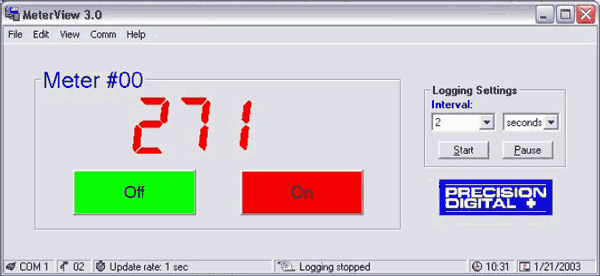 Monitor One to Ten Meters (PDA7503-2)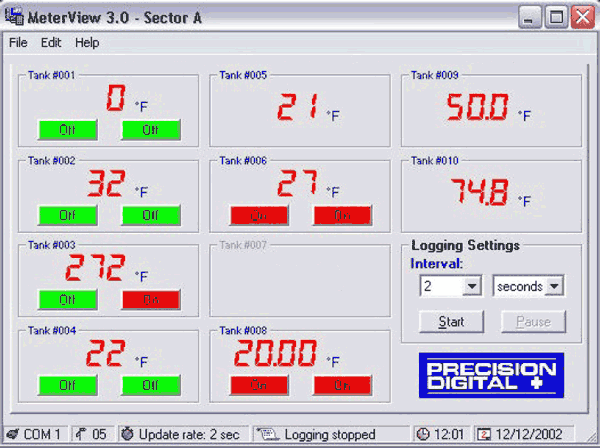 Monitor One to One Hundred Meters (PDA7503-3)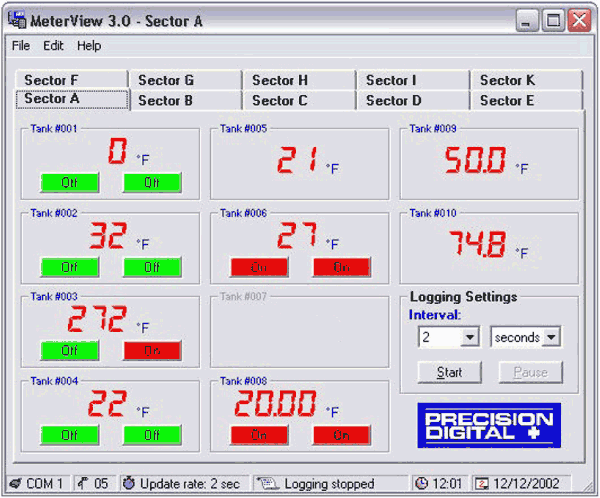 Specifications
System Requirements: Windows® 95/98/ME/NT4/2000/XP/Vista/7*
Communications: RS-232 adapter or RS-485 adapters with an RS-232 to RS-485 or USB to RS-485 converter may be used for communicating with the meters.
Number of Meters: Up to 100 meters simultaneously with addressing capability; minimum scan time for 100 meters: 60 sec
Meter Address: 00 to 99
Baud Rate: 300 bps to 19,200 bps; selection must match the baud rate selected in the meters.
Screen Update Rate: Dependent on system and meter settings. Rates of up to 10 meters/second are attainable at 19,200 bps.
Configuration: Configure meter settings one meter at a time.
Configuration Report: Save configuration to PDC file format or export to HTML for printing, cloning, or restoring meter.
Logging Interval: 2 seconds to 60 hours or manual
Manual Logging: Data saved to file when Log button is pressed.
Data Logging Report: Log data to HTML file format. All enabled meters are logged to a single file.
Alarm Notification: Pop-up message indicates new alarm condition. Alarm alert notification may be disabled.
Event Log: Important events are logged with date and time stamp.
Relay/Alarm Status: Indicate relay/alarm status with customized color and message label. Relay status indication may be disabled.
Units & Tag Number: Show engineering units and tag number information; these settings are not saved to the meter.
Relay Acknowledge: Relays may be acknowledged by clicking on corresponding Relay Status button. Meters must be set up for manual reset and Relay Mode must be enabled in MeterView.
*Note: Windows 32-bit operating systems only
Disclaimer
The Information contained in this document is subject to change without notice. Precision Digital Corporation makes no representations or warranties with respect to the contents hereof, and specifically disclaims any implied warranties of merchantability or fitness for a particular purpose.