August 26, 2013 – Holliston, MA - Precision Digital, global leader in digital panel meters and control instrumentation, today announced the Super Snooper line of Modbus® scanners, including the ProVu® PD6080 Series of 1/8 DIN digital panel meters and the ProtEX®-MAX PD8-6080 Series of explosion-proof scanners. The Super Snooper scanners can be set up as Modbus RTU Masters, Slaves, or Snoopers, monitoring multiple Modbus devices for up to 16 process variables, including level, interface level, density, and temperature. The meters also provide two independently programmed analog inputs and an array of math functions for sum, difference, average, and ratio calculations.


The ProVu PD6080 Series Super Snoopers are NEMA 4X 1/8 DIN panel indicators with bright, easy to read digits. The PD6080 and PD6081 include dual analog inputs and an RS-485 serial communications module, allowing integration of existing 4-20 mA transmitters and Modbus devices on the same display. The PD6088 and PD6089 include on-board RS-485 serial communications and no analog inputs. The PD6081 and PD6089 have a unique feet and inches display, ideal for level applications.
The ProtEX-MAX PD8-6080 Super Snooper scanners are housed in explosion-proof enclosures for use in hazardous areas. SafeTouch®, through-glass buttons provide accessibility to the front buttons without removing the enclosure cover. The entire product carries FM, CSA, ATEX, and IECEX approvals for use in hazardous area applications.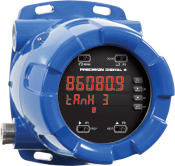 "Most Modbus scanners are dated technology in the form of low-level software packages or DIN rail devices with no display," said Jeffrey Peters, President of Precision Digital Corp. "The Super Snooper scanners integrate sophisticated packet sniffing capabilities with industry standard packaging -- 1/8 DIN housing that meets NEMA 4X specifications or explosion-proof enclosures for hazardous areas. With the ability to poll up to 16 process variables, a single Super Snooper can replace an entire control panel's worth of instruments."
The Super Snooper scanners can be easily integrated into an existing Modbus network. Remote displays can be added without making changes to other Modbus devices. In Master mode, the Super Snoopers are Modbus masters, polling slave devices for the process variables. In Snooper mode, the devices display any process variable being polled on the bus. All the process variables are clearly labeled with a custom tag and unit.
Each scanner is provided with RS-485 Modbus RTU serial communications standard. Options include up to four (4) relays, a 4-20 mA analog output, and dual 24 VDC power supplies.  Expansion modules for the 1/8 DIN models add an additional four (4) relays, two (2) 4-20 mA outputs, and eight (8) digital I/O.
Availability & Pricing
The ProVu® PD6080 Series and ProtEX-MAX PD8-6080 Series are both available now. Prices start at $559 for ProVu and $1698 for ProtEX-MAX.
About Precision Digital Corp.

Established in 1974, Precision Digital manufactures a comprehensive line of digital display and control instrumentation for demanding industrial applications. The core of the company's products is the ProVu® family of digital panel meters, featuring large, dual-line 6-digit displays, advanced signal input conditioning, programmable function keys, MODBUS® RTU serial communications, and control of up to eight relays. Other products include loop-powered indicators, rate/totalizers, scanners and annunciators, and temperature indicators and controllers. Certified to UL, CSA, FM, ATEX, IECEx, CE, and NEMA standards, the company's process meters and controllers reliably perform in challenging environments. For hazardous areas, the ProtEX® series of process meters features explosion-proof housings. Precision Digital is an ISO 9001:2008 certified company.
© 2013. ProVu and ProtEX are registered trademarks of Precision Digital Corporation. All other trademarks are of their respective owners.