EDITORS: The following images are available for download: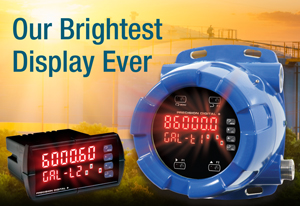 6 September 2016 - Hopkinton, MA - Precision Digital Corporation, global leader in digital panel meters and control instrumentation, today announced the launch of the newly enhanced ProVu digital panel meters and ProtEX-MAX dual-line explosion-proof digital indicators. These new meters now feature super easy USB programming and super bright LEDs.
The addition of free MeterView® Pro programming software resident on the meter allows the meter to be programmed directly from a PC using the included USB cable. MeterView Pro features a simple menu based interface which guides the user though the setup of the meter, rather than having to navigate through settings using the seven-segment LED display. The meter is also powered over the USB connection, eliminating the need to wire anything prior to programming.
ProVu and ProtEX-MAX series meters also feature brighter LEDs for enhanced visibility. The ProVu's standard display can now be easily read through smoke, dust and fog, while the SunBright models can also be read even in direct sunlight. All ProtEX-MAX models come standard with SunBright displays.
ProVu series meters are 1/8 DIN panel meters that feature six-digit, dual-line displays. They are UL listed and CE marked and feature NEMA 4X fronts for use in harsh environments. ProtEX-MAX series meters are housed in explosion-proof enclosures for use in hazardous areas. SafeTouch through-glass buttons provide accessibility to the front buttons without removing the enclosure cover, keeping the meter's interior electronics fully protected. The entire product carries FM, CSA, ATEX, and IECEX approvals for use in hazardous area level applications or in the field under the harshest environmental conditions.
Options include up to four (4) relays, a 4-20 mA analog output, and dual 24 VDC power supplies. Expansion modules for the 1/8 DIN models can add an additional four (4) relays, two (2) 4-20 mA outputs, and eight (8) digital I/O connections.
Availability & Pricing: The ProVu and ProtEX-MAX meters are available now. Prices start at $329 for the ProVu and $1498 for the ProtEX-MAX.
ProVu series: http://www.predig.com/products/product_series/provu
ProtEX-MAX series: http://www.predig.com/products/product_series/protex-max
About Precision Digital Corp.
Established in 1974, Precision Digital manufactures a comprehensive line of digital display and control instrumentation for demanding industrial applications. The core of the company's products is the ProVu® family of digital panel meters, featuring large, dual-line 6-digit displays, advanced signal input conditioning, programmable function keys, MODBUS® RTU serial communications, and control of up to eight relays. Other products include loop-powered indicators, rate/totalizers, scanners and annunciators, and temperature indicators and controllers. Certified to UL, CSA, FM, ATEX, IECEx, CE, and NEMA standards, the company's process meters and controllers reliably perform in challenging environments. For hazardous areas, the ProtEX™ series of process meters features explosion-proof housings. Precision Digital is an ISO 9001:2008 certified company. For more information, see http://www.predig.com
© 2016 Precision Digital Corporation. ProVu, ProtEx, and SafeTouch are registered trademarks of Precision Digital Corporation. All other trademarks are property of their respective owners.