EDITORS: The following images are available for download: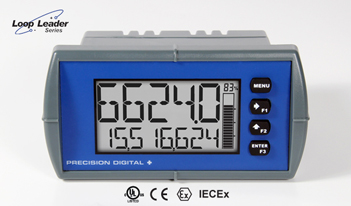 April 17, 2018 - Hopkinton, MA - Precision Digital Corporation, global leader in digital panel meters and control instrumentation, announced today the launch of intrinsically safe and nonincendive, loop-powered process meters and rate/totalizers. The Loop Leader PD6600 series now features models with UL intrinsically safe and nonincendive and ATEX/IECEx intrinsically safe approvals. This makes the Loop Leader series a perfect match for any application, even in hazardous areas!
Loop Leader series meters are unique among two-wire, loop-powered indicators in that they feature output options, such as dual solid-state relays, 4-20 mA isolated analog retransmission, and two open collector transistors, as well as advanced alarm and pump control features.
Using the solid-state relays or open collectors, the process meters can be utilized for single pump control or multi-pump alternation based on last run pump or a pump timer to share pump load. The rate/totalizers can display the total or grand total or function as batch controllers with start, stop, and pause functionality. All meters can provide alarming, with multiple alarm indication options such as a programmable red LCD backlight and alarm messages.
"The Loop Leader series has been a great match for a wide variety of safe area applications where an easy-to-install, intuitive display is required," said Jeffrey Peters, President of Precision Digital Corporation. "The inclusion of these new approvals will bring the Loop Leader's extensive features to bear in hazardous areas as well."
Approved Loop Leader models are available with multiple display options depending on the application: decimal display (PD6606/PD6626), decimal display with bargraph (PD6608/PD6628), or feet and inches display for level applications (PD6607).
Availability & Pricing: Approved Loop Leader models are available now.
PD6600 Process Meters start at $319 and PD6620 Rate/Totalizers start at $394.
PD6600 Process Meters: https://www.predig.com/pd6606
PD6620 Rate/Totalizers: https://www.predig.com/pd6626
About Precision Digital Corporation
Established in 1974, Precision Digital manufactures a comprehensive line of digital display and control instrumentation for demanding industrial applications. The core of the company's products is the ProVu® family of digital panel meters, featuring large, dual-line 6-digit displays, advanced signal input conditioning, programmable function keys, MODBUS® RTU serial communications, and control of up to eight relays. Other products include loop-powered indicators, rate/totalizers, scanners and annunciators, and temperature indicators and controllers. Certified to UL, CSA, FM, ATEX, IECEx, CE, and NEMA standards, the company's process meters and controllers reliably perform in challenging environments. For hazardous areas, the ProtEX® series of explosion-proof meters feature explosion-proof housings. Precision Digital is an ISO 9001:2008 certified company. For more information, see http://www.predig.com
© 2018 Precision Digital Corporation.