Precision Digital will be launching its new website soon and wanted to give its customers a brief overview of what they can expect.
The new predig.com website will feature a modern looking, responsive design which reformats content for mobile devices and offers a better mobile viewing experience.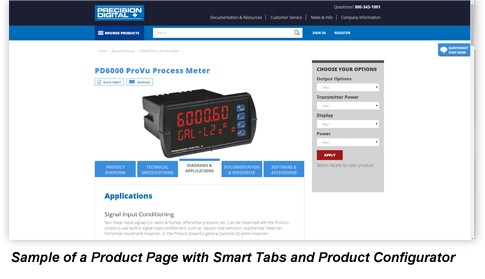 The user friendly navigation and search will make finding the product you want quick and easy. The expanding side bar navigation makes browsing products by type, application, or series a breeze. With the well-organized smart tabs on all product pages, you will no longer have to scroll through long web pages looking for specific information.
You can find the information you are looking for quickly and easily using the smart tabs. These tabs include the product overview, technical specifications, diagrams & applications, documentation resources, and software & accessories.
On the top navigation bar, you will find quick links to Documentation & Resources, Customer Service, News & Info, and Company Information. The News & Info page is a great resource for all Precision Digital publications and media including The Indicator e-newsletter archive, ON DISPLAY magazine, whitepapers, webinars, and videos library. The Documentation & Resources page will give you access to certification, datasheets, catalog and price list, software, instruction manuals, and much more.
Precision Digital will also continue its chat feature found on the top right of the website. So, if you need assistance via chat, our staff will be on hand to promptly answer any questions you have.
The new predig.com website will also feature a simple and convenient product configurator and shopping cart accessible on every product page. You will just have to select your options, click apply, and then click add to cart. It's as easy as that! So, keep a look out for the new PREDIG.COM website coming soon.