---
With Precision Digital's new PDW Wireless System there is no more running miles of wires and conduit over and around obstacles throughout your industrial plant. Save on time, man power, and cost by simply connecting up your transmitters and displays to a Precision Digital wireless unit. It's never been easier to get your critical information from where it is to where you need it.

The PDW30 gives you a simple, straightforward way to get an analog, discrete, or Modbus® signal from where you have it to where you need it.
Features
Signal Wire Replacement in a Rugged, Industrial Housing
Inputs and Outputs on Both Field Units
Simple to Order, Configure, & Install
1 Mile Line-of-Sight, 500 Ft Indoor Range
Inputs: Analog (4-20 mA, 0-10 V, 0-5 V, 1-5 V), Digital, and RS485 Modbus Communications
Outputs: Analog (4-20 mA), Digital, and RS485 Modbus® Communications
Remote or Attached Antenna
Repeaters Available
Flanges for Wall or Pipe Mounting
Software Available for Even Easier Setup
NEMA 4X, IP68 Enclosure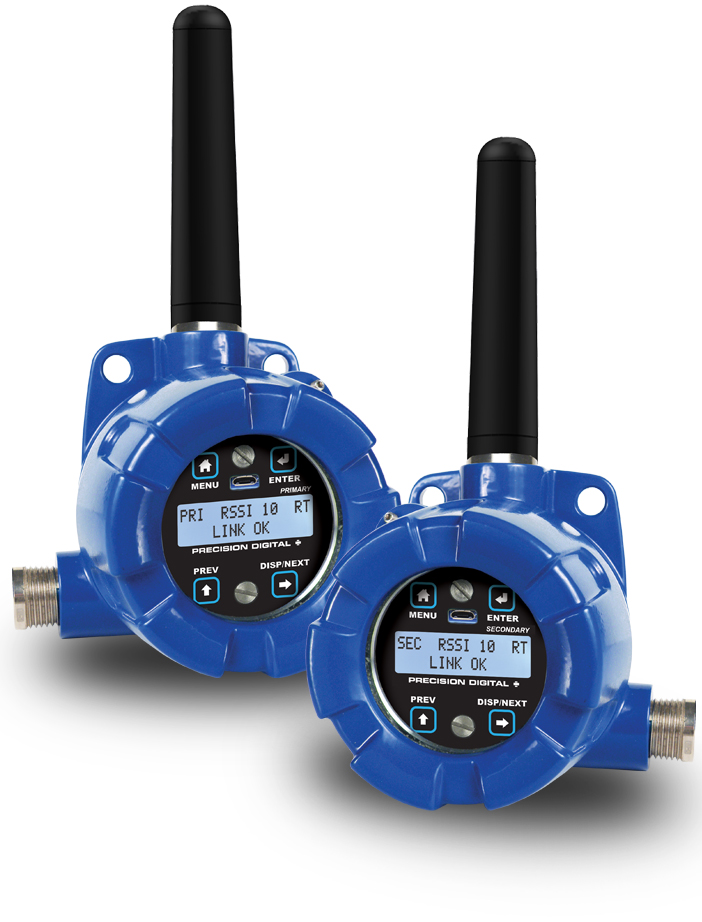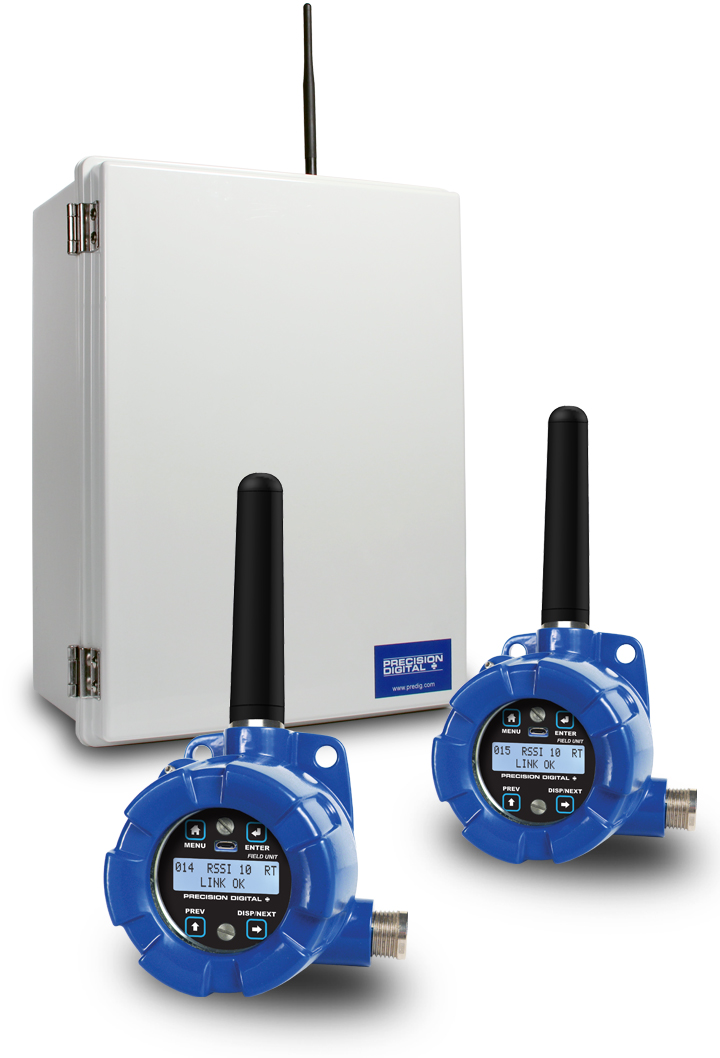 The PDW90 is a rugged, customizable, point-to-multipoint wireless system. It offers a highly-flexible means of wirelessly consolidating all of your analog, digital, or Modbus® signals to a central location. Modular input/output cards and expandable field units mean that the PDW90 can be customized to meet the needs of any wireless application.
Features
Point to Multi-Point Signal Wire Replacement
Simple to Configure Using PDW Manager Programming
Software and Onboard USB
Range: 1 Mile Line-of-Sight, 500 Ft Indoor
Base Station
Rugged Plastic NEMA 4X Field Enclosure
Field or Wall Mounted
RS-485 Modbus Standard
Up to 16 Dual Input/Output Expansion Cards
Analog Input, Analog Output, Relay Output, and Digital I/O Cards Available
Field Units
Analog Input and Output, Four Digital I/O, and RS-485 Modbus® Standard
Remote or Attached Antenna
Flanges for Wall or Pipe Mounting
NEMA 4X, IP68 Enclosure
Base Station Modules
Four types of modules allow you to customize and add functionality to the PDW90 base station. They are easy to install and the PDW90 is expandable up to 16 modules.
Easy to Install and Adds Functionality
Dual Analog Inputs Module
Dual Analog Outputs Module
Digital I/O Module
Dual Relays Module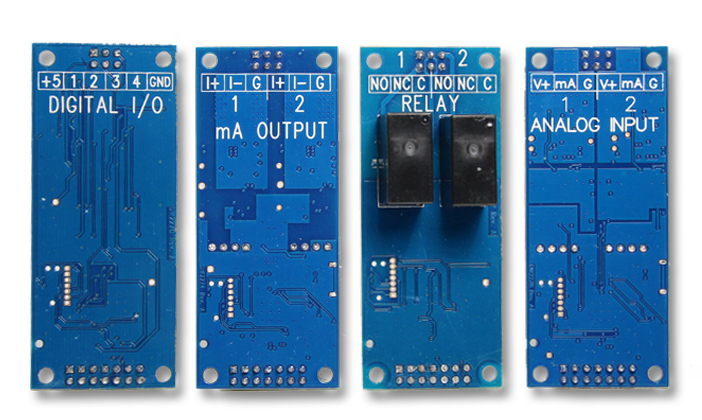 ▲
Four types of modules available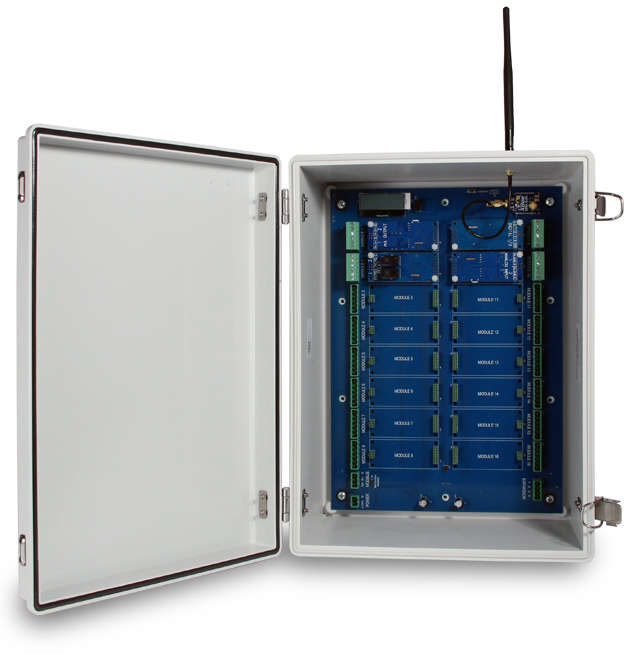 ▲
PDW90 base station expandable up to 16 modules

Wireless signal repeaters are used to retransmit wireless signals when connectivity is an issue. They are incredibly simple to install as they only require power and a network ID. Any units in range of the repeater with the same network ID will retransmit through it, thus increasing signal strength. Use repeaters to broadcast over very long distances or around permanent obstacles.
Features
Retransmits Wireless Signals
Broadcasts Around Long Distances and Obstacles
Flanges for Wall or Pipe Mounting
NEMA 4X, IP68 Enclosure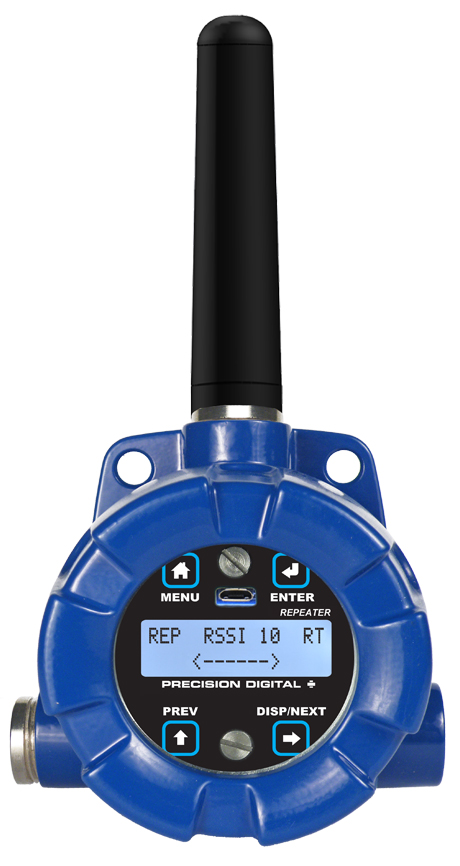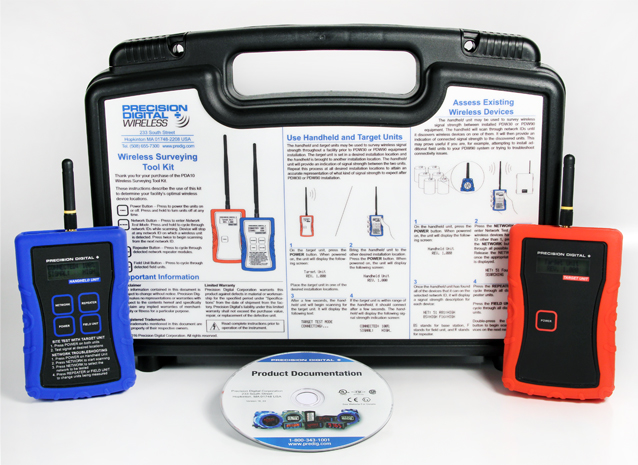 The PDA10 is a wireless surveying tool kit which is intended to be used in conjunction with PDW30 or PDW90 wireless products. The surveying tool kit comes with two units: a handheld unit and a target unit. Use the pair prior to wireless system installation to demonstrate signal strength throughout the facility or between intended installation locations. The handheld unit may be used standalone after installation in order to determine received signal strength from all of the devices in order to determine new field unit locations or to troubleshoot connectivity issues.
Features
Convenient, portable Handheld Unit and Target Unit
32-Character Dual-Line Alphanumeric Dot Matrix LCD with Backlight
Buttons for Cycling Through Network IDs, Repeaters, and Field Units
Carrying Case with Instructions and includes CD Manual Inside