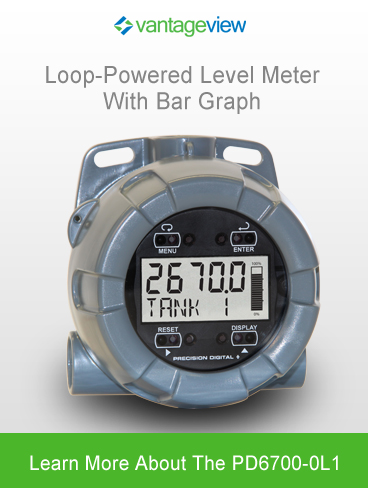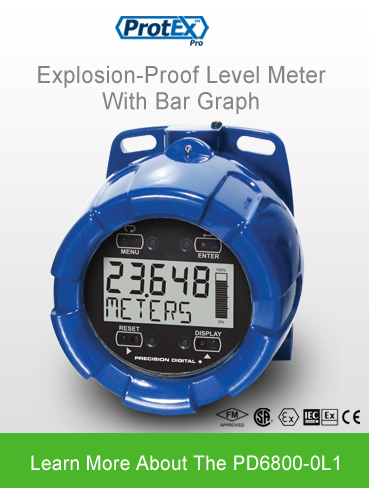 The PD6800-0L1 and PD6700-0L1 feature reliable industrial process measurement and clear information display in durable, versatile enclosures.
The 4-20 mA loop-powered PD6800-0L1 and PD6700-0L1 have a segmented bar graph level indicator included on the main display, making these units ideal for level applications. The top display digit height is 0.6", while the bottom display digits have a height of 0.4". Alarm indication has also been added to the bottom display. The units have been outfitted with an open collector output, with a rating of 30 VDC @ 150 mA maximum, which may be assigned for use with the alarm or totalizer.
The explosion-proof PD6800-0L1 is rated NEMA 4X/IP68 and carries worldwide agency approvals (FM, CSA, ATEX, IECex, & CE), rendering it the ideal choice for use in hazardous locations. The PD6700-0L1 has been manufactured to Precision Digital's exacting specifications; it is NEMA4X/IP65 rated for use either in a panel or in the field under harsh environmental conditions. The PD6800-0L1 and PD6700-0L1 also include a DEMO Mode within the improved menu structure. Both units are Hart® Protocol transparent.
The PD6800-0L1 and PD6700-0L1 Meters can be easily installed into virtually any process application requiring 4-20 mA powered indication. Both the PD6800-0L1 and PD6700-0L1 have input signal conditioning capability for use with flumes, weirs, and/or round horizontal tanks.