The new predig.com is a huge step forward for Precision Digital Corporation, taking us fully into modern e-commerce.
---
Everything about the new site, from its mobile-friendly design to its enhanced security, was designed to make your interactions with us quicker and easier. You will still be able to utilize all of the old content you are used to from our previous website, just packaged in a more easy-to-use interface. This article will go over some of the bigger changes going from the old website to the new and should help you to utilize the new website to its fullest potential.

The most noticeable change from the old website is undoubtedly the enhanced interface. All of the content has been laid out in such a way that it should be a snap to find what you are looking for. Simply click on the large, red Browse Products button to start looking through our offerings by category, application, or series.
Use the search bar to quickly find a specific product, document, video, or article, even if you can only remember a few words of the title. Easily create or manage your account or go to checkout using the links to the right of the search bar.

The above image is a portion of the top navigation bar showing useful links from looking up company information to viewing your shopping cart.
The website also features a simple and convenient product configurator that allows you to select specific facets such as display options, power options, output options, and transmitter power.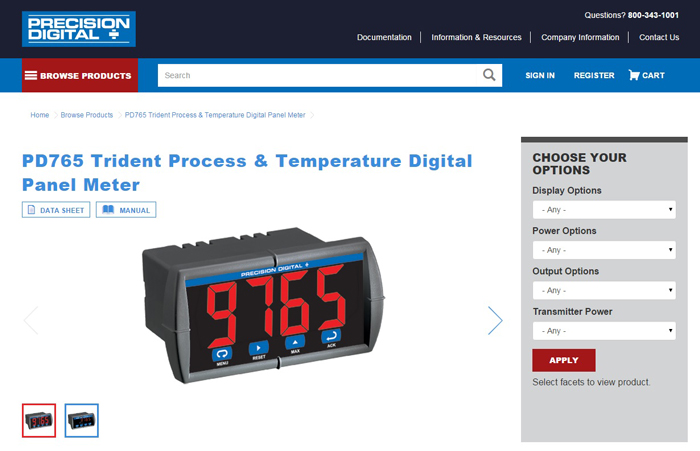 The above image is an example of a typical product page with a product configurator that allows you to select display options, power options, output options, and transmitter power.
Use the Contact Us link to send sales and product inquiries, technical support requests, or any other information. The Information & Resources and Company Information links offer valuable content ranging from company policies to informative process control articles and videos. If you are searching for an instruction manual or datasheet for your product, you can search for it using the documentation link, the search bar, or directly from the product page under the Documentation & Resources tab or the quick link at the top.
---