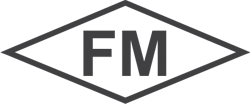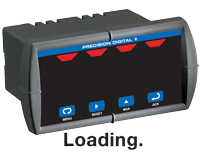 The ProtEX-RTA PD6820 is an explosion-proof, loop-powered flow rate/totalizer that can display flow rate and total from an analog output (4-20 mA) flowmeter. The fact that this meter is loop-powered means that there is no need to run additional, costly power lines into a hazardous area. The display has a five digit upper display for rate, a seven alpha-numeric character lower display for total, and comes standard with a backlight. Like all ProtEX products, the PD6820 explosion-proof flow rate/totalizer carries FM, CSA, ATEX, and IECEx approvals for use in hazardous areas. Two features that really make this flow rate/totalizer stand out are a wide viewing angle display and SafeTouch® through-glass buttons. These buttons allow the PD6820 to be programmed and operated through the glass, thus eliminating the need to remove the cover in a hazardous area.
Features
4-20 mA Input Loop-Powered
5-Digit, 0.7" (17.8 mm) Upper Display
7 Alphanumeric Character, 0.4" (10.2 mm) Lower Display
Loop or External DC-Powered Backlight Standard
SafeTouch Through-Glass Button Programming
Password Protection
3.0 V Drop without Backlight
Explosion-Proof, IP68, NEMA 4X Enclosure
Flanges for Wall or Pipe Mounting
Linear, Square Root, or Programmable Exponent
Operates from -40 to 75°C
Rate in Second, Minute, Hour, or Day
Open Collector Pulse or Alarm Output
General
Display:
Upper: Five digits (-9,999 to 99,999) 0.70" (17.8 mm) high, 7-segment, automatic lead zero blanking. Lower: Seven characters 0.4" (10.2 mm) high, 14 segment alphanumeric. Symbols: for high & low alarm, password lock. Backlight: white
Display Update Rate:
Ambient > -25°C: 2 Updates/Second. Ambient < -25°C: 1 Update/5 Seconds
Display Orientation:
Display may be mounted at 90° increments up to 270° from default orientation.
Overrange:
Display flashes 99,999
Underrange:
Display flashes -9,999
Programming Method:
Four SafeTouch® through-glass buttons when cover is installed. Four internal pushbuttons when cover is removed.
Noise Filter:
Programmable Lo, Med, Hi, or Off
Recalibration:
Recalibration is recommended at least every 12 months.
Max/Min Display:
Max/Min readings reached by the process are stored until reset by the user or until power to the meter is turned off.
Password:
Programmable password restricts modification of programmed settings.
Advanced Functions:
Live input calibration, linearization, square root, or programmable exponent
Non-Volatile Memory:
All programmed settings are stored in non-volatile memory for a minimum of ten years if power is lost.
Normal Mode Rejection:
64 dB at 50/60 Hz
Operating Temperature Range:
-40 to 75°C.
Storage Temperature Range:
-40 to 85°C.
Relative Humidity:
0 to 90% non-condensing
Connections:
Screw terminals accept 12 to 22 AWG wire
Enclosure:
Explosion-proof die-cast aluminum with glass window, corrosion resistant epoxy coating, color: blue. NEMA 4X IP68. Copper-free (0.3%). Two ¾" NPT threaded conduit openings. One ¾" NPT metal conduit plug with 12 mm hex key fitting installed.
Mounting:
May be mounted directly to conduit. Two slotted flanges for wall mounting or NPS 1½" to 2½" or DN 40 to 65 mm pipe mounting.
Overall Dimensions:
5.65" x 5.25" x 4.86" (W x H x D) (144 mm x 133 mm x 124 mm)
Weight:
5.00 lbs (80 oz, 2.27 kg)
Warranty:
3 years parts and labor
Input
Input range:
4-20 mA
Accuracy:
±0.03% of calibrated span ±1 count, square root & programmable exponent accuracy range: 10-100% of calibrated span.
Temperature Drift:
50 PPM/°C
Decimal Point:
User selectable decimal point
Calibration Range:
An error message will appear if input 1 and input 2 signals are too close together. Input Range: 4-20 mA. Minimum Span Input 1 & Input 2: 0.10 mA
Maximum Voltage Drop:
3.0 VDC @ 20 mA without loop-powered backlight. 6.0 VDC @ 20 mA with loop-powered backlight
Equivalent Resistance:
150 Ω @ 20 mA without loop-powered backlight. 300 Ω @ 20 mA with loop-powered backlight
Input Overload:
Over current protection to 2 A max.
HART Transparency:
Analog input will not interfere with existing HART communications on the wired 4-20 mA signal
Externally Powered Backlight:
Voltage Range
Maximum Power
9-30 VDC
9 VDC
12 VDC
24 VDC
30 VDC
0.2 W
0.25 W
0.5 W
0.75W
Open Collector Output
Rating:
Isolated open collector, 30 VDC @ 150 mA max.
Alarm Output:
Assign as rate alarm or total alarm trip point.
Deadband:
0-100% FS, user selectable
Acknowledge:
Front panel ACK button resets output and screen indication.
Pulse Output K-Factor:
K-factor programmable from 0.0001 to 99999.
Pulse Output Frequency:
2, 4, 8, 16, 32, 64, 128 Hz. Minimum pulse width: 3.9 ms @ 128 Hz. Maximum pulse width: 250 ms @ 2 Hz. Factory default pulse width: 31 ms @ 16 Hz
Rate/Totalizer
Rate Display:
0 to 99,999 leading zero blanking
Total Display:
0 to 9,999,999 leading zero blanking
Total Decimal Point:
Up to six decimal places or none: d.dddddd, d.ddddd, d.dddd d.ddd, d.dd, d.d, or ddddddd
Lower Display Configuration:
Can be programmed to display total, tag name/engineering units, or to alternate between them.
Totalizer:
Calculates total based on rate, time base of second, minute, hour, or day, and field programmable multiplier; stored in
non-volatile memory upon power loss.
Totalizer Reset:
Via front panel SafeTouch® button, time delay, external contact closure, or protected
Total Conversion Factor:
0.000001 to 9,999,999
Totalizer Rollover:
Display rolls over when display exceeds 9,999,999. Relay status reflects the displayed value.
Total Reset Delay:
Programmable from 0 to 99,999 seconds
Product Ratings & Approvals
FM:
Explosion-proof for use in Class I, Division 1, Groups B, C, D. Class II, Division 1, Groups E, F, G. Class III, Division 1; T6. Class I, Zone 1, AExd IIC T6 Gb. Zone 21, AEx tb IIIC T85°C. Ta = -40 to 75°C.
Enclosure: Type 4X & IP66. Certificate number: 3040391
ATEX:
II 2 G D. Ex d IIC T6 Gb. Ex tb IIIC T85°C Db IP68. Ta = -40 to 75°C.
Certificate number: Sira 10ATEX1116X
IECEx:
IECEx SIR 10.0056X. Ex d IIC T6 Gb. Ex tb IIIC T85 C Db IP68. Ta = -40 to 75°C
CSA:
Class I, Division 1, Groups B, C, D. Class II, Division 1, Groups E, F, G. Class III, Division 1; T6. Class I, Zone 1, Ex d IIC T6.
Ta = -40 to 75°C. Enclosure: Type 4X & IP66.
Certificate number: 11 2325749
Connections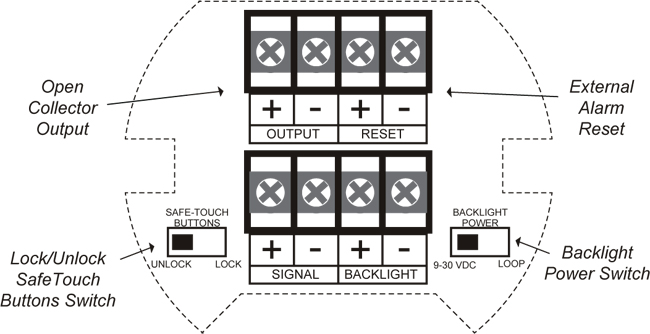 Dimensions