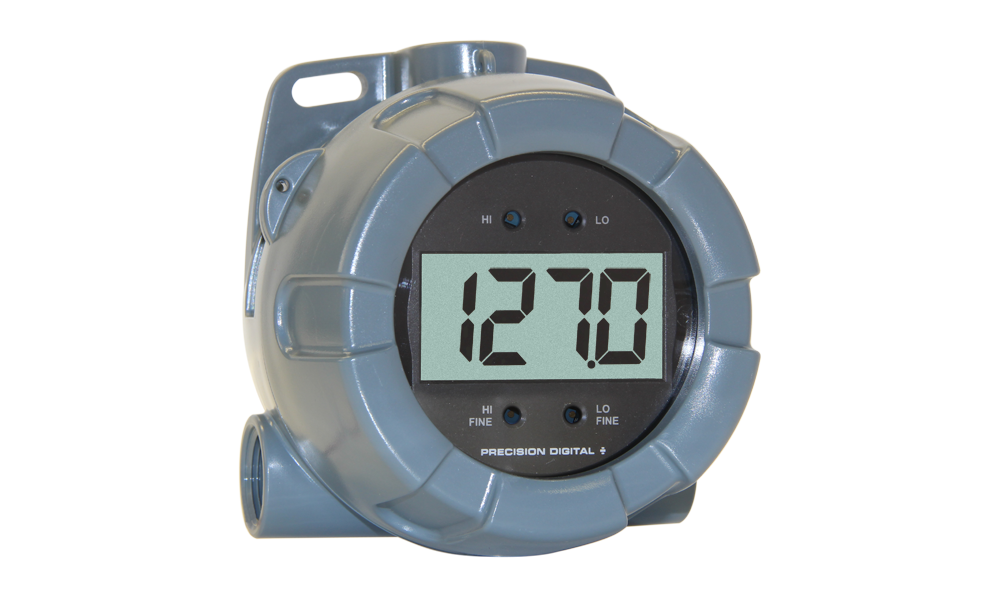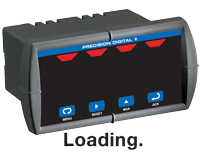 Related Products
The Vantageview PD6770 is a rugged, loop-powered meter with 1" display digits. The plastic NEMA 4X and IP66 field mountable enclosure is designed for demanding applications in the harshest environmental conditions. The meter derives all of its power from the 4-20 mA loop with a small 1 volt drop for easy installation in almost any system. The meter is programmed using four easy to access front-mounted potentiometers with no complex or difficult to read programming menus necessary for setup. The numeric display will read from -1000 to 1999 over a 2000 count user adjustable scaling span. The backlight option lets you see the display under any lighting condition and is powered from the 4-20 mA loop with no additional power supply required. The enclosure is provided with three threaded conduit holes and integrated pipe or wall mounting slotted flanges.
Features
NEMA 4X, IP66 Field-Mount Loop-Powered Process Meter
4-20 mA Input
1 Volt Drop (4 Volt Drop with Backlight)
1.0" (25.4 mm) 3½ Digits LCD Display; -1000 to 1999
Display Mountable at 0°, 90°, 180°, & 270°
HART® Protocol Transparent
Loop-Powered Backlight Option
Operating Temperature Range: -40 to 75°C (-40 to 167°F)
Zero & Span Potentiometer Adjustments for Easy Field Scaling
Conformal Coated PCBs for Dust and Humidity Protection
Wide Viewing Angle
Flanges for Wall or Pipe Mounting
Tag or Tamper Seal Loop
Three ¾" NPT Threaded Conduit Openings (Two Plugs Provided)
2" U-Bolt Kits Available
Stainless Steel Tag Available
3-Year Warranty
General
Display:
3½ digit LCD, 1" (25.4 mm); -1000 to 1999
Display Orientation:
Display may be mounted at 90° increments up to 270° from default orientation.
Display Update Rate:
2.5 Updates/Second
Backlight:
White; Loop-powered. Backlight can be enabled or disabled via alternative wiring of terminal block. Loop-powered backlight brightness will increase as the input signal current increases.
Display Overrange:
Display reads 1 on the left most digit
Programming Method:
Four (coarse and fine for zero and span) potentiometers accessed when the cover is removed.
Recalibration:
Recommended at least every 12 months.
Normal Mode Rejection:
60 dB rejection ratio
Environmental:
Operating Temperature Range:-40 to 75°C
Storage Temperature Range: -40 to 75°C
Relative Humidity: 0 to 90% non-condensing.
Printed circuit boards are conformally coated.
Connections:
Screw terminals accept 12 to 22 AWG wire
Enclosure:
NEMA 4X, IP66 plastic field enclosure, polycarbonate with UV stabilizer.
Color: grey
Window: Clear polycarbonate with UV stabilizer.
Three ¾" NPT threaded conduit openings.
Two ¾" NPT plastic conduit plugs included.
Tag or Tamper Seal Loop:
Loops molded into base and cover of enclosure for tamper wire or tags.
Mounting:
May be mounted directly to conduit. Two slotted flanges for wall mounting or NPS 1½" to 2½" or DN 40 to 65 mm pipe mounting.
Overall Dimensions:
5.67" x 5.25" x 4.18" (W x H x D) (144 mm x 133 mm x 106 mm)
Weight:
1.65 lbs (26.4 oz, .75 kg)
Warranty:
3 years parts & labor. See
Warranty Information and Terms & Conditions
for complete details.
Input
Input:
4-20 mA
Accuracy:
±0.1% of full span ±1 count
Maximum Voltage Drop & Equivalent Resistance:
| | |
| --- | --- |
| Without Backlight | With Loop-Powered Backlight |
| 1 VDC @ 20 mA | 4 VDC @ 20 mA |
| 50 Ω @ 20 mA | 200 Ω @ 20 mA |
Temperature Drift:
150 PPM/°C from -40 to 75°C ambient
Decimal Point:
User selectable decimal point
Calibration Range:
4 mA input: -1000 to +1000;
20 mA between 20 and 2000 counts greater than 4 mA display.
Two point linear display span.
Input Overload:
Over current protection to 2 A max.
HART Transparency:
The meter does not interfere with existing HART communications; it displays the 4-20 mA primary variable and it allows the HART communications to pass through without interruption.
The meter is not affected if a HART communicator is connected to the loop. The meter does not display secondary HART variables.
Connections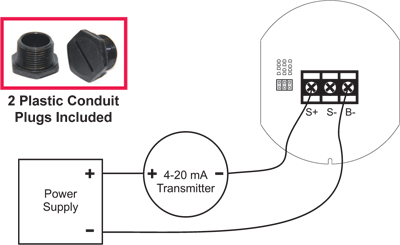 Dimensions