Features
Fully Approved Explosion-Proof Temperature Meter
J, K, T, E, R, S, B, N, C Thermocouples
100 or 1000 Ω Platinum, 10 Ω Copper, 120 Ω Nickel RTDs
1° or 0.1° Resolution
User Programmable Display in Fahrenheit or Celsius
Capture Maximum and Minimum Temperature Readings
Optional Isolated 4-20 mA Output Turns the Meter into a Temperature Transmitter
Averages up to 10 RTD Sensors
Automatic Cold Junction Compensation
Dual-Line 6-Digit Display, 0.6" (15 mm) & 0.46" (12 mm)
SafeTouch Through-Glass Button Programming
4 Relays with Interlocking Capability + Isolated 4-20 mA Output Option
Free PC-Based, On-Board, MeterView Pro USB Programming Software
SunBright Display Standard Feature; Great for Outdoor Applications
Operating Temperature Range: -55 to 65°C (-67 to 149°F)
CSA Certified as Explosion-Proof / Dust-Ignition-Proof / Flame-Proof
ATEX and IECEx Certified as Dust-Ignition-Proof / Flame-Proof
Input Power Options: 85-265 VAC / 90-265 VDC or 12-24 VDC / 12-24 VAC
Programmable Display, Function Keys & Digital Inputs
Flanges for Wall or Pipe Mounting
Explosion-Proof Aluminum or Stainless Steel NEMA 4X / IP68 Enclosures
On-Board RS-485 Serial Communications
Modbus RTU Communication Protocol Standard
Password Protection
Four 3/4" NPT Threaded Conduit Openings
Pipe Mounting Kits
Stainless Steel Tag Available
3-Year Warranty
Overview
Front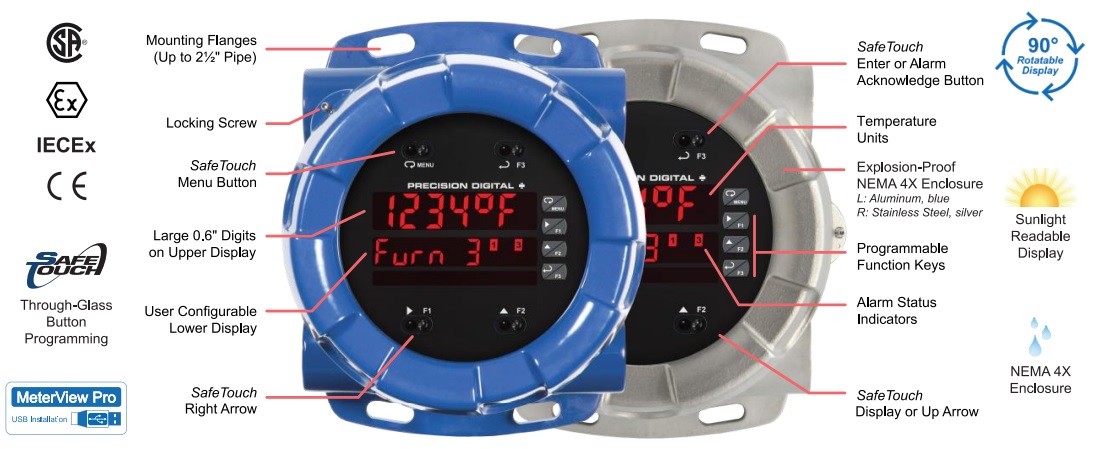 Connections

Introduction
The ProtEX-MAX PD8-7000 is an explosion-proof digital temperature meter with a big, bright display that can be read in any lighting condition and is available with a variety of useful options. The meter is housed in a field-mountable, NEMA 4X/IP68 rated enclosure available in either aluminum or stainless steel for convenient indoor and outdoor installation.
The ProtEX MAX PD8-7000 can be programmed by the user to accept type J, K, T, E, R, S, B, N, and C thermocouples as well as 100 or 1000 Ω platinum, 10 Ω copper, and 120 Ω nickel RTD inputs. The meter's six-digit display allows it to display the higher temperature thermocouples up to their standard Fahrenheit range, such as 2400 degrees for the Type K thermocouple.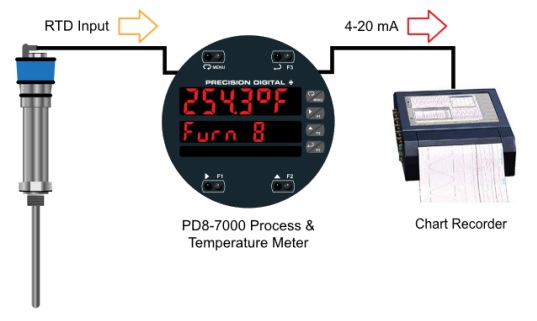 A fully loaded PD8-7000 temperature meter comes with four SPDT relays, an isolated 4-20 mA output, five digital inputs and four digital outputs, and RS-485 serial communications. The four relays can be used to indicate high or low temperature alarms or for simple on / off temperature control.