Features
Fully Approved Explosion-Proof Annunciators
Switch, Open Collector NPN Transistor, and Logic Level Inputs
4- or 8-Point Monitoring
8 Field Selectable ISA Sequences Including First-Out
Multiple-Unit First-Out Indication
Free Custom Message Labels
Silence, Acknowledge, and Reset Functions
Sunlight Readable Indication
SafeTouch Through-Glass Button Programming
Annunciator Mountable at 0°, 90°, 180°, & 270°
24 VDC @ 200 mA Power Available to Drive Other Devices (AC Models)
2 SPDT Relays for Alarm Activated Devices
Operating Temperature Range: -55 to 65°C (-67 to 149°F)
CSA Certified as Explosion-Proof / Dust-Ignition-Proof / Flame-Proof
ATEX and IECEx Certified as Dust-Ignition-Proof / Flame-Proof
Input Power Options Include 85-265 VAC or 12-36 VDC
Built-in internal Audible Alarm with Silence Pushbutton
Flanges for Wall or Pipe Mounting
Explosion-Proof Aluminum or Stainless Steel NEMA 4X / IP68 Enclosures
Four 3/4" NPT Threaded Conduit Openings
Pipe Mounting Kits
Stainless Steel Tag Available
3-Year Warranty
Overview
Front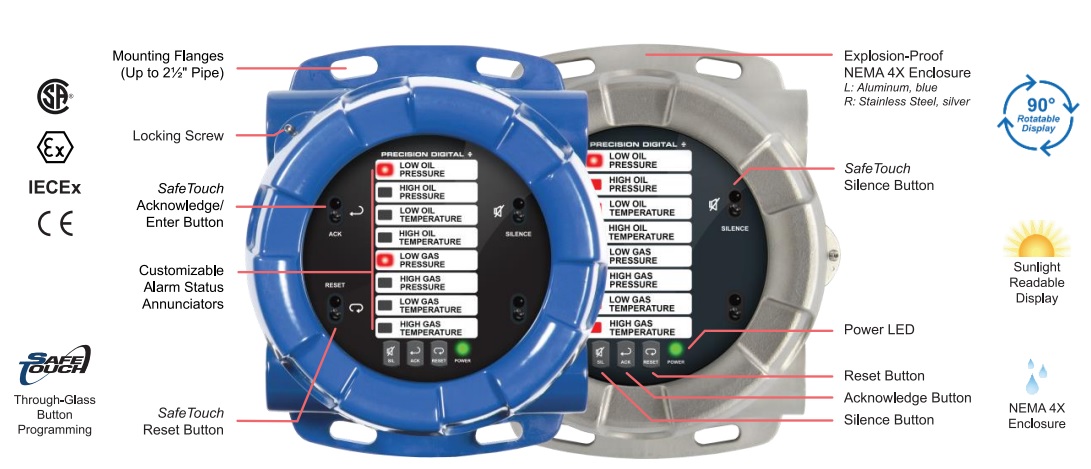 Connections
Introduction
The ProtEX-MAX PD8-150 series offers easy-to-use explosion-proof annunciators that can be set up to respond to alarm conditions based on 8 field selectable alarm sequences, including first-out indication. With either 4 or 8 switch inputs, the alarm channels accept normally open, normally closed, NPN open collector transistor, and logic level inputs. The annunciator is housed in a field-mountable, NEMA 4X/IP68 rated enclosure available in either aluminum or stainless steel for convenient indoor and outdoor installation.
Three front panel pushbuttons are used during sequence operation to silence the audible alarm, acknowledge the first out alarm, and reset cleared channels as required by the sequences. These functions can also be operated from hazardous-area remote devices using the remote control signal connectors, or in hazardous areas using the SafeTouch through-glass buttons.
The ProtEX-MAX PD8-150 series has two SPDT relays that can be used for additional external alarm indication, additional audible devices, or for process control.
To enhance the look of your ProtEX-MAX Annunciator, we strongly recommend you order Free custom message labels. These can be ordered at any time, just by filling out a convenient on-line form at Free Custom Message Labels.