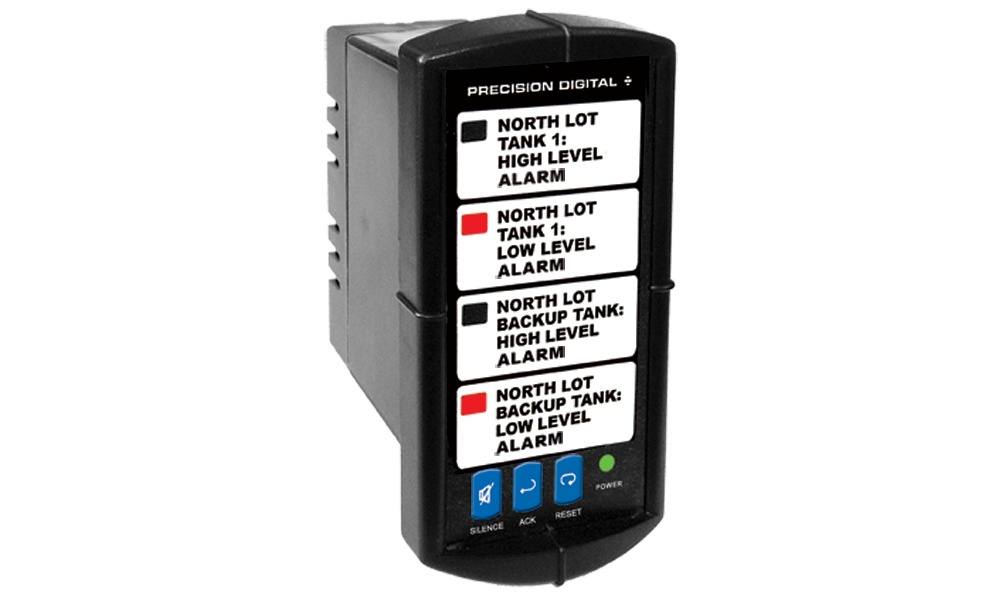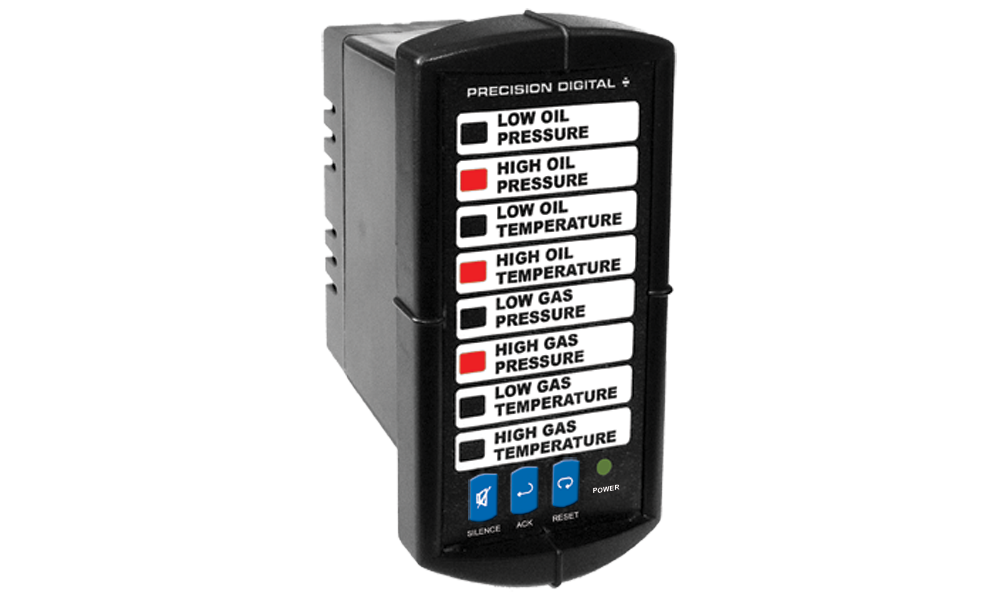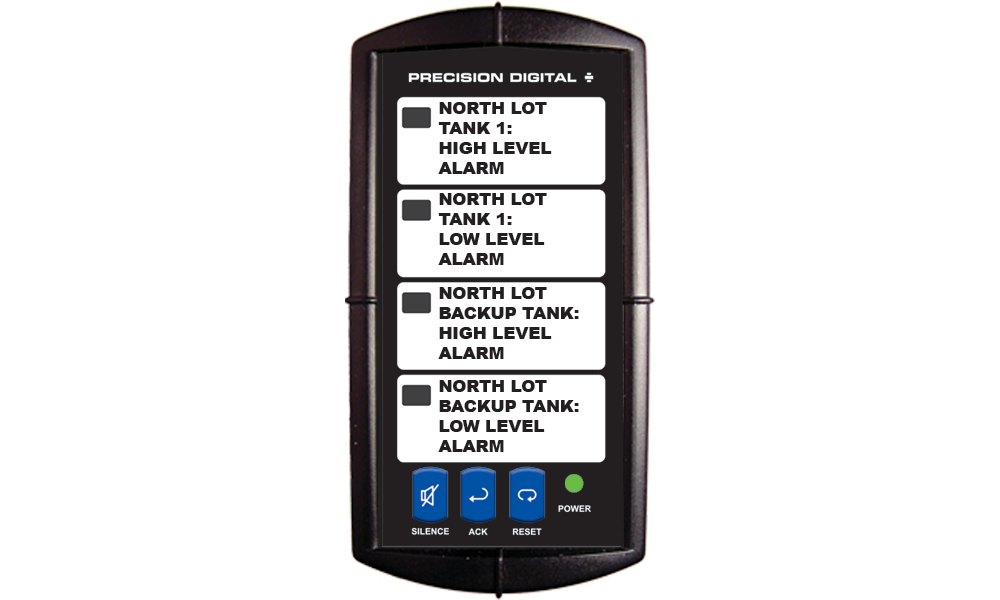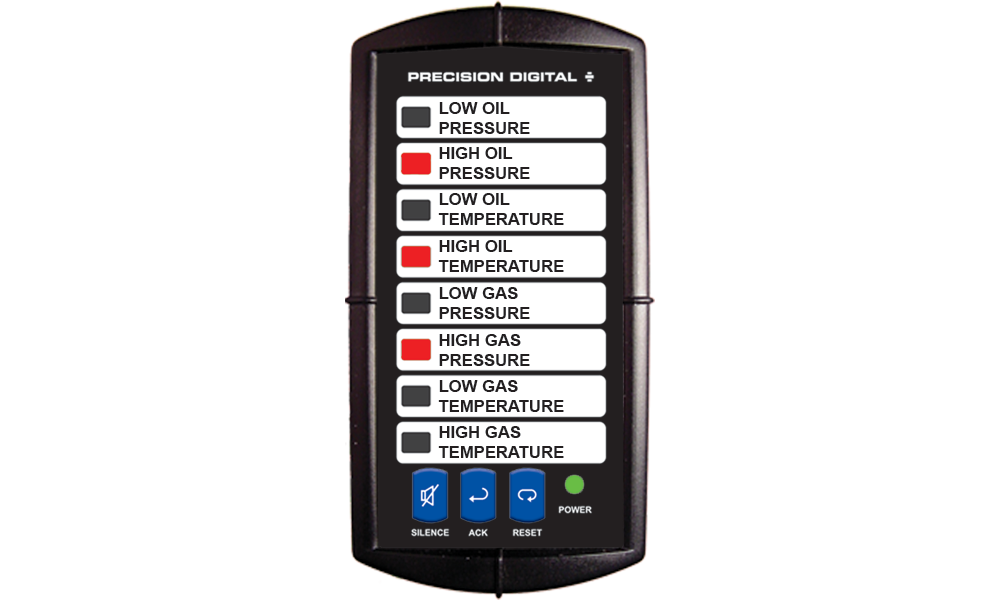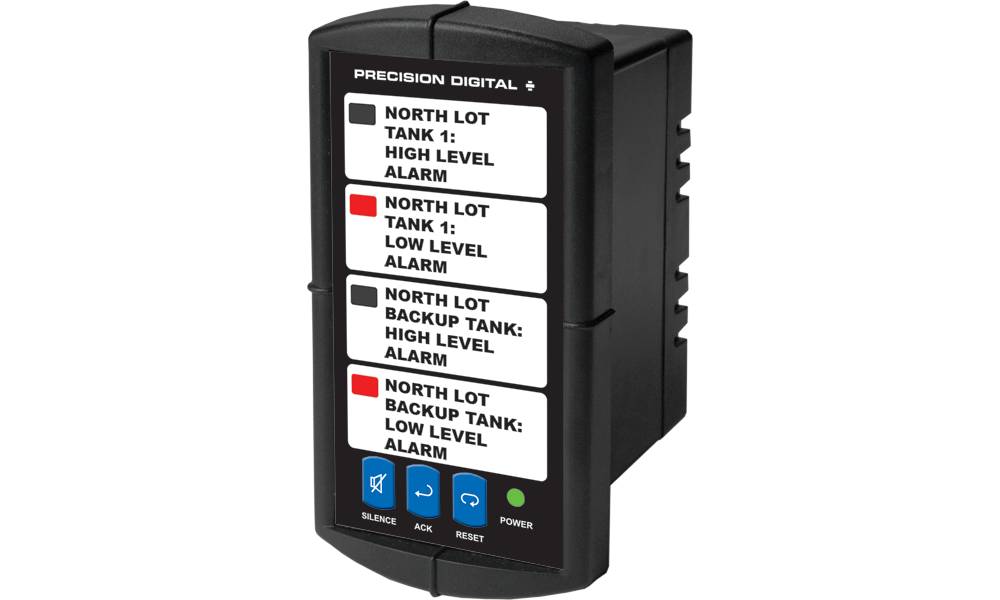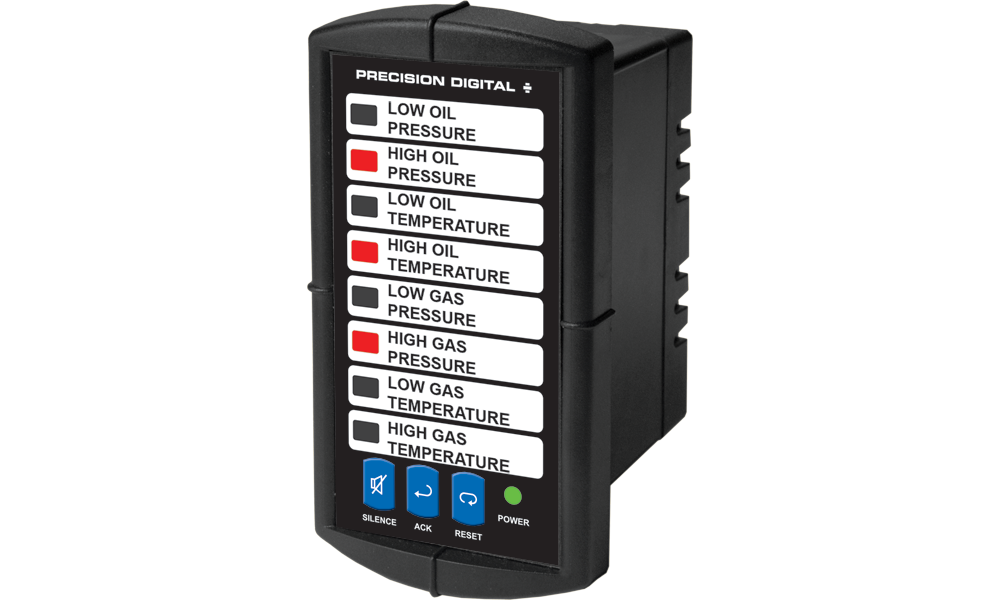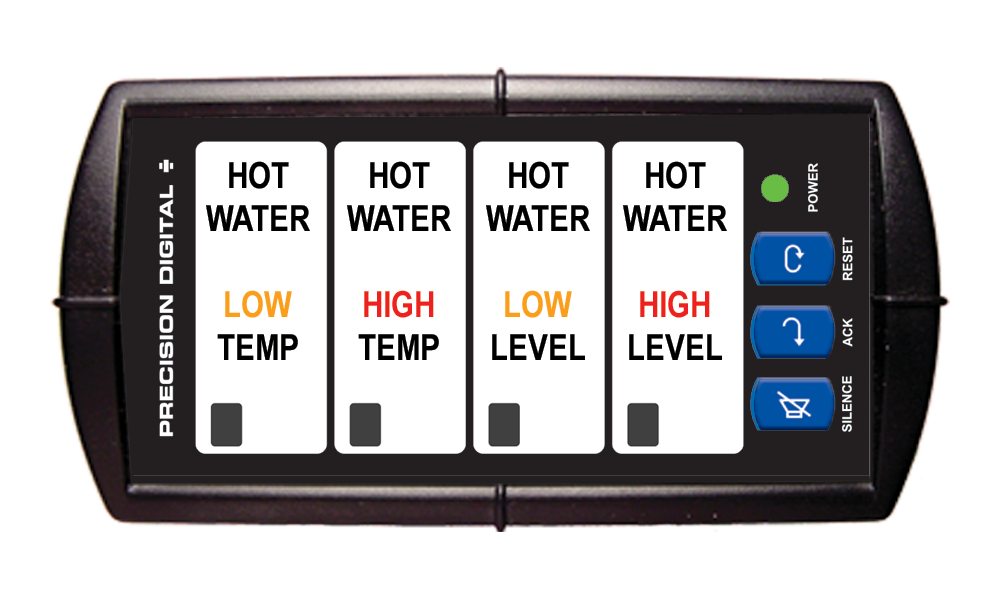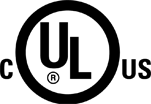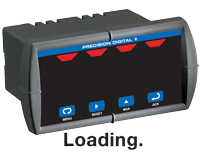 Related Products
The Vigilante II annunciators are compact, panel-space saving, four and eight channel annunciators loaded with features found previously in annunciators three or four times their size. Yet despite all the traditional annunciator features that are included in the Vigilantes, they are still very much low-cost, easy to use alarm annunciators perfect for replacing stand-alone lights!
The Vigilantes are housed in shallow depth, 1/8 DIN enclosures for easy and convenient mounting. They can be programmed for all the common ISA alarm sequences, accept switch, transistor, and logic level inputs, and can be supplied with free custom printed message labels by completing this form.
The Vigilantes' industrial-grade design, NEMA 4X front, wide operating temperature range, and sunlight readable alarm indicators make them well suited for outdoor alarm applications. Front panel buttons and screw terminal connectors located at the rear of the instrument are provided for Silence, Acknowledge, and Reset functions. A built-in horn provides audible indication of alarm condition and up to two relays can be used to control external devices such as beacons, horns, or buzzers.
Features
8 Field Selectable Sequences
All Common ISA Sequences Including First-Out
Switch, Transistor, and Logic Level Inputs
4 or 8-Point Monitoring
Free Custom Message Labels (Order Here)
Type 4X, NEMA 4X, IP65 Front
Universal Power Supply 85-265 VAC
12-36 VDC/12-24 VAC Power Option
Built-In 85 dB Horn
2 SPDT Relays for Alarm Activated Devices
24 VDC Isolated Power Supply (AC Models)
Multiple-Unit First-Out Indication
Silence, Acknowledge, and Reset Functions
Sunlight Readable Indication
Shallow Depth 1/8 DIN Case
General
Display: PD154; Four red LED channel indicators. PD158; Eight red LED channel indicators. One green LED power indicator.
Alarm Messages: Custom printed adhesive clear labels.
Area: PD154, 1.25" x .60" (32 mm x 15 mm), 4 messages PD158, 1.25" x .25" (32 mm x 6 mm), 8 messages
User specified size and length, up to 4 lines (PD154) or 2 lines (PD158) of 14 characters of size 9 pt fonts.
Programming Methods: Rear 4-position switch for sequence selection and horn operation. Three front panel pushbuttons for NO/NC input selection, sequence option, and operation.
Audible Alarm: 85 dB internal horn.
Noise Filter: 40 ms debounce on inputs and external pushbuttons.
Shared First-Out Systems: 1 ms unit-to-unit delay. Maximum of 200 units in the shared first-out system.
Non-Volatile Memory: All programmed settings are stored in non-volatile memory for a minimum of ten years if power is lost.
Power Options: 85-265 VAC, 50/60 Hz; 90-265 VDC, 20 W max; or 12-36 VDC, 12-24 VAC, 6 W max.
Fuse: Required external fuse: UL Recognized, 5 A max, slow blow. Up to 6 annunciators may share one 5 A fuse
Isolated Power Supply: 24 VDC ± 10% @ 200 mA max Standard on 85-265 VAC powered units only.
Isolation: 4 kV input/output-to-power line.
Overvoltage Category: Installation Overvoltage Category II: Local level with smaller transient overvoltages than Installation Overvoltage Category III.
Environmental: Operating temperature range: -40 to 65°C.
Storage temperature range: -40 to 85°C. Relative humidity: 0 to 90% non-condensing.
Connections: Removable screw terminal blocks accept 12 to 22 AWG wire.
Enclosure: 1/8 DIN, high impact plastic, UL 94V-0, front color: black
Mounting: 1/8 DIN panel cutout required. Two panel mounting brackets included.
Tightening Torque: Screw terminal connectors: Gray: 4.5 lb-in (0.5 Nm). Green: 5 lb-in (0.5 Nm)
Overall Dimensions: 4.68" x 2.45" x 4.19" (62 mm x 119 mm x 106 mm) (H x W x D)
Weight: 9.6 oz (272 g)
UL File Number: E160849; 508 Industrial Control Equipment
Warranty: 3 years parts & labor
Inputs
Input Types: NO or NC switches: No external excitation required.
Open collector transistor: Open circuit voltage approx. 3.3 VDC.
Logic Levels: LOW = 0 to 0.9 VDC, HIGH = 2.4 to 28 VDC
Update Rate: 41 ms following alarm state; 1 ms for alarm state clear.
Sequences: Input follower, ISA Sequences A, F1A, F2A, F3A, M, F1M, and F3M per ISA Standard ISA-18.1-1979 R2004.
Sequence Options: A, F1A, F2A, F3A, M, F1M, F2M, and input follower with selectable options -1 (silence pushbutton), -4 (no lock-in), and -6 (no horn) per ISA Standard ISA-18.1-1979 R2004
Relays
Rating: 2 SPDT (Form C); rated 3 A @ 30 VDC or 3A @ 250 VAC resistive load; 1/14 HP @ 125/250 VAC for inductive loads.
Electrical Noise Suppression: A suppressor (snubber) should be connected to each relay contact switching inductive loads to prevent disruption to the microprocessor's operation. Recommended suppressor value: 0.01 µF/470 Ω, 250 VAC (PDX6901).
Relay Operation: Relay 1: Alarm state until alarm is acknowledged. Relay 2: Alarm state if any channel indicating alarm condition.
Fail-Safe Operation: Programmable independent for each relay.
Note: In fail-safe mode, relay coil is energized in non-alarm condition. In case of power failure, relay will go to alarm state.
Order Free Message Labels for this Product
Applications




Level Monitoring with Level Switches


The Vigilante II is ideal for tank level switch monitoring.




Up to 8 Individually Labeled Level Switch Inputs
24 VDC Level Switch Power Supply
Relays for External Horns and Light Alarms
NEMA 4X Mounting Enclosures
Sunlight Readable Indication

Level Monitoring with Level Switches




First-Out Indication for Heating/Cooling Systems
Multiple Unit First-Out Indication
Remote Silence, Acknowledge, and Reset
Internal 85 dB Horn,/li>
Fail-Safe Relays for Critical Applications



Connect PD765 Trident alarm relays to the Vigilante II
for temperature alarm monitoring.




First-Out Alarm Indication

The Vigilante II can be programmed for multiple sequences with first-out alarm indication. This feature indicates the first point of failure of a system when multiple alarms occur.

Multiple Unit First-Out Alarm Indication

If multiple Vigilante II annunciators are connected for multiple unit first-out indication, only one input from all connected devices will display as a first-out alarm.





Multiple Unit First-Out Indication





Connections




PD158 connections for 85-265 VAC powered model.

Mounting Dimensions