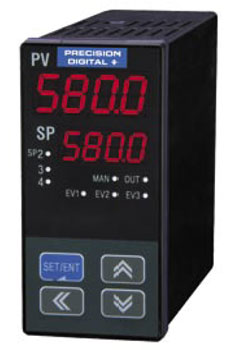 Nova Digital Controller
Easy Access to Auto/Manual Control Switching Parameter
---
• Switch between auto and manual control without entering the setup
• Clearly displays operating condition
• Prevents accidental mode switching
• Featured on all PD540 Series Digital Process & Temperature Controllers
---
Quick Auto/Manual Switching
Switching between automatic PID and manual output level control can be done with just a few easy keystrokes, without entering any setup menus.
Easy to Setup
To setup the Nova for this application, simply set custom user screen one to display the A/M (auto/manual) parameter. To do this, set US1 in G.CTL (Control Group) to value 105. This is the D-Register value for the A/M parameter from the back of the PD540 Series Instruction Manual.
Quick Access to Other Features
Any two parameters can be accessed through the US1 and US2 custom display menus, for easy access to any commonly used parameters.