EDITORS: The following images are available for download: hi-res copy of the images below, depicting the PD6100 and PD8-6100.
February 24, 2015 - Precision Digital Corporation, global leader in digital panel meters and control instrumentation for over four decades, today announced improvements to a ProVu family member, the PD6100 Strain Gauge Meter and its explosion-proof counterpart, the PD8-6100 Strain Gauge Meter. These are reliable digital strain gauge & load cell meters ideal for weight, millivolt, and force measurement applications. The multipurpose PD6100 and PD8-6100 feature one-button zeroing of the display, auto-zero adjustment (to prevent drift), and clear information display in sleek panel-mounted or rugged field-mounted enclosures.

The ProVu PD6100 Strain Gauge Meter has been enhanced with the ability to power up to twelve (12) 350 Ω load cells. This improvement makes the PD6100 the perfect choice for weighing applications in large bins, tanks, or scales, because it enables more load cells to be averaged to determine weight, volume, or level. The meter programming buttons have also been improved to more closely resemble the operation of a typical scale, allowing for zeroing the meter with one button push. Tare/Reset Tare functionality empowers the meter to compensate for anomalies such as sludge buildup at the bottom of an empty tank. Additionally, the PD6100's powerful dual-scale capability permits the measurement to be displayed in two different units of measure.
The explosion-proof PD8-6100 is rated NEMA 4X/IP68 and carries worldwide agency approvals (FM, CSA, ATEX, IECex, & CE), branding it the optimal choice for use in hazardous locations or in the field under the harshest environmental conditions, including extreme cold.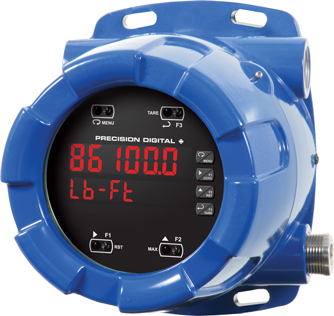 The PD6100 and PD8-6100 Meters can perform automatic unit conversions when switching between pre-defined units, such as pounds, kilograms, and tons, without the need for additional scaling. Both the PD6100 and PD8-6100 accept mV input signals up to 300 mV (unipolar) and ± 250 mV (bipolar), and are rated for a max current of 350 mA @ 10 V.
ProVu PD6100 Strain Gauge 1/8 DIN Panel Meter data sheet: http://www.predig.com/PD6100/index.php
About Precision Digital Corp.
Established in 1974, Precision Digital manufactures a comprehensive line of digital display and control instrumentation for demanding industrial applications. The core of the company's products is the ProVu® family of digital panel meters, featuring large, dual-line 6-digit displays, advanced signal input conditioning, programmable function keys, MODBUS® RTU serial communications, and control of up to eight relays. Other products include loop-powered indicators, rate/totalizers, scanners and annunciators, and temperature indicators and controllers. Certified to UL, CSA, FM, ATEX, IECEx, CE, and NEMA standards, the company's process meters and controllers reliably perform in challenging environments. For hazardous areas, the ProtEX® series of process meters features explosion-proof housings. Precision Digital is an ISO 9001:2008 certified company. For more information, see http://www.predig.com
© 2015 Precision Digital Corporation. ProVu, ProtEx, and SafeTouch are registered trademarks of Precision Digital Corporation. All other trademarks are property of their respective owners.