EDITORS: The following images are available for download:
View a low-res copy of the image.
View a hi-res copy of the image.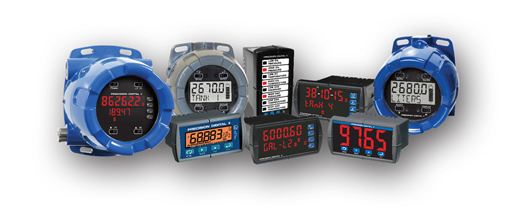 May 6, 2015 – Holliston, MA – Precision Digital Corporation, global leader in digital panel meters and control instrumentation for over 40 years, is pleased to announce the 2015 Catalog and Price List. This organized, two-volume compilation contains all the product information about Precision Digital's expanding product line in one location. The catalog includes the latest product offerings from the company, including the PD6400 High Voltage & Current Meter; the enhanced PD6100 Strain Gauge Meter; and the PD6800-0L1 decimal level display with bargraph indicator, part of the company's expanding ProtEX® line of field-mounted instruments for hazardous areas.

"The 2015 Catalog and Price List have all the product information needed by OEMs, customers, and salespeople," said Jeffrey Peters, President, Precision Digital Corporation. "And as a thank you to customers for their loyal support, there are no price increases."

The 2015 Catalog and Price List summarize each of Precision Digital's vast array of products and provide convenient pricing for all models and accessories. New products for a growing number of applications are prominently featured, and easily-identifiable chapters and sections make locating products and accessories effortless. Product information can be looked up by application: level, flow, pressure, or temperature. Available features and options are displayed to help the user make the most informed choice.

Details include specifications and pricing on the ProtEX® Explosion-Proof Series, ProVu® 1/8 DIN Digital Panel Meters, Trident X2 Large Display Panel Meters, Vigilante® II Alarm Annunciators, and LoopLeader® Loop-Powered and Intrinsically Safe Meters and Rate/Totalizers. Quickly find which products have the agency approvals needed, including FM, CSA, ATEX, IECEx, and UL. Most products are NEMA 4X and carry CE marking. The Vantageview Series offers ProtEX functionality and NEMA 4X protection in a rugged plastic field-mounted enclosure perfect for wet or dirty environments.
Availability & Pricing
To order the free 2015 Catalog and Price List, call Precision Digital at 800-343-1001, or download:
Catalog: https://www.predig.com/companypages/precision-digital-catalog
Price List: https://www.predig.com/companypages/precision-digital-price-lists
About Precision Digital Corp.
Established in 1974, Precision Digital manufactures a comprehensive line of digital display and control instrumentation for demanding industrial applications. The core of the company's products is the ProVu® family of digital panel meters, featuring large, dual-line 6-digit displays, advanced signal input conditioning, programmable function keys, MODBUS® RTU serial communications, and control of up to eight relays. Other products include loop-powered indicators, rate/totalizers, scanners and annunciators, and temperature indicators and controllers. Certified to UL, CSA, FM, ATEX, IECEx, CE, and NEMA standards, the company's process meters and controllers reliably perform in challenging environments. For hazardous areas, the ProtEX® series of process meters features explosion-proof housings. Precision Digital is an ISO 9001:2008 certified company. For more information, see http://www.predig.com
© 2015 Precision Digital Corporation. ProVu, ProtEx, and SafeTouch are registered trademarks of Precision Digital Corporation. All other trademarks are property of their respective owners.