EDITORS: The following images are available for download:
View a low-res copy of the image.

View a hi-res copy of the image.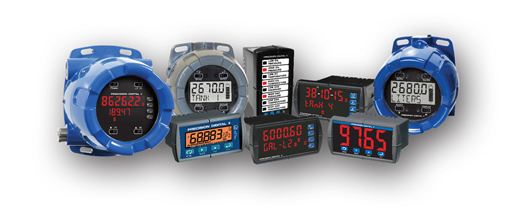 April 1, 2015 – Holliston, MA - Precision Digital Corporation, global leader in digital panel meters and control instrumentation for over 40 years, will demonstrate its newest flow, level, temperature, and pressure meters at the ISA Calgary Show 2015 on April 22-23, 2015 at Stampede Park, Calgary, Alberta, Canada. Located in Booth #815, Halls D&E, the Precision Digital Team will demonstrate the company's new products, including Modbus® Scanners, explosion-proof indicators, and NEMA 4X/IP65 field-mounted displays. Featured will be the ProtEX® PD6800-0L1, an explosion-proof process meter with a segmented bargraph, ideal for oil & gas level applications using the metric system, and the ProtEX® PD6830, a field mounted flow indicator designed for accurate display of and quick access to local or remote process information in hazardous areas or in the harshest safe area applications.
"Our ProtEX explosion-proof instruments and Vantageview family of field mounted meters are designed for what operators need most...meters that are easy to read, display important information about their process, and can be seen from wide angles and a distance, especially in hazardous areas," said Jeffrey Peters, President, Precision Digital Corporation. "Precision Digital meters are designed for readability and ease of use, from large character displays to automatic unit conversions."
Precision Digital Booth #815 will be staffed by Alan Williams, Vice President of Sales; Antonio Ciolfi, International Sales Manager; and Ryan Shea, Inside Sales Specialist. Contact [email protected] to set up a meeting at the show.
About Precision Digital Corp.

Established in 1974, Precision Digital manufactures a comprehensive line of digital display and control instrumentation for demanding industrial applications. The core of the company's products is the ProVu® family of digital panel meters, featuring large, dual-line 6-digit displays, advanced signal input conditioning, programmable function keys, MODBUS® RTU serial communications, and control of up to eight relays. Other products include loop-powered indicators, rate/totalizers, scanners and annunciators, and temperature indicators and controllers. Certified to UL, CSA, FM, ATEX, IECEx, CE, and NEMA standards, the company's process meters and controllers reliably perform in challenging environments. For hazardous areas, the ProtEX® series of process meters features explosion-proof housings. Precision Digital is an ISO 9001:2008 certified company. For more information, see http://www.predig.com
© 2015 Precision Digital Corporation. ProVu, ProtEx, and SafeTouch are registered trademarks of Precision Digital Corporation. All other trademarks are property of their respective owners.