EDITORS: The following images are available for download: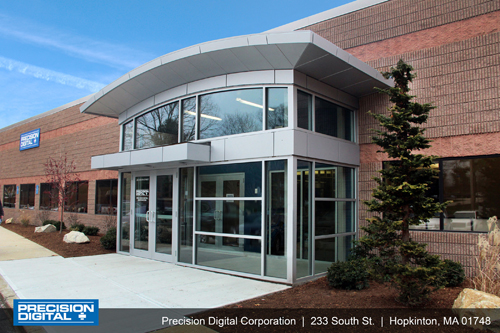 1 October 2015 – Hopkinton, MA – Precision Digital Corporation, global leader in digital panel meters and control instrumentation for over 40 years, is proud to announce it has moved into its new headquarters in Hopkinton, MA. The company now occupies a newly renovated, 18,000 ft2 state-of-the-art office space featuring all new office and production spaces, a brick patio with awning and grill, and a 600-gallon saltwater fish tank. The new office is 50% larger than its predecessor and will soon be powered by advanced solar cell panels for green energy production.
"This move allows us to expand on the development, manufacture, and sale of process instrumentation and services for the process industry," said Jeffrey Peters, President of Precision Digital Corporation. "This is a big step in the right direction for Precision Digital."
The new headquarters is conveniently located off of Interstate 495 at 233 South Street, Hopkinton, MA.
About Precision Digital Corp.
Established in 1974, Precision Digital manufactures a comprehensive line of digital display and control instrumentation for demanding industrial applications. The core of the company's products is the ProVu® family of digital panel meters, featuring large, dual-line 6-digit displays, advanced signal input conditioning, programmable function keys, MODBUS® RTU serial communications, and control of up to eight relays. Other products include loop-powered indicators, rate/totalizers, scanners and annunciators, and temperature indicators and controllers. Certified to UL, CSA, FM, ATEX, IECEx, CE, and NEMA standards, the company's process meters and controllers reliably perform in challenging environments. For hazardous areas, the ProtEX® series features explosion-proof housings. Precision Digital is an ISO 9001:2008 certified company. For more information, see http://www.predig.com.
© 2016 Precision Digital Corporation. ProVu®, ProtEX®, and SafeTouch® are registered trademarks of Precision Digital Corporation. All other trademarks are property of their respective owners.