EDITORS: The following images are available for download: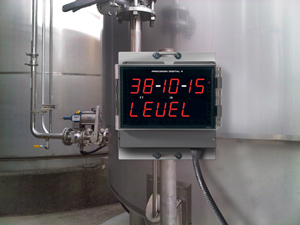 27 April 2017 - Hopkinton, MA - Precision Digital Corporation, global leader in digital panel meters and control instrumentation, today announced the latest in large display field instrumentation, the Helios series large display meters and controllers. An IP65 rated field mounted indicator, the Helios series is based on the trusted reliability and accuracy of the ProVu series of panel mounted indicators, with a display that is three times larger! Almost every ProVu model now has a large display counterpart in the Helios family.
The Helios series includes models that accept a wide range of inputs and suit a greater range of applications. Available inputs include 4-20 mA, 0-10 V, pulse, thermocouple, RTD, and Modbus®. These displays can be easily field, pipe, or wall mounted for any application where critical process variables need to be seen at all times, from up to 100 feet away. Because readability is paramount, the displayed variable may be clearly labeled with a custom unit or tag on the second display line. Programming the unit is simple with the inclusion of free MeterView® Pro software right on the meter, which streamlines setup by allowing the device to be programmed directly from a PC using the included USB cable.
"Our customers and distributors have asked for a large display product that is suited for a wide variety of applications for a long time," said Jeffrey Peters, President of Precision Digital Corporation. "Adapting our diverse and very popular ProVu series into a large display product allows this flexible and reliable product line to meet the demands of new applications."
Options include up to four (4) relays, a 4-20 mA analog output, and dual 24 VDC power supplies. Displays are available in decimal format or with feet and inches designations for level applications.
Availability & Pricing: The Helios series large display meters are available now. Prices start at $999. See www.predig.com/products/product_series/helios for details.
About Precision Digital Corp.
Established in 1974, Precision Digital manufactures a comprehensive line of digital display and control instrumentation for demanding industrial applications. The core of the company's products is the ProVu® series family of digital panel meters, featuring large, dual-line 6-digit displays, advanced signal input conditioning, programmable function keys, MODBUS® RTU serial communications, and control of up to eight relays. Other products include loop-powered indicators, rate/totalizers, scanners and annunciators, and temperature indicators and controllers. Certified to UL, CSA, FM, ATEX, IECEx, CE, and NEMA standards, the company's process meters and controllers reliably perform in challenging environments. For hazardous areas, the ProtEX™ series of process meters features explosion-proof housings. Precision Digital is an ISO 9001:2008 certified company. For more information, see www.predig.com
© 2016 Precision Digital Corporation. ProVu, ProtEX, and SafeTouch are registered trademarks of Precision Digital Corporation. All other trademarks are property of their respective owners.