EDITORS: The following images are available for download: hi-res copy of the image.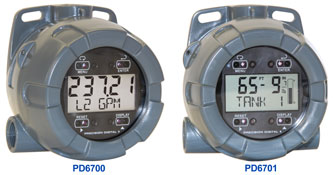 January 13, 2014 - Precision Digital Corporation, global leader in digital panel meters and control instrumentation, today announced the Vantageview Series of NEMA 4X Field-Mounted Meters. The Vantageview Series offers the functionality and features of the company's ProtEX Series of Explosion-Proof Meters in an injection-molded plastic, NEMA 4X (IP65) enclosure. Vantageview meters are designed for use in demanding applications in wet or dirty environments that do not require agency approvals. They can be used for virtually any industrial process that involves level, flow, pressure, or temperature. Unique SafeTouch® through-window buttons allow operation without removing the cover. They are available in 4-20 mA loop-powered and pulse input models powered by the output loop, DC, or battery.
The Vantageview Series includes large, dual-line displays for viewing critical process variables clearly at a distance, even in direct sunlight. Models are available for single process variables, rate and total, feet and inches displays for level applications, and a larger one-inch display for long-range visibility. Each meter features a sleek, modern, polycarbonate enclosure with built-in mounting flanges and a rear groove for sturdy wall or pipe mounting; the integrated tamper seal loop tab allows for an additional layer of security. The meters also provide three ¾inch NPT threaded conduit holes for easy wiring in any direction and include two plastic conduit plugs. Operating and storage temperatures range from -40 to 75 degrees Celsius.
Programming and operation of the meters can be done without opening the housing, using the built-in SafeTouch® through-window buttons. Each meter is equipped with up to four sensors that operate as through-window buttons so the unit can be programmed and operated without removing the cover (and exposing the electronics) in harsh environments. These buttons can be disabled for security with a switch located inside the enclosure. When the cover is removed, the mechanical buttons located on the faceplate are used for programming. The clear, impact-resistant polycarbonate window makes the Vantageview meters ideal for applications where restrictions on glass exist, such as food production.
Availability & Pricing
The Vantageview Series Meters are available now. Prices start at $299. Data sheets are available at:
About Precision Digital Corp.
Established in 1974, Precision Digital manufactures a comprehensive line of digital display and control instrumentation for demanding industrial applications. The core of the company's products is the ProVu® family of digital panel meters, featuring large, dual-line 6-digit displays, advanced signal input conditioning, programmable function keys, MODBUS® RTU serial communications, and control of up to eight relays. Other products include loop-powered indicators, rate/totalizers, scanners and annunciators, and temperature indicators and controllers. Certified to UL, CSA, FM, ATEX, IECEx, CE, and NEMA standards, the company's process meters and controllers reliably perform in challenging environments. For hazardous areas, the ProtEX® series of process meters features explosion-proof housings. Precision Digital is an ISO 9001:2008 certified company. For more information, see http://www.predig.com
© 2014. Precision Digital Corporation. ProVu, ProtEx, and SafeTouch are registered trademarks of Precision Digital Corporation. All other trademarks are property of their respective owners.