EDITORS: The following images are available for download:
View a low-res copy of the image.
View a hi-res copy of the image.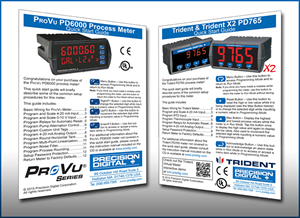 June 30, 2015 – Holliston, MA – Precision Digital Corporation, global leader in digital panel meters and control instrumentation for over 40 years, has announced the release of a new series of Quick Start Guides for its most popular displays and controllers. Each guide is 8-12 pages of information designed to get the end-user up and running quickly without having to navigate through a complicated manual. A printed copy of each product's Quick Start Guide is included with Precision Digital's most popular digital panel meters: the ProVu PD6000 Process Meter, the PD6200 and PD6300 Rate/Totalizers, and the Trident and Trident X2 Process Meters.
"The new Quick Start Guides contain all the product information needed by plant personnel to perform a quick installation with the least amount of downtime," said Jeffrey Peters, President of Precision Digital. "These guides make for straightforward installation and effortless operation."
These organized Quick Start Guides help users familiarize themselves with the buttons and basic functionality of the panel meters. Basic wiring instructions are included for inputs, outputs, relays, and power connections. Information is also included about programming and scaling the meter's inputs, as well as programming the relays for automatic reset. Operators can learn how to properly program the meter's 4-20 mA output and set up custom tags, units, and password protection.
Selected advanced functions, such as pump alternation control, round horizontal tank gauging, and multi-point linearization are also addressed. Additional features, including process rounding and noise filter programming, are available. In the event of a confounding programming error or new setup, instructions are provided to return the meter to factory default settings.
Availability:
The Quick Start Guides are available now and included with product shipments.
About Precision Digital Corp.
Established in 1974, Precision Digital manufactures a comprehensive line of digital display and control instrumentation for demanding industrial applications. The core of the company's products is the ProVu® family of digital panel meters, featuring large, dual-line 6-digit displays, advanced signal input conditioning, programmable function keys, MODBUS® RTU serial communications, and control of up to eight relays. Other products include loop-powered indicators, rate/totalizers, scanners and annunciators, and temperature indicators and controllers. Certified to UL, CSA, FM, ATEX, IECEx, CE, and NEMA standards, the company's process meters and controllers reliably perform in challenging environments. For hazardous areas, the ProtEX® series of process meters features explosion-proof housings. Precision Digital is an ISO 9001:2008 certified company. For more information, see http://www.predig.com
© 2015. Precision Digital Corporation. ProVu, ProtEx, and SafeTouch are registered trademarks of Precision Digital Corporation. All other trademarks are property of their respective owners.