EDITORS: The following images are available for download: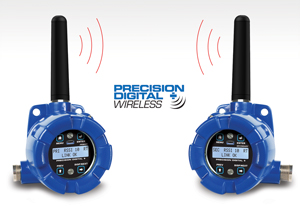 June 1, 2017 - Hopkinton, MA - Precision Digital Corporation, global leader in digital panel meters and control instrumentation, announced today the launch of a new line of point-to-point industrial wireless products. The PDW Industrial Wireless System is a line of signal wire replacement systems in rugged, NEMA 4X/IP68 industrial housings. They provide a simple way to get analog, discrete, or Modbus® signals from where you have them to where you need them. Wireless solutions range in complexity from simple point-to-point for wire replacement, to large-scale point-to-multipoint for connecting up to 32 individual field locations to a central base station.
Precision Digital's line of industrial wireless products includes accessories to expand and customize an installation to meet the unique needs of any application. Wireless installations may be expanded using an array of base station modules, additional wireless field units, repeater units, and high-gain antennae for longer distances. The wireless survey tool kit can provide an accurate representation of wireless signal strength throughout your facility before performing the installation.
"Running wires over long distances can often prove very costly, especially when you need to dig trenches or even just run wires through conduit." said Jeffrey Peters, President of Precision Digital Corporation. "Our new PDW wireless products provide straightforward wire replacement in an industrial package."
PDW products have a signal range of 1 mile line-of-sight outdoor or 500 ft. indoor. This range can be expanded using wireless repeater units or high-gain antennae. They accept analog (4-20 mA, 0-10 V, 0-5 V, 1-5 V), digital, and RS-485 Modbus® inputs and can output analog (4-20 mA), digital, and RS-485 Modbus® at the other end. PDW products include free PDW Manager PC programming software.
Availability & Pricing: PDW Industrial Wireless Systems are available now. PDW30 point-to-point wireless bridges are $999 and PDW90 point-to-multipoint wireless systems start at $1,546 (2 field units, 1 base station, and 1 expansion module).
PDW30 Point-to-Point Wireless Bridge: https://www.predig.com/pdw30
PDW90 Point-to-Multipoint Wireless System: https://www.predig.com/pdw90
All PDW Products: https://www.predig.com/wirelessproducts
Wireless Solutions Selector: https://www.predig.com/wireless
The Wireless Solutions Selector is a utility that makes ordering simple by suggesting only the modular components necessary for a particular wireless application. Select the number of field locations and required outputs, and the Wireless Solutions Selector will list exactly what is necessary to purchase.
About Precision Digital Corporation
Established in 1974, Precision Digital manufactures a comprehensive line of digital display and control instrumentation for demanding industrial applications. The core of the company's products is the ProVu® family of digital panel meters, featuring large, dual-line 6-digit displays, advanced signal input conditioning, programmable function keys, MODBUS® RTU serial communications, and control of up to eight relays. Other products include loop-powered indicators, rate/totalizers, scanners and annunciators, and temperature indicators and controllers. Certified to UL, CSA, FM, ATEX, IECEx, CE, and NEMA standards, the company's process meters and controllers reliably perform in challenging environments. For hazardous areas, the ProtEX® series of explosion-proof meters feature explosion-proof housings. Precision Digital is an ISO 9001:2008 certified company. For more information, see www.predig.com
© 2017 Precision Digital Corporation.