EDITORS: The following images are available for download: hi-res copy of the image below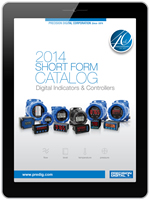 July 28, 2014 – Holliston, MA – Precision Digital Corporation, global leader in digital panel meters and control instrumentation celebrating its 40th year in business, today announced the 2014 Catalog App for iPad. This interactive app contains all the specifications and connection drawings from Precision Digital's print catalog in a smartly designed, easy-to-navigate interface for salespeople, OEMs, and end users. The app also includes selections from the company's extensive video library of tutorials and product demos, covering digital panel meters, process and temperature controllers, loop-powered indicators, pump controllers, and more.
The 2014 Precision Digital Catalog App for iPad provides detailed data organized by easily identifiable Chapters and Sections; this makes locating information effortless. Product data can be found by application type, such as level, flow, pressure, and temperature. Featured products include the explosion-proof ProtEX Series, ProVu 1/8 DIN digital panel meters, Trident X2 large display panel meters, Vigilante II alarm annunciators, and Loop Leader loop-powered and intrinsically safe meters and rate/totalizers. Accessories for each product are displayed in close proximity to maximize the user experience. The app can also be used to quickly discover which products have specific agency approvals, including FM, CSA, ATEX, IECEx, and UL. Most products are NEMA 4X and carry CE marking.
The 2014 Catalog App allows users to stay abreast of new developments from Precision Digital such as Super Snooper Modbus Scanners, Feet & Inches displays, and the company's newest line of field-mounted instruments -- the Vantageview Series.
Download the 2014 Precision Digital Catalog App for iPad free at www.predig.com/apps.
About Precision Digital Corp.
Established in 1974, Precision Digital manufactures a comprehensive line of digital display and control instrumentation for demanding industrial applications. The core of the company's products is the ProVu® family of digital panel meters, featuring large, dual-line 6-digit displays, advanced signal input conditioning, programmable function keys, MODBUS® RTU serial communications, and control of up to eight relays. Other products include loop-powered indicators, rate/totalizers, scanners and annunciators, and temperature indicators and controllers. Certified to UL, CSA, FM, ATEX, IECEx, CE, and NEMA standards, the company's process meters and controllers reliably perform in challenging environments. For hazardous areas, the ProtEX® series of process meters features explosion-proof housings. Precision Digital is an ISO 9001:2008 certified company. For more information, see http://www.predig.com
© 2014. Precision Digital Corporation. ProVu, ProtEx, and SafeTouch are registered trademarks of Precision Digital Corporation. All other trademarks are property of their respective owners.