Features
Fully Approved Explosion-Proof Meter
Dual 0-20 mA, 4-20 mA, 0-5 V, 1-5 V, and ±10 V Inputs with Math Functions
Addition, Difference, Average, Multiplication, Division, Minimum, Maximum, Ratio, & More
Dual-Line 6-Digit Display, 0.6" (15 mm) & 0.46" (12 mm)
SafeTouch Through-Glass Button Programming
Display Mountable at 0°, 90°, 180°, & 270°
Easy Field Scaling in Engineering Units without Applying an Input
4 Relays with Interlocking Capability + Isolated 4-20 mA Output Option
Free PC-Based, On-Board, MeterView Pro USB Programming Software
SunBright Display Standard Feature; Great for Outdoor Applications
Operating Temperature Range: -55 to 65°C (-67 to 149°F)
CSA Certified as Explosion-Proof / Dust-Ignition-Proof / Flame-Proof
ATEX and IECEx Certified as Dust-Ignition-Proof / Flame-Proof
Input Power Options: 85-265 VAC / 90-265 VDC or 12-24 VDC / 12-24 VAC
Multi-Pump Alternation Control
Password Protection
32-Point Linearization, Square Root Extraction and Programmable Exponent Function
Round Horizontal Tank Function; Just Enter Diameter & Length
Programmable Display, Function Keys & Digital Inputs
Flanges for Wall or Pipe Mounting
Explosion-Proof Aluminum or Stainless Steel NEMA 4X / IP68 Enclosures
On-Board RS-485 Serial Communications Standard
Modbus RTU Communication Protocol Standard
Four 3/4" NPT Threaded Conduit Openings
Pipe Mounting Kits
Stainless Steel Tag Available
3-Year Warranty
Overview
Front

Connections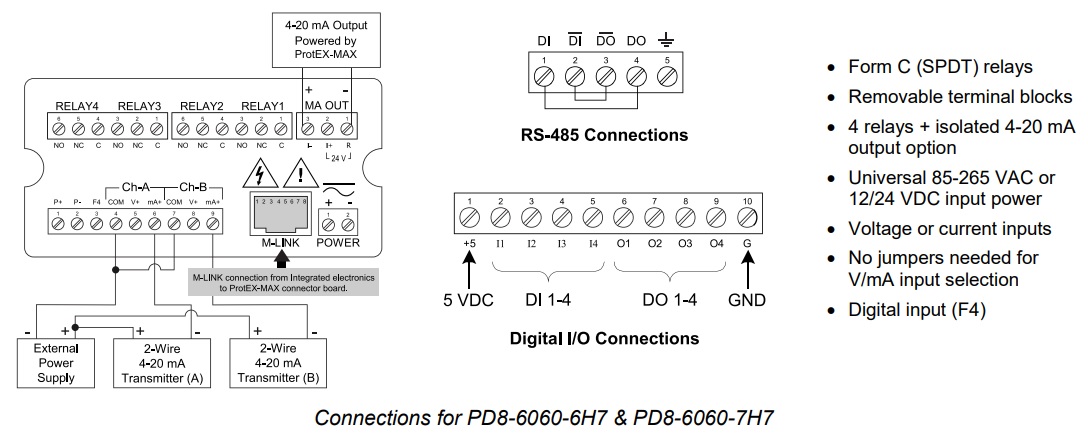 Introduction
The ProtEX MAX PD8-6060 is an explosion-proof dual-input process meter that accepts and displays two analog inputs, such as 4-20 mA or 0-10 V. In its simplest configuration, the meter can display these two inputs at the same time on its dual-line display in user desired engineering units. For more demanding applications, the meter can display a mathematical function of these two inputs such as addition, difference, average, multiplication and more. The meter is ideal for level, flow rate, temperature, or pressure transmitter applications.
The meter features a dual-line display, with a main display 0.60" (15 mm) high, and a second display of 0.46" (12 mm) high superluminous LED digits, which can be read in any lighting condition, including direct sunlight. The meter is housed in an explosion-proof, NEMA 4X/IP68 rated enclosure, available in aluminum or stainless steel, for convenient indoor and outdoor installation.
The ProtEX-MAX is available in two configurations: display only and fully loaded. A fully loaded ProtEX-MAX PD8-6060-6H7 meter comes with four SPDT relays, a 4-20 mA output, five digital inputs and four digital outputs, and RS-485 serial communications.
The four relays can be used for alarm indication or process control applications such as pump alternation control. The 4-20 mA isolated output, Modbus RTU serial communications, and digital I/O features make the ProtEX-MAX an excellent addition to any system.