CSA Certified Stainless Steel or Aluminum Explosion-Proof Loop-Powered Meter
4-20 mA Input with ±0.05% Accuracy of Calibrated Span
1.7 Volt Drop (4.7 Volt Drop with Backlight)
Easy Field Scaling in Engineering Units without a Calibrator
0.6" (15.2 mm) 3½+ Digits LCD Display; -1999 to 2999
Display Mountable at 0°, 90°, 180°, & 270°
HART® Protocol Transparent
Loop-Powered Backlight Option
Operating Temperature Range: -40 to 75°C (-40 to 167°F)
Installation Temperature Range: -55 to 75°C (-67 to 167°F) (Stainless Steel Models Only)
Four Internal Buttons for Easy Field Scaling
Max/Min Display
Programmable Noise Filter
32-Point Linearization & Square Root Extraction
Conformal Coated PCBs for Dust & Humidity Protection
FM Approved as Explosion-Proof / Dust-Ignition Proof / Flame-Proof (Aluminum Models Only)
CSA Certified as Explosion-Proof / Dust-Ignition Proof / Flame-Proof
ATEX and IECEx Certified as Flame-Proof and Protection by Enclosure (Aluminum Models Only)
Flanges for Wall or Pipe Mounting
Explosion-Proof, IP68, NEMA 4X Die-Cast Aluminum or 316 Stainless Steel Enclosure
Two 1/2" NPT Conduit Openings (Model with Two M20 Conduit Openings Available)
1.5" U-Bolt Kit & 2" Pipe Mounting Kits Available
Stainless Steel Tag Available
3-Year Warranty
Why Use Loop-Powered Meters?
The most basic decision a user wishing to display a 4-20 mA signal on a digital display has to make is: should the meter be powered by line voltage or should it be powered by the 4-20 mA loop?
There are three main benefits of using loop-powered devices:
No additional power required
Easy wiring
Additional digital displays can easily be added in the same loop
The ProtEX-Lite PD663 is a loop-powered field meter housed in an IP68, aluminum enclosure that is FM Approved and CSA Certified as Explosion-Proof, Dust-Ignition Proof, and Flame-Proof, and ATEX & IECEx Certified as Flame-Proof.
The PD663-SS is the stainless steel version of the ProtEX-Lite that is CSA Certified as Explosion-Proof, Dust-Ignition Proof, and Flame-Proof.
Both the PD663 and PD663-SS are easy to install and program, and they can be seen in a variety of lighting conditions, even in bright sunlight. The ProtEX-Lite meters will operate down to -40°C and the PD663-SS stainless steel version can be installed in areas where the temperature gets as cold as -55°C, however, the display will cease functioning.
The fact that these meters are loop-powered means that there is no need to run additional, costly power lines into a hazardous area. The meters get all the power they need from the 4-20 mA loop and their 1.7 V drop results in a minimal burden on the loop. Loop-powered backlighting is a standard feature that allows the meters to be read in dimly lit areas. The meters feature a wide -40 to 75°C operating temperature range and are available with two 1/2" NPT or M20 threaded conduit openings and flanges for wall or pipe mounting. Calibration is a quick process involving the four internal pushbuttons. The 3½+ digits display on the ProtEX-Lite will read up to 2999.
Electronics Module
The ProtEX-Lite electronics module is housed in a plastic enclosure that provides a degree of environmental protection for the electronics circuitry. The module is mounted to the enclosure with spring-loaded thumbscrews and can be oriented in 0°, 90°, 180°, or 270° increments. Connections are made to a removable screw terminal block.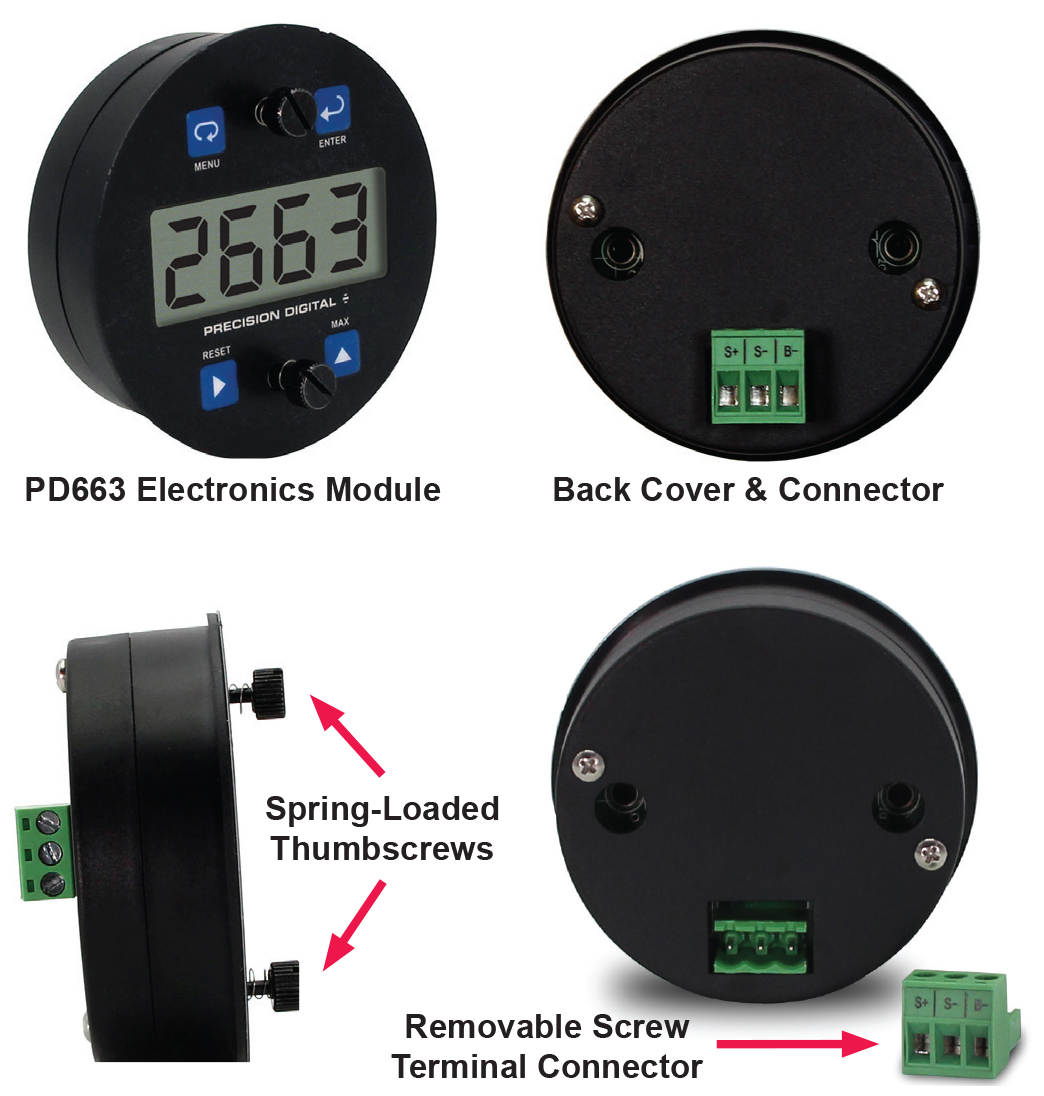 Easy Pipe Mounting
The ProtEX-Lite comes with cast-in mounting flang-es. These allow easy mounting to walls or pipes us-ing the PDA6631-SS Stainless Steel U-Bolt Kit for a 1.5" pipe or the PDA6863-SS Stainless Steel Pipe Mounting Kit for a 2" pipe. A slot on the back of the enclosure makes it easy to center the unit on a pipe.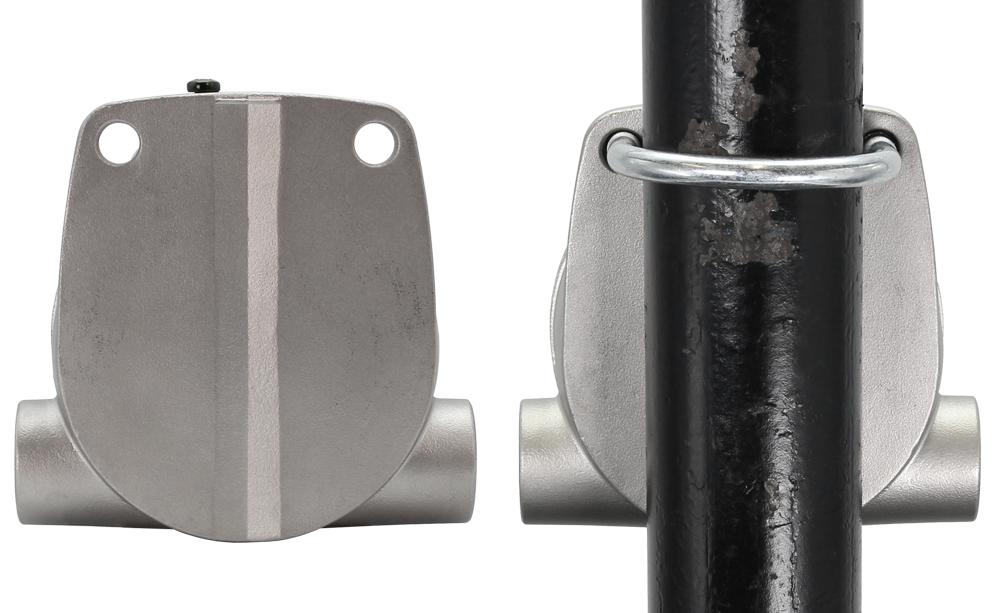 PDA6631-SS 1.5" U-Bolt Kit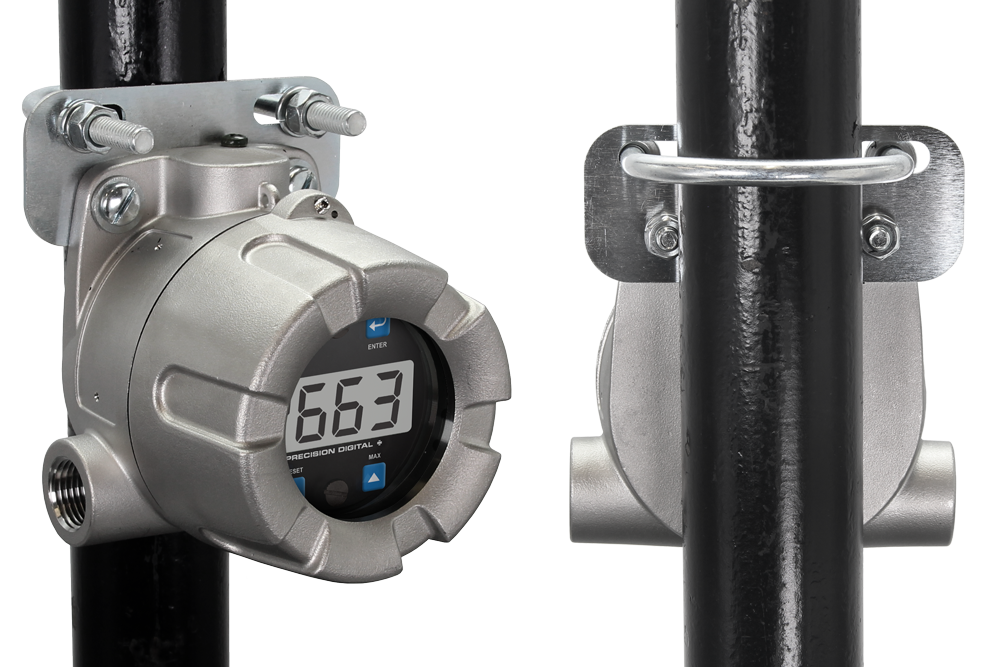 PDA6863-SS 2" Pipe Mounting Kit
Rotatable Display Module
The display module can be rotated in 90° increments providing added mounting flexibility. Plus the various conduit connections allow a variety of installation options.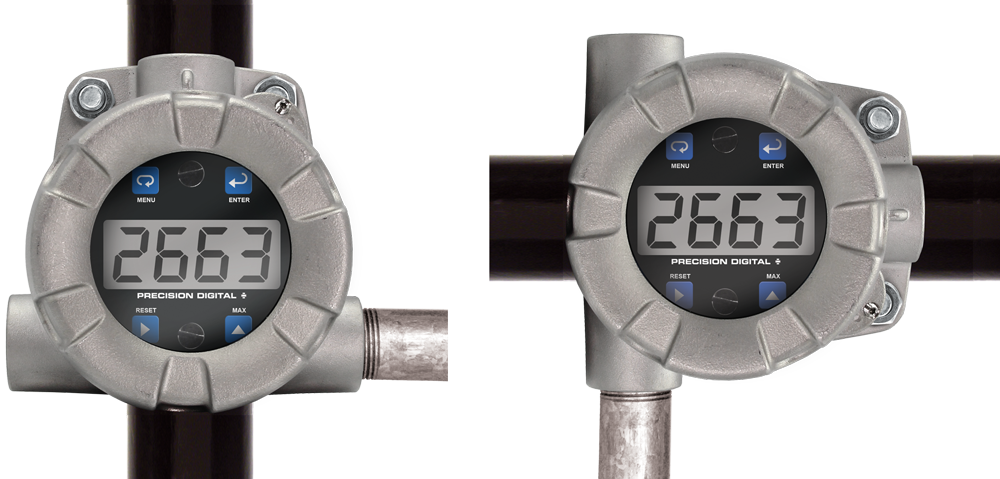 Programming
The PD663 comes calibrated and scaled at the factory to display a 4.00 to 20.00 mA signal on startup. To change the scaling, follow along using the 4 button interface.