Features
Fully Approved Explosion-Proof Batch Controllers
0-20 mA, 4-20 mA, 0-5 V, 1-5 V, and ±10 V Inputs with ±0.03% Accuracy
Dual-Line 6-Digit Display, 0.6" (15 mm) & 0.46" (12 mm)
SafeTouch Through-Glass Button Programming
Display Mountable at 0°, 90°, 180°, & 270°
Isolated 24 VDC @ 25 mA Transmitter Power Supply
Easy Field Scaling in Engineering Units without Applying an Input
4 Relays with Interlocking Capability + Isolated 4-20 mA Output
Free PC-Based, On-Board, MeterView Pro USB Programming Software
SunBright Display Standard Feature; Great for Outdoor Applications
Start / Pause / Stop, Change Batch with Front Panel Buttons
Display Batch Total, Rate, Grand Total, Count or Preset
Single or Multi-Stage Batch Control (Up to 4 Relays)
Front Panel or Remote Total Reset
Automatic Overrun Correction
Automatic or Manual Batch Control
Low or High Flow Alarms while Batching
32-Point Linearization, Square Root Extraction and Programmable Exponent Function
Operating Temperature Range: -55 to 65°C (-67 to 149°F)
CSA Certified as Explosion-Proof / Dust-Ignition-Proof / Flame-Proof
ATEX and IECEx Certified as Flame-Proof
Input Power Options: 85-265 VAC / 90-265 VDC or 12-24 VDC / 12-24 VAC
Programmable Display, Function Keys & Digital Inputs
Flanges for Wall or Pipe Mounting
Explosion-Proof Aluminum or Stainless Steel NEMA 4X / IP68 Enclosures
On-Board RS-485 Serial Communications
Modbus RTU Communication Protocol Standard
Password Protection
Four 3/4" NPT Threaded Conduit Openings
3-Year Warranty
Overview
Front

Connections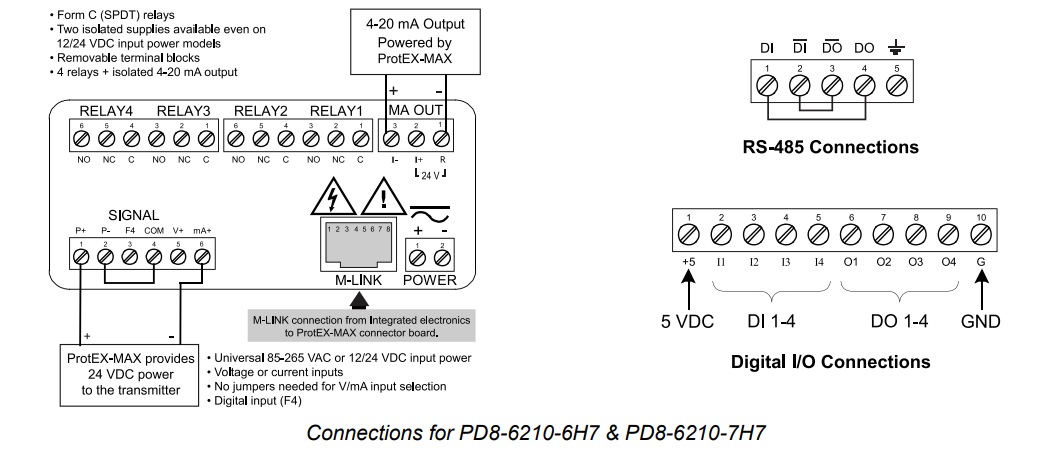 Introduction
The ProtEX-MAX PD8-6210 is an explosion-proof analog input batch controller ideal for simplifying independent batch control operations where local control is preferred to expensive and expansive plant operation systems. The controller features a dual-line display, with a main display 0.60" (15 mm) high, and a second display of 0.46" (12 mm) high superluminous LED digits, which can be read in any lighting condition, including direct sunlight. The controller is housed in a field-mountable, NEMA 4X/IP68 rated enclosure available in either aluminum or stainless steel for convenient indoor and outdoor installation.
The controller comes programmed for easy start, pause, stop, and batch size (preset) changes. The second display can be programmed to display rate, grand total, batch count, or preset by cycling the Stop (F3) button. Digital inputs come standard.
Single and multi-stage batching is possible with four (4) on-board relays. Each batch control relay may have a unique preclose amount when used for multi-stage batching. Manual start batching is default, but automatic batching with a restart after a programmed time delay from the completion of the last batch is also possible.
Overrun correction adjusts the closing of the batch control relays to adjust for inaccuracies from batch to batch. This increases accuracy over time as systems wear out. The overrun correction feature is capable of compensating for inaccuracies of up to 1% of the programmed preset value.
The controller accepts current and voltage signals (e.g. 4-20 mA, 0-10 V). The PD8-6210 batch controller comes with four SPDT relays, a 4-20 mA output, two 24 VDC power supplies, five digital inputs and four digital outputs, and RS-485 serial communications, making it an excellent addition to any system.