Fully-Approved Stainless Steel or Aluminum Explosion-Proof Loop-Powered Meter
4-20 mA Input
1 Volt Drop (4 Volt Drop with Backlight)
1.0" (25.4 mm) 3½ Digits LCD Display; -1000 to 1999
Display Mountable at 0°, 90°, 180°, & 270°
HART® Protocol Transparent
Loop-Powered Backlight Option
Operating Temperature Range: -40 to 75°C (-40 to 167°F)
Installation Temperature Range: -55 to 75°C (-67 to 167°F) (Stainless Steel Models Only)
Zero & Span Potentiometer Adjustments for Easy Field Scaling
Conformal Coated PCBs for Dust and Humidity Protection
FM Approved as Explosion-Proof / Dust-Ignition Proof / Flame-Proof (Aluminum Models Only)
CSA Certified as Explosion-Proof / Dust-Ignition Proof / Flame-Proof
ATEX and IECEx Certified as Flame-Proof and Protection by Enclosure (Aluminum Models Only)
Wide Viewing Angle
Flanges for Wall or Pipe Mounting
Explosion-Proof, IP68, NEMA 4X Die-Cast Aluminum or 316 Stainless Steel Enclosure
Two 3/4" NPT Conduit Openings (Model with Two M20 Conduit Openings Available)
2" U-Bolt Kits Available
Stainless Steel Tag Available
3-Year Warranty
Why Use Loop-Powered Meters?
The most basic decision a user wishing to display a 4-20 mA signal on a digital display has to make is: should the meter be powered by line voltage or should it be powered by the 4-20 mA loop?
There are three main benefits of using loop-powered devices:
No additional power required
Easy wiring
Additional digital displays can easily be added in the same loop
The ProtEX-FarVu is a rugged explosion-proof, loop-powered meter with 1" display digits available in aluminum or stainless steel enclosures. It is ideal for demanding applications in hazardous areas or in the harshest environmental conditions. The PD6870 is housed in an IP68, aluminum enclosure and is FM Approved and CSA Certified as Explosion-Proof, Dust-Ignition Proof, and Flame-Proof, and ATEX & IECEx Certified as Flame-Proof. The PD6870-SS is housed in a 316 stainless steel enclosure and is CSA Certified as Explosion-Proof, Dust-Ignition Proof, and Flame-Proof.
The ProtEX-FarVu meters will operate down to -40°C and the PD6870-SS stainless steel models can be installed in areas where the temperature gets as cold as -55°C, however, the display will cease functioning. The meter derives all of its power from the 4-20 mA loop with a small 1 volt drop for easy installation in almost any system.
The meter is programmed using four easy to access front-mounted potentiometers with no complex or difficult to read programming menus necessary for setup.
The numeric display will read from -1000 to 1999 over a 2000 count user adjustable scaling span. The backlight feature lets you see the display under any lighting condition and is powered from the 4-20 mA loop with no additional power supply required. The backlight can be enabled or disabled via alternative wiring of terminal block. The enclosure is provided with two conduit openings and the cast-in mounting flanges on the enclosure make it convenient for pipe or wall mounting.
Wide Viewing Angle
The window and display module have been optimized to provide a wide viewing angle of approximately ±40°; nearly twice that of the competition.
Easy Pipe Mounting
The ProtEX-FarVu comes with cast-in mounting flanges. These allow easy mounting to walls or pipes using the PDA6846-SS Stainless Steel 2" U-Bolt Kit. A slot on the back of the enclosure makes it easy to center the unit on a pipe.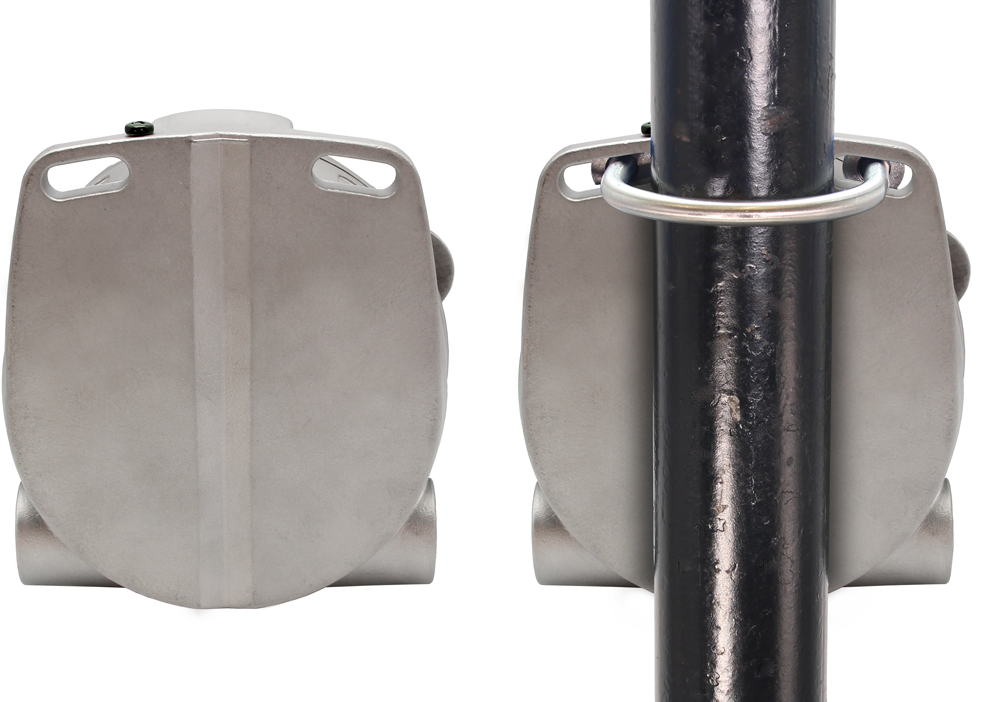 PDA6846-SS Stainless Steel 2" U-Bolt Kit.
Rotatable Display Module
The display module can be rotated in 90° increments providing added mounting flexibility. Plus the various conduit connections allow a variety of installation options.