Overview
The PDA0007 ventilation kit consists of two vents and is designed to equalize internal / external pressure and temperature to prevent condensation from building up in the enclosure. Internal baffles within the vents create an airflow pattern that allows air to pass between the inside of the enclosure and the outside environment. The vents are rated UL & CSA Type 4X and IP66. The ventilation kit can also be ordered as a MOD-VENT-P for plastic enclosures and a MOD-VENT-M for steel enclosures. When this is done, the accompanying enclosure will be provided with pre-drilled holes for the vents (Installation is done by the user and the enclosure is sold separately). See ordering information.
Features
Prevents Condensation Inside the Enclosure
UL & CSA Type 4X IP66
Plastic and Steel Enclosures Available with Mounting Holes Pre-Drilled
For Wall Thickness of 16 Gauge to 1/4"
Corrosion Resistant Polycarbonate
Comes with two vents
Installation Template Included
Hardware Included
Installation
Note: A Philips screwdriver is required to install the vents to the enclosure. All hardware is provided.
Punch out the four mounting holes and vent hole from the provided installation template.
Position the template on a flat smooth surface of the enclosure. Align the template so that the top is facing the top of the enclosure and mark the hole locations as shown. Repeat this step for the other vent.
Remove the template and drill the 4 holes for the mounting screws, 3/16" (.188 mm) and the hole for the vent opening 1.0" (25.4 mm) diameter accordingly. Repeat this step for the other vent.
Mount the vents with 4 each of the mounting screws (provided) to the exterior of the enclosure, making sure the vent slots are pointing downward. It is recommended to install the two vents on opposite sides of the enclosure: one mounted high and the other mounted low. Adjust as application requires.
Mounting surface thickness: 0.059" - 0.250" (1.5 mm - 6.4 mm). Tightening torque: 12-15 lb-in.
Hardware provided: 8 screws (8-18 x ½")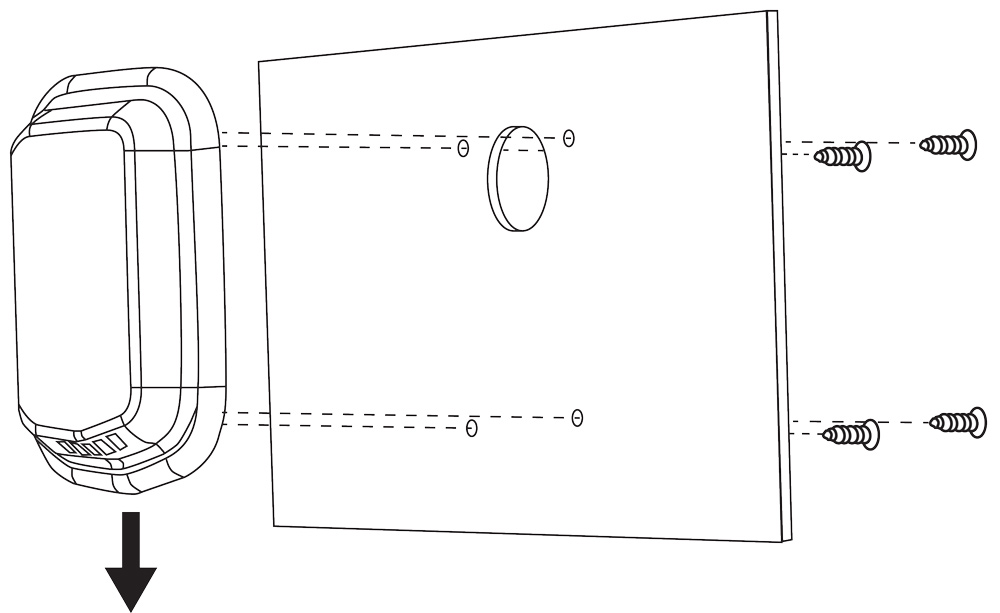 Vent slots must be pointing downward
Dimensions
Units: Inches (mm)