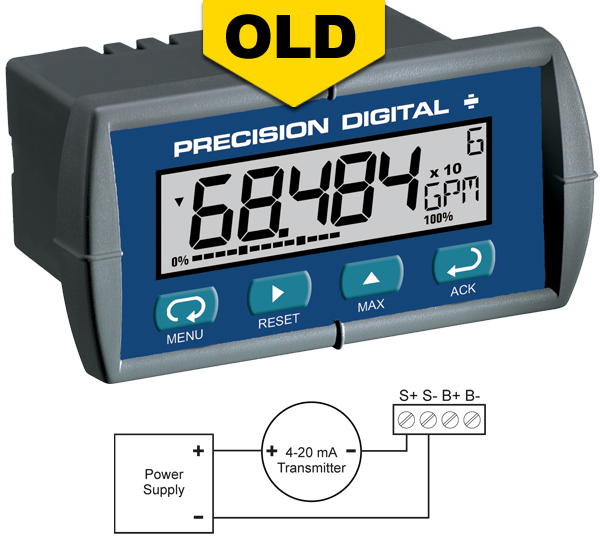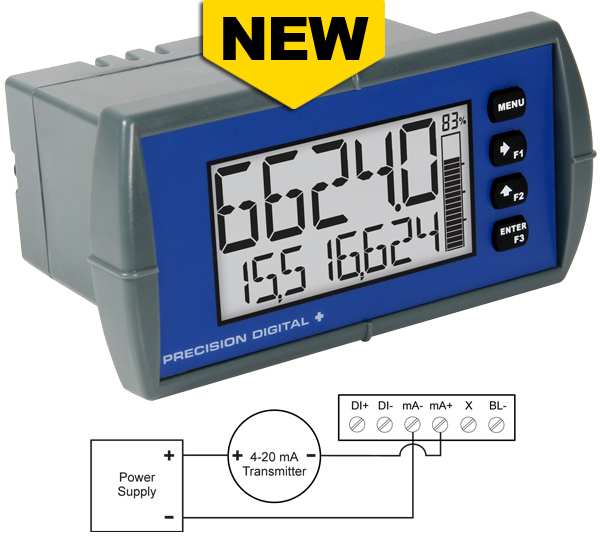 With the recent launch of the New Loop Leader, the price of the older loop-powered panel meters is going to increase substantially and they will be discontinued when supplies are exhausted.
The affected older models are the PD683, PD684, PD688, and PD689 loop-powered panel meters. New pricing on these models is effective 7/1/18. We will currently sell these meters for as long as supply of meters and components allows. However, we strongly recommend all our customers plan on moving to the new models immediately. The New Loop Leader PD6600 series is a lower cost, superior display, with many new features. The dual-line LCD, multiple display options, red backlight, solid-state relays, and two open collectors are just a few of the many features making it a no brainer when it comes to replacing your old loop-powered meter. See the comparisons of the old and new Loop Leader below.


The new and old Loop-Leaders both fit in the same 1/8 DIN panel cutout and extend 3.2" behind the panel. They do have different wiring connections as the diagrams illustrate above.


LOOP LEADER FEATURES COMPARISON CHART
Feature
Old Loop Leader
New Loop Leader
Panel Cutout
1/8 DIN
1/8 DIN
Case Depth
Shallow Depth (3.2", 81mm)
Shallow Depth (3.2", 81mm)
Display
Single-Line
Dual-Line
Feet & Inches Display
Not Available
Available
Number of Digits
Five
Five & Eight
Number of Digits for Total
Five
Eight (13 using top line)
Digit Height
0.60"
0.70"
Engineering Units/Tags
3 Alphanumeric Characters
8 Alphanumeric Characters
Pre-defined Engineering Units
Not Available
Standard Feature
Bargraph
Horizontal,
20-segment
Vertical, 20-segment,
with numeric percentage display
Backlight
Yes
Yes, with Red on Alarm Option
Programming Method
Front Panel Buttons
Front Panel Buttons and
USB Programming Software
Voltage Drop
2.0 V (5.7 V with Backlight)
1.5 V (4.7 V with Backlight)
Operating Temp Range
-30°C to 65°C
-40°C to 75°C
(Up to 70°C for Hazardous Areas)
NEMA 4X Gasket
Loose
Seated in Place
Accuracy
0.03%
0.02%
Temperature Drift
50 PPM
25 PPM
Linear, Square Root,
and Programmable Exponent
Yes
Yes
Round Horizontal Tank
No
Yes
Approvals
ATEX IS and FM, CSA IS/NI
ATEX & IECEx IS, UL & C-UL IS/NI
Buttons
Embossed Faceplate
Silicone Rubber
Open Collector Output
One
Two
Loop-Powered Relays
None
Two Solid-State
Isolated 4-20 mA Output
None
One
Digital Inputs
None
One
Warranty
3 Years
3 Years
Pump Control Features
Not Available
Standard Feature
NEMA 4X/IP65 Front
Standard Feature
Standard Feature
Function Keys
Not Available
Standard Feature
Conformally Coated PCBs
Not Available
Standard Feature
Functionality
Process display, flow rate totalization
Process display, alarming, alarm trip,
signal retransmission, loop-powered isolator,
lead-lag pump alternation,
dual-scale display, flow rate totalization,
batch control, etc.
LOOP LEADER PRICE COMPARISON CHART
Old Loop Leader
New Loop Leader
Model
Price
Model
Price
PD683 Process Meter
$488.00
PD6602 Process Meter
PD6603 Process Meter
PD6604 Process Meter
$194.00
$229.00
$229.00
PD688 Process Meter (I.S. & N.I)(1)
$738.00
PD6606 Process Meter (I.S. & N.I)(2)
PD6607 Process Meter (I.S. & N.I)(2)
PD6608 Process Meter (I.S. & N.I)(2)
$319.00
$354.00
$354.00
PD684 Rate/Totalizer
$638.00
PD6622 Rate/Totalizer
PD6624 Rate/Totalizer
$269.00
$304.00
PD689 Rate/Totalizer (I.S. & N.I)(1)
$908.00
PD6626 Rate/Totalizer (I.S. & N.I)(2)
PD6628 Rate/Totalizer (I.S. & N.I)(2)
$394.00
$429.00
(1) These models are ATEX IS and FM, CSA IS/NI
(2) These models are ATEX & IECEx IS, UL & C-UL IS/NI