Issue #3 • JULY 2014
The New Normal for Communications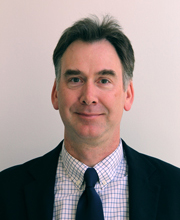 Alan Williams
Vice President of Sales
Here at Precision Digital we are continually experimenting with new media and new ways of communicating with our channel partners and customers. Like many other companies who provide technical products we have had a YouTube channel for quite some time - for many of us it is the go-to place for "how-to", review, or introductory videos. My recent hits include how to peel a pomegranate in 10 seconds, and how to change the rear cassette on a bicycle (I'm sure many of you have also been rescued by a YouTube "how-to").
News & Information
Live Chat Now Available on Predig.com
Precision Digital has added a new chat feature for customers to communicate with sales and support staff in real time. Precision Digital Live Chat for sales and support is available from 9:00 to 5:00 EST weekdays, as chat agents are available. When live chat agents are unavailable, please send a message, and we will be sure to follow-up with your inquiry. This feature is extremely useful for finding out price, availability, or getting a quick answer to a product inquiry quickly and conveniently. We look forward to hearing from you!

---
Connect with Precision Digital
Precision Digital is now on Facebook! Precision Digital's Facebook page provides convenient access to interesting industry content, intriguing technology news, useful technical articles, and the most recent updates from Precision Digital. More than just new product announcements, LIKE us today to see a variety of industry and technical content of interest to technical professionals and those in the process industry. Precision Digital also shares a wide range of content on Twitter and LinkedIn, so find us on your favorite social media outlets.


---
The 4-20 mA signal is used throughout the process industries for the transmission of almost every imaginable process variable. For this reason, most digital panel meters, controllers, and indicators have the option of a 4-20 mA output. While a very popular feature, it is worth considering whether this output is really needed for your application, and when it might be adding needless complexity and costs to a system. In this article, we will briefly review common reasons why you would or would not need a 4-20 mA output.


---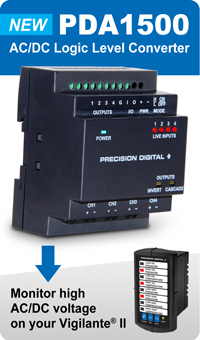 Precision Digital has launched a new high voltage to logic level converter, the PDA1500. This DIN rail mounted accessory is most useful with the PD154 and PD158 Vigilante II alarm annunciators, where it can monitor high voltages and provide logic level digital outputs used to trigger visual and audible alarms on the annunciators.The PDA1500 can monitor four channels of up to 300 VAC or VDC, with two models available dependant on the input voltage range. The PDA1500 is ideal for monitoring pumps, high voltage switches, and safety interlocks. It has no complex programming – just a few pushbuttons. Find out more about the PDA1500 or download the manual and datasheet with the link below.

Featured Product

Featured Video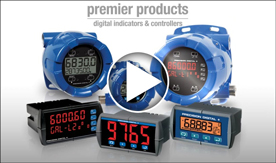 Watch this step-by-step easy-to-follow "How-To" video and learn how to program a 4-20 mA input, and scale the display value, on a Precision Digital PD765 Trident Series process meter.



In The Next Issue...
Precision Digital to Conduct Live Webinars
New ScanView EX Software for PD6830X and PD6730X
Selecting the Right Level Display