Issue #28 ▪ December 2019
A Message From Sales
Last But Not Least in 2019, Introducing the ConsoliDator+!
2019 saw Precision Digital release several great new products that can increase the reliability, safety, convenience, and visibility of your process information. I believe, however, the newly released ConsoliDator+ is the most exciting by far! Keep reading to learn more about this great new product.

The ConsoliDator+ brings new features never before seen in a Precision Digital product. With the ConsoliDator+, Precision Digital now offers you Modbus over Ethernet, a great color LCD display, and more isolated power supplies than ever to run all of your input and output loops. Additionally, the ConsoliDator+ can accept up to (28) isolated 4-20 mA and pulse inputs, (25) isolated 4-20 mA outputs, and (25) relays. This meter is a great option for anyone looking for the display capabilities of an HMI, with the programming simplicity of a panel meter.

Take a moment to look through our ConsoliDator+ information in this issue of the Indicator. You'll find what could be the best new display solution you've seen all year.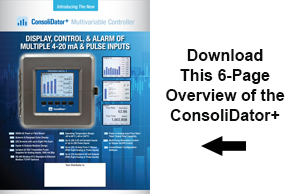 News & Information
The ConsoliDator+ is a multi-channel controller that is both easy to use and satisfies a wide variety of process display, alarm and control applications. It accepts 4-20 mA inputs, flow meter pulse inputs, digital inputs, and Modbus RTU inputs and displays them both in numeric and bargraph format on a large, 5.7" color display. It can be equipped with multiple relays with user-definable actions, 4-20 mA outputs, digital outputs, Modbus RTU, and Ethernet Modbus TCP/IP protocol communication capabilities. Additionally, the controller is equipped with up to 32 timers that can be used to control many processes or events. See more information on all available models here.
---
Recalling from the previous part of this series, the Fundamentals of 4-20 mA Current Loops, all 4-20 mA current loops require a power supply in order to operate. A lot of loop setups will utilize an external power supply in order to power the devices which are attached to the current loop. It is possible, however, to power all the instruments on the loop with the power supplied for the loop itself. These devices are referred to as loop-powered. This particular setup can be used in situations where it is not practical to supply separate power to all of the devices or in hazardous areas where a low power solution is required. Working in an industry that requires process control, it is imperative to understand whether implementing a loop-powered solution is appropriate or not for your setup.
---
Precision Digital offers a wide variety of NEMA 4 and NEMA 4X enclosures that can be equipped with MOD-LHX2 Light / Horn and Reset Button for the Trident X2 meter. The Consolidator+ can be equipped with PDA-LH Light/Horn.

The MOD-LHX2 for the Trident X2 is available in two different light configurations. The first option is a factory ordered Light / Horn with a color of either red, green, yellow, blue, or white. The second option is a Light / Horn the user determines the light color (red, green, yellow, blue or white) by connecting the appropriate wire. See more details on the MOD-LHX2.

The PDA-LH for the ConsoliDator+ is available with the above two light configurations, plus a third choice of a 3-layered (red, green, yellow) light. See more details on the PDA-LH.

The light on the Light / Horn can be wired to flash (not available on PDA-LH5C) or stay steady on and the horn is rated at 85 dB. It also can be controlled independently of each other via separate relays.
---
The Enclosure Selection Utility on predig.com has been updated with additional meter sizes to fit into the enclosures. These sizes include 1/4 DIN and 1/16 DIN meters as well as a configuration for fitting the PD420 4-20 mA Set Point Generator. Select your enclosure here.
---
Precision Digital will be presenting a webinar on the New ConsoliDator+ in January of 2020. In this webinar, Joe Ryan, VP of Sales and Marketing, will discuss the key features, functionality, and pricing of the ConsoliDator+ Multivariable Controller. You will learn about its main display features and the many display possibilities to show information in different ways. The ConsoliDator+ is available in a field mount and a panel mount version, and also, you will see several accessories to increase its utility. Register for the upcoming webinar here.
Featured Product
Featured Video
Devin Gates from Precision Digital will present the New ConsoliDator+. See how you can use screen views to present application information in different ways. For instance, create screen views with 1-8 channels and with or without bargraphs. View a channel's details and the relays and alarms associated with that channel. Click here to see the video.
In The Next Issue...
Back to Basics: Loop vs Line Powered