Coming Soon: The Most Comprehensive Line of Loop-Powered Indicators
In 2018, we launched the PD6600 Series of
Loop-Powered 1/8 DIN Panel Meters: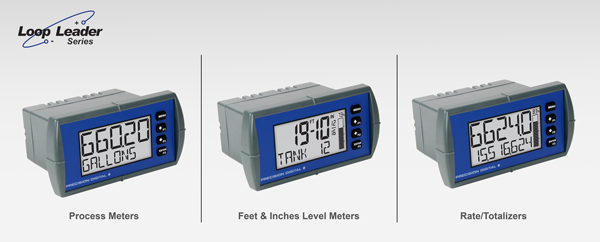 In 2022, we're expanding the line with three new products: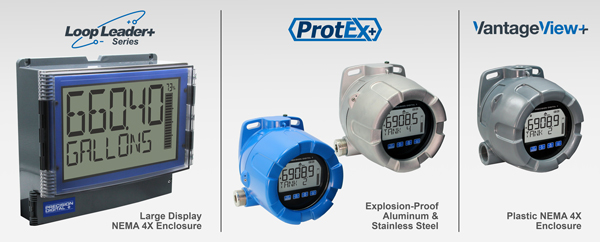 In 2018, with the launch of the Loop Leader PD6600 1/8 DIN digital panel meters, Precision Digital radically improved and expanded the features and functionality expected from loop-powered indicators.
In 2022, Precision Digital is broadening its line of loop-powered indicators to include three new product lines that share all the features, functionality, and programming of the PD6600 digital panel meters:
PD6900 ProtEX+ Explosion-Proof Meters
PD6900 Vantageview+ General-Purpose Field Meters
PD4 Loop Leader+ Large Display Field Mount Loop-Powered Meters
We now have the most complete line of loop-powered meters on the market!
One of the most important improvements to the new ProtEX+ and VantageView+ meters is the replacement of the IR through-window buttons with the more reliable capacitive touch through-glass buttons. This is the same technology used in modern smart phones.
Precision Digital's Loop Leader and Loop Leader+ loop-powered meters when equipped with the two solid state relays option make great pump controllers. The relays can control two pumps and even be set up to alternate the pumps based either on cycle or time. In addition, the two open collectors that are a standard feature can be used to trigger high and low alarms.
Common Features of All Product Lines:
Same Programming Menu, Software, and Functionality for All Products
Process Meters, F&I Level Meters, and Rate/Totalizers
Dual-line Display with Two-Color Backlight for Alarm Indication
20-Segment Bargraph
(2) Open Collector Outputs Standard
(2) Loop-Powered Solid State Relays and 4-20 mA Output Options
Free PC-Based MeterView XL USB Programming Software
F&I Models Display Level in Feet & Inches
Rate/Totalizers Display Rate and Total Simultaneously
PD6600 Loop Leader Features:
1/8 DIN Panel Meters with a NEMA 4X, IP65 Front
Intrinsically Safe and Nonincendive Models Available
PD4 Loop Leader+ Features:
Wall Mounted NEMA 4X, IP65 Large Display Meters
The largest Digits on a Loop-Powered Indicator on the Market
2.8" (71 mm) Top Display and 1.5" (39 mm) Bottom Display
Intrinsically Safe Models Available
PD6900 ProtEX+ Features:
Explosion-Proof and Intrinsically Safe
Housed in Explosion-Proof NEMA 4X, IP68, Die-Cast Aluminum or Stainless Steel Enclosure
CapTouch Through-Glass Buttons Programming
PD6900 VantageView+ Features:
Field Mounted Indicators for Safe Areas
Housed in a Plastic NEMA 4X, IP66 Enclosure
CapTouch Through-Window Buttons Programming
These new products will be formally introduced in early May. If you would like special advance notification of this product launch, please click below.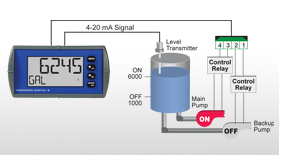 These Loop-Powered Indicators are Not Just Ordinary Process Meters and Displays.
Precision Digital's full-featured, loop-powered meters with two open collectors and two solid state relays, are also capable of performing lead-lag pump alternation.
For pumps used in applications such as tank level, pump alternation can be used to turn the pumps on and off to prevent excessive wear and tear. Precision Digital loop-powered meters are unique because you can program pump alternation based on level and time.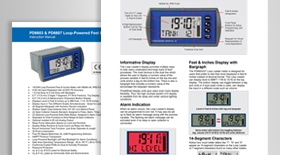 Precision Digital has released new and improved manuals for the Loop Leader PD6600 Series of loop-powered process meters, Feet & Inches level meters, and rate/totalizers. The manuals have been completely overhauled and expanded to present a more complete solution than just the meters and controllers themselves.
The manuals now feature a new Key Features section and are loaded with more pictures, wiring diagrams, and connections drawings to help you better understand how to use these products. In addition, a variety of accessories were added to give you options on expanding the capability of the meters and rate/totalizers. These accessories include light / horn options, calibrator & signal generators, external power supply, and more. You can download the manuals here: PD6600 Process Meters, PD6603 Feet & Inches Meters, PD6620 Rate/Totalizers.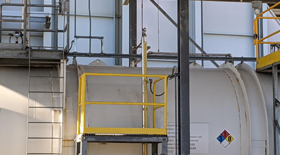 A power plant facility that uses ammonia to reduce NOx emissions has recently replaced its old, degraded transmitter with a PD9000 ConsoliDator+ Multivariable Controller.
The facility receives ammonia in bulk from tanker trucks and is dispensed into a storage tank. The PD9000 controller was installed and configured to display and monitor the readings from two sensors that detect ammonia gas leaks at the fill points on top of the storage tank. Ammonia can be very toxic at high concentrations. Given ammonia is not flammable, a water deluge system is needed to dilute the concentration of ammonia in the area. The water deluge system changes the chemical properties by bonding it with water, and therefore, keeps the ammonia gas exposure at safe levels.
The PDA2301 NEMA 4X enclosure is the perfect building block for your process display / alarm / control application. It comes with a cutout to fit a 1/8th DIN panel meter like the Trident, ProVu or Loop-Leader, includes easy to open and close stainless steel latches, and has plenty of room inside to add additional devices. It can even be provided with pre-drilled holes to mount one of our PDA-LH light horns and reset buttons, as pictured below.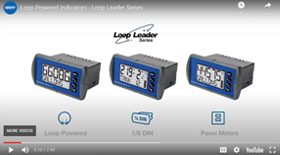 Loop powered indicators have until now lacked advanced control features. The Loop Leader Series radically improves and expands the functionality expected from a loop powered indicator without sacrificing cost-efficiency, ease-of-use, or voltage drop. These loop powered indicators offer advanced features that allow them to handle a wider range of process control applications.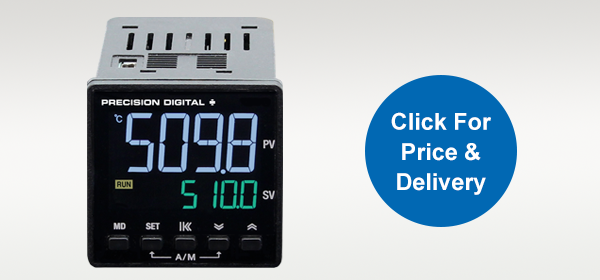 We have just replenished our stock of the SuperNova PID temperature controllers. If you're having trouble finding PID temperature controllers or your current vendor has raised prices beyond reason, check out these great PID temperature controllers.
In depth look at the New Loop Leader+ and VantageView+ Series of Loop-Powered Indicators

Approvals for ordinary and hazardous locations on ConsoliDator+